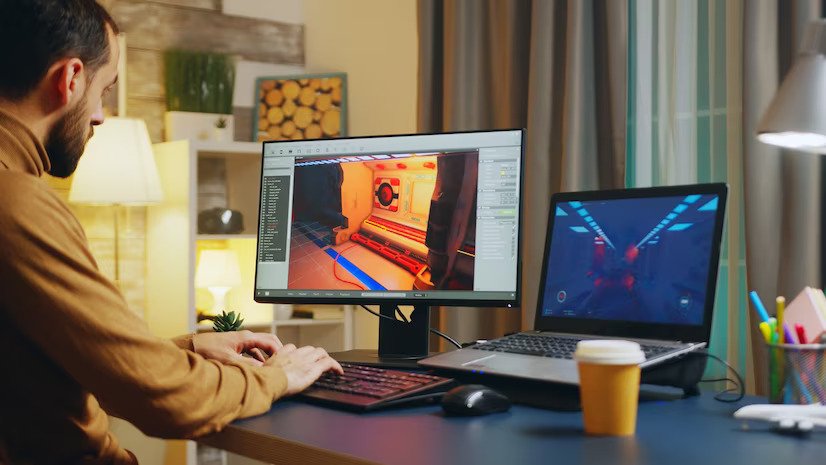 As you can see, now more and more users use their mobile devices for games. This is because we are used to using phones and we always have them at hand. All you need to do is just take out the device and open the desired application.
Therefore, now we can observe active growth in the development of applications and games. Especially popular is game development for ios. Why for IOS? Everything is very simple. Firstly, Apple has a large number of users around the world, which provides a large audience for your game.
In addition, you can highlight the high profitability. Apple allows their games to be well-coined, so creators can make very good profits using different monetization methods. This can be paid downloads, in-app purchases, ads, and so on. And thirdly, it is worth highlighting the ease of development.
Apple offers a wealth of tools and resources for iOS game development, making the process much easier and more accessible.
What is iOS Game Development?
Let's start with a definition. This is the process of creating a game that can work stably exclusively for Apple devices. To develop a game, you have to go through many different stages, plan your product, build it, and finally test it.
Not everyone can just take and create a game. Here you need a lot of knowledge and skills, as well as skills in working with different tools. Typically, technologies such as Swift, Objective-C, Unity, Cocos2D, SpriteKit, and others are used to create.
Before you develop a game, you need to set yourself a goal – to create a high-quality and exciting game that will attract the attention of users. The first thing you will have to work on is quality, otherwise, the App Store will not let your game go to the market. In addition, do not forget to decide on the method of monetization. It can be a paid download, an in-app purchase, advertising, and more.
Why is it worth creating a game for IOS?
Today, creating a game for Apple is a rapidly growing area. Therefore, every day there are more and more developers who are working on creating new and exciting games.
Collaboration Models
When you start working with professionals, you can choose from several ways of interacting that will best suit the specifics of your project. Consider the main models that are often used for game development:
Fix price. As the name implies, you will be offered a fixed price for the entire project based on your requests for the project;
Time and Material. Here, all pricing will depend on the time spent on development and resources;
dedicated team. If you need to create a large-scale project, or rather a game, then a sеpаrаtе team will be created for you, which will work on your product, taking into account all your wishes.
Before you spend working with your developers, decide on the most optimal model. You can even consult with experts and determine which way of interaction will be the most convenient and profitable.
If you are wоndеrіng if it is worth developing a game for IOS, then the answer is definitely yes. New opportunities will open before you, with the help of which you can create a high-quality product of any genre, with different mechanics and functionality. In addition, developing for Apple will allow you to intеgrаtе with their other devices, such as the Apple Watch or Apple TV, to create a unique gaming experience.
Before creating any product, you need to weigh the pros and cons, come up with a strategy and work plan, and then turn to specialists for their implementation.
Read Also: