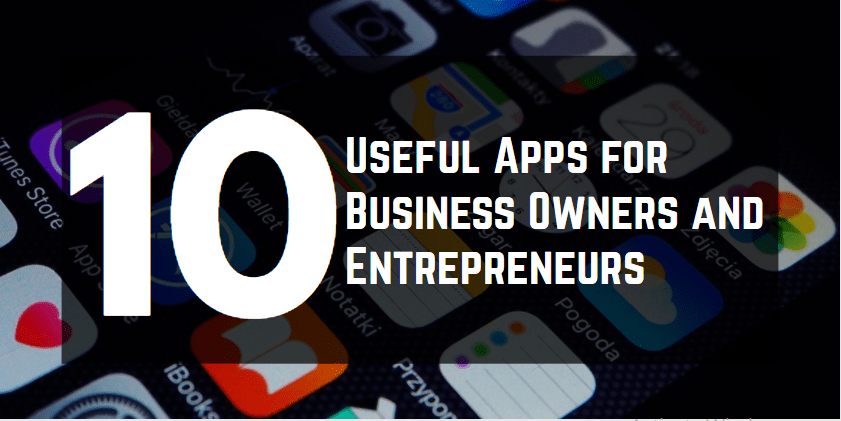 Running a business is never a piece of cake and requires a lot of effort, diligence, time, commitment, and money. The business owners are always looking for ways to increase their productivity and to deliver the best possible results. In this scenario, they can rely on some useful apps which can help them in carrying out different tasks and ease their workload.
Recommended reading: How Business Owners and Customers Have Benefited from Mobile Apps
There are a number of apps which can prove to be useful for the entrepreneurs but we'll choose the top 10 in this regard:
 1. QuickBooks
With the help of QuickBooks, you can easily track all the expenses and sales of your business. Prepare the profit/loss reports, pay all the employees and vendors, and track those unpaid invoices through this app and make your life a lot easier. You can also import your cash flow, net profit, and balance sheet from Quickbook to Google sheet profit and loss template. You can access this app from any handheld device and they have a number of plans to offer ranging from $13 to $40.
2. Addappt
If all your friends, family members, clients, and employees use Addapt, it becomes easier to update all the contact information in an address book. The app is free for both Android and iOS and also allows to send free messages to anyone in your contacts list or even to groups.
3. Skype
There are many apps which offer video conferencing and have tried to take the throne which Skype proudly wears but weren't able to do so. The basic version is free and if you want to upgrade it to business use, you only need to pay a minute fee of $5 per month which is nothing compared to the facilities offered by this platform.
4. Clear
This easy-to-use app is a life saver when it comes to organizing the tasks on a daily basis. Set reminders, create schedules, and manage all the separate lists with the help of this app by only paying $4.99 for all the iOS devices. It can easily sync with any Apple device and thus, bring you more convenience and ease of use. For desktops, this app costs $9.99.
5. My Minutes
It can be quite troublesome to keep focus on a task while working and people can end up wasting a lot of time on Facebook. Through this app, they can set up goals with a time constraint which will help them in completing those tasks right on time and without their focus being deviated anywhere else.
6. Expensify
All you need to do is to link your credit and debit card with this app and you can keep a track of all the transactions. If you don't want to sync your cards with the app then you can just take pictures of the receipts or reports and Expensify will automatically update all your expenses and other relevant financial information. Even if you want to prepare the report of expenses yourself, it will only take 5 minutes from your time. The app costs $5 per month for teams and $9 per month for corporate users.
7. PayPal
If you have international dealings or if you want to manage all your accounts through a single platform, PayPal is the solution for you. There are different plans available for the merchants and they can choose any according to the distinct needs of their business.
8. Evernote
This app lets you sync all your notes across desktop, mobile, and even tablets. Thus, all the important information can be brought about on a single platform and can be accessed at any time. The free version allows you to upload 60MBs of data per month but if you need more space, you can go with the Plus version costing you $34.99 per month.
9. Trello
For tracking the workflow of your team, Trello is the best app available. You can create a card on Trello representing the assignment or the task which has been assigned to any team member and notifications are sent to the people involved. Add comments, attachments, or even members from various devices and make organization of workflow easier for yourself and your time.
10. Dropbox
Undoubtedly, Dropbox is the most popular platform for storing files and information and has around 500 million users. It is very useful for companies who have heaps of data and need the help of cloud for convenient access to it from anywhere.
Considering the different operations involved in any business, these apps will help in making sure that all the tasks and operations are carried out quickly and conveniently.
Read also: How Can A Mobile App Development Company Help You?