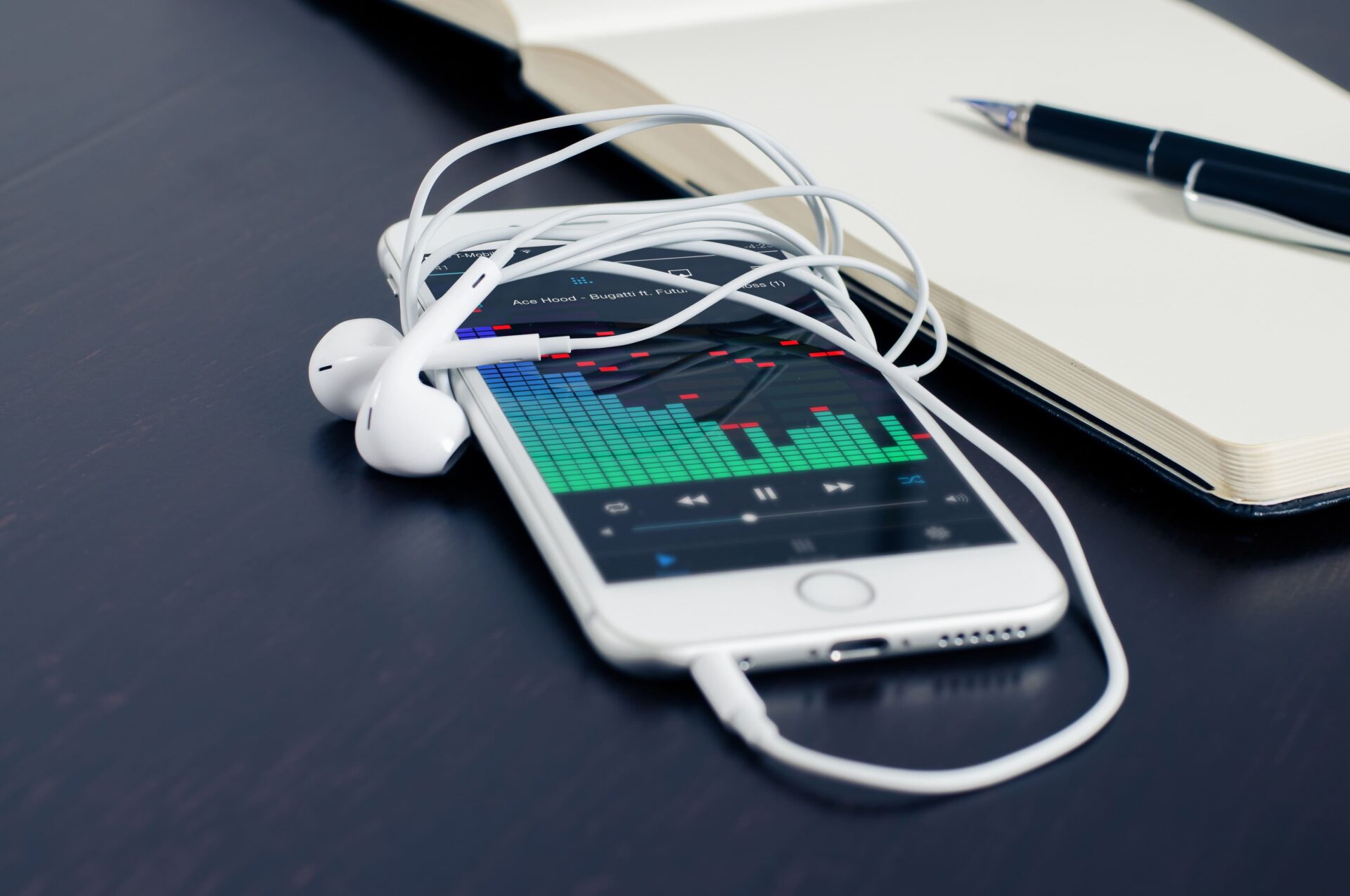 Most people have not transferred to some form of music streaming services such as Apple Music, Google Play Music, Spotify, or Pandora among others. However, we have some people who don't enjoy the idea of streaming music live. If you are one of them, the best solution would be to get a music player. This article gives you some suggestions if you are looking for the best music player for android. Any of them will give you an excellent experience when listening to your music.
Top 10 Best Music Player for Android: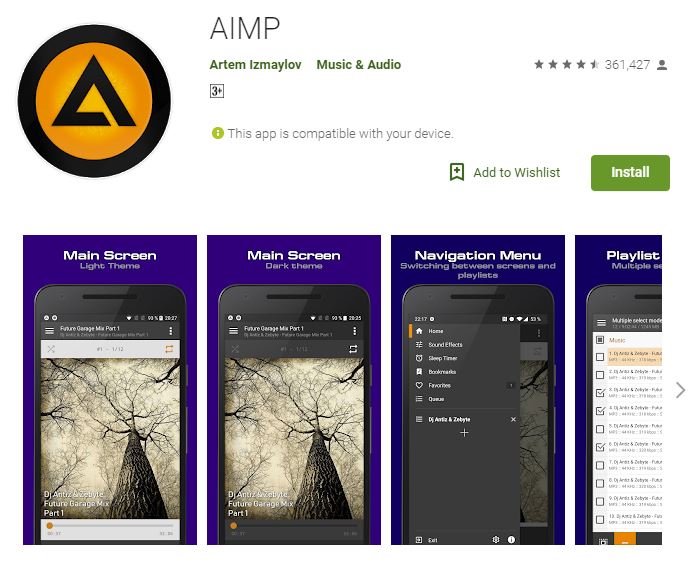 AIMP is one of the powerful music applications you will get out there. It supports nearly all types of music files including MP4, MP3, FLAC and many more. It also comes with several customizing and themes among other fun stuff. The application has a simple user interface and you will not have a challenge listening to your music. It has a decent Material Design Interface that keeps it simple. AIMP also has outstanding equalizers, volume normalization, and HTTP live streaming.  You can also get a desktop version if you wish to kill two birds with one application.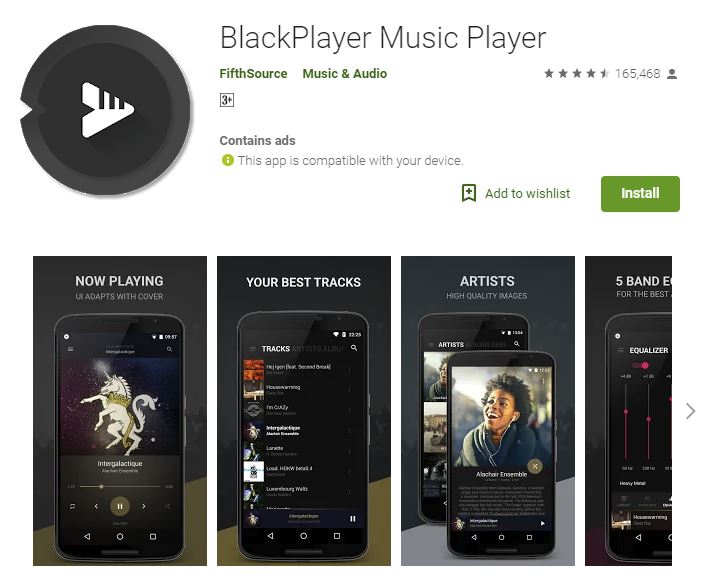 This music player for android is simple but elegant and puts very little between your music and you. It runs on a tab structure that allows you to customize the tabs to use the one you want. The black player also has support, themes, no ads, an ID3 tag editor, scrobbling, widgets, and an equalizer. It is a great option for minimalism fans and delightfully simple. It has both the free and premium versions.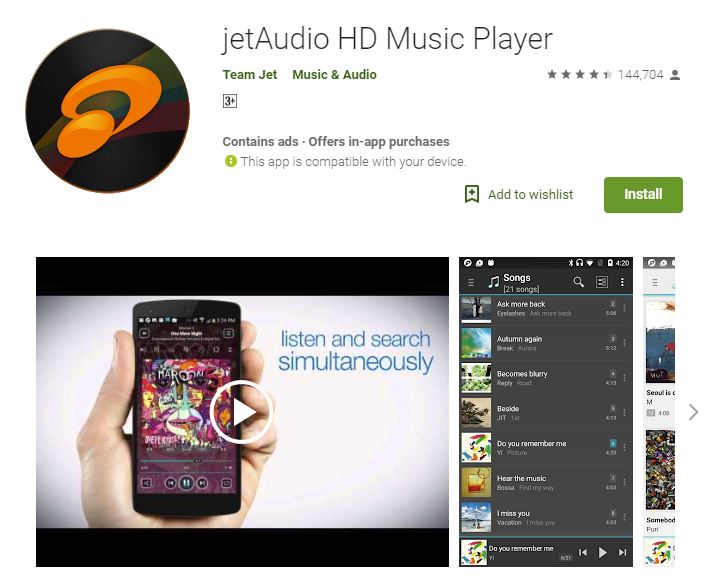 Most Android users prefer to use jetAudio for a long time because it has more features in comparison to the other music player for android Apps. However, it is simple and hence everyone can use it. The App has several audio enhancements that come in the form of plugins and hence you can tweak the music experience more than usual. It also has an equalizer with 32 complete presets and simple effects like MIDI playback, widgets, a tag editor, and a bass boost. Both the paid and free versions are quite similar. The premium version has themes in the place of advertising.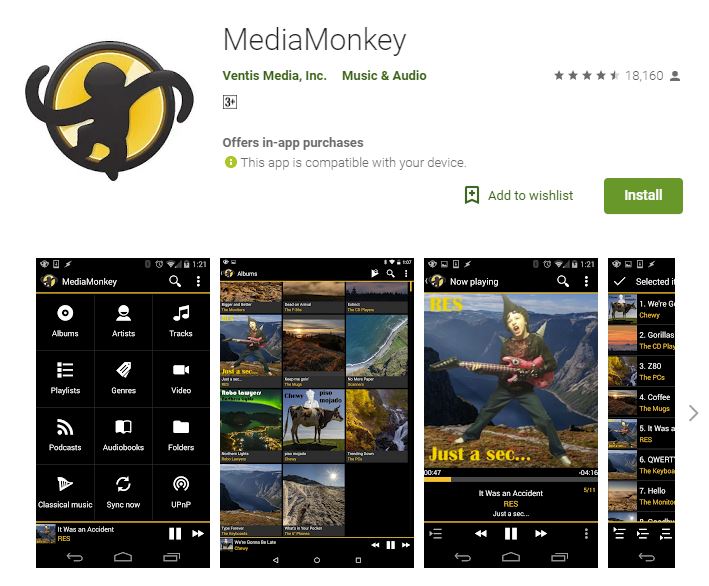 This App is more of a dark horse in the industry of music player apps. It comes with several features for things such as podcasts, audiobooks, and the ability to use things such as composer and not just the artist to sort songs. You will also get basic features like the equalizer. What makes MediaMonkey unique is the ability to sync music library from the phone to the computer and vice versa over Wi-Fi. Its setup is a bit complicated but it is a feature of its own. The App is an overall solid alternative and comes with a simple interface. You will also love the desktop App it has for music.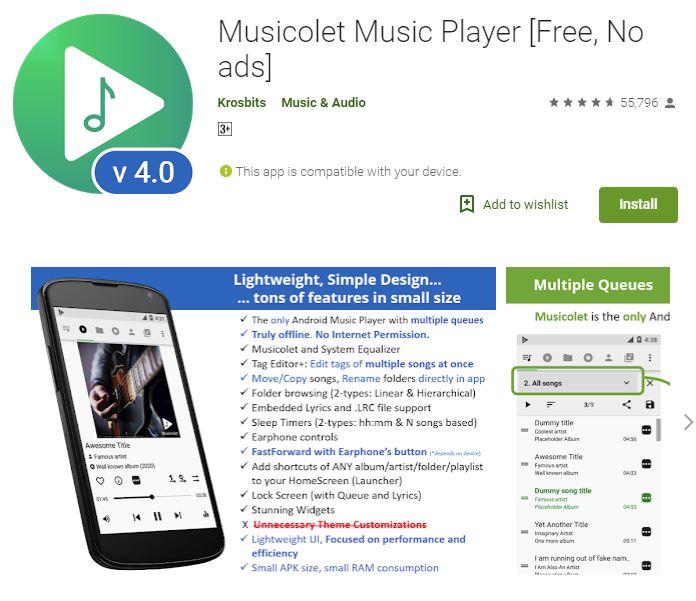 This app is a no-BS kind of music player. It has several desirable features including those that are not in most music features. These include a small APK size, a lightweight UI, and a truly offline experience. The app also features multiple queues which are another rarity, a tag editor, an equalizer, folder browsing, widgets, support for embedded lyric, and a tag editor among others. It has a no non-sense refreshing approach. It is good for users who want a music player that plays music without several additional stuff. The player is completely free and has no in-app purchases. It has no advertising because it lacks the internet.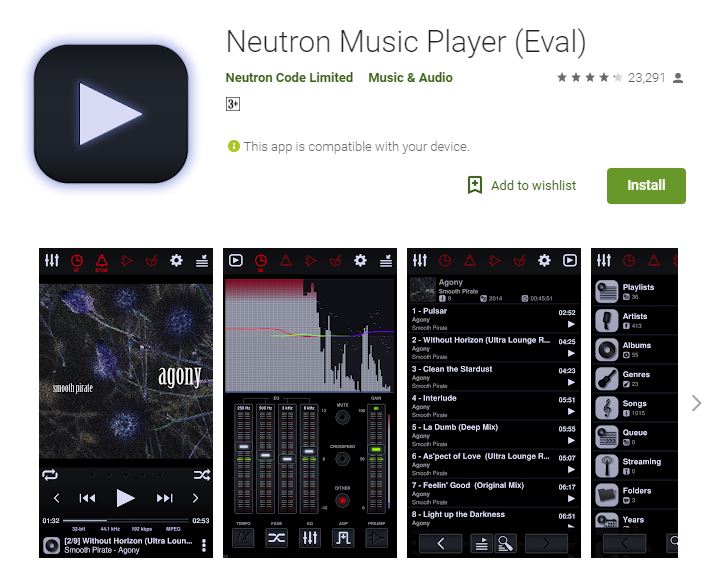 This music App is not as popular as it should be. Neutron player features a 32/64-bit audio rendering engine which is independent of the Android OS as per the developers. The idea behind this app is that it makes the music to produce a better sound. The software has several additional features like supporting several unique file types such as MPC and FLAC among others, an inbuilt equalizer, and a broad range of audiophile specific features. The cost of Neutron Player is a bit high but most people love it as a go-to music player app.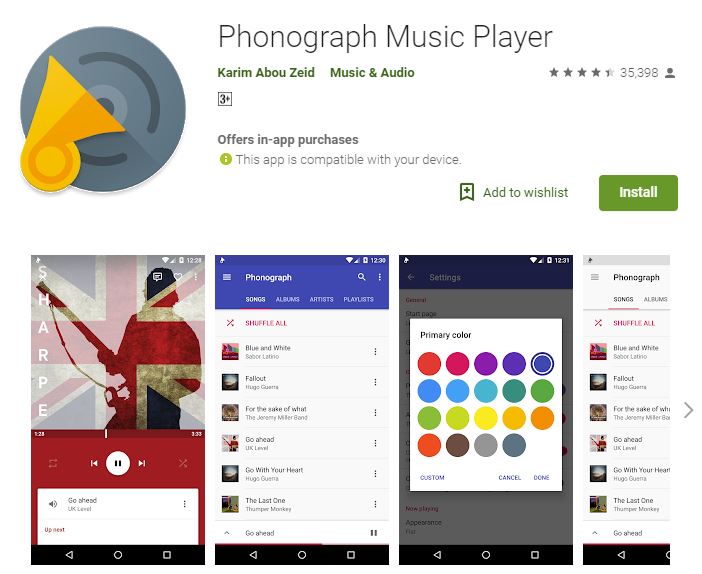 The phonograph is among the new music player applications. It boasts as an easy to use, lightweight, and simple best music player for Android. This App succeeds in most cases. It has a simple material Design and classic user interface. It is also fast to move through as required. You are free to change the theme as per your desire but its theme editor is not so powerful. In addition to this, you will receive Last.fm integration, playlist features, a tag editor, and a home screen widget among the other navigation features. It is a simple but great option for people who wish to listen to their music with nothing getting in their way. It is the best music player for android that is worth trying.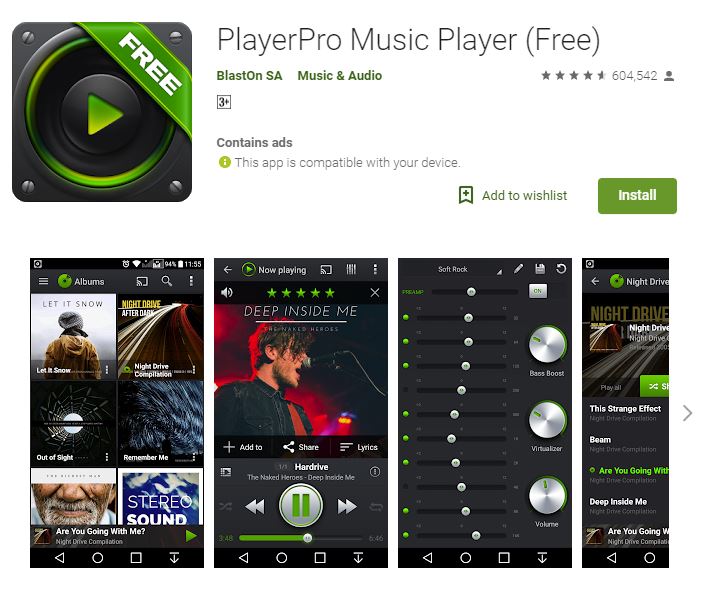 This music player is less-known but should be attracting higher traffic. It has a good-looking user interface making everything easy to use together with skins that users can download and then install for higher customization. You will also require support to play videos, Chromecast support, and Android Auto, a rare 10 band equalizer, widgets, several audio effects, and some fun tiny features such as the ability to shake the phone to help it change the tracks. The App also supports Hi-Fi music. You can get a free demo before you buy the premium option.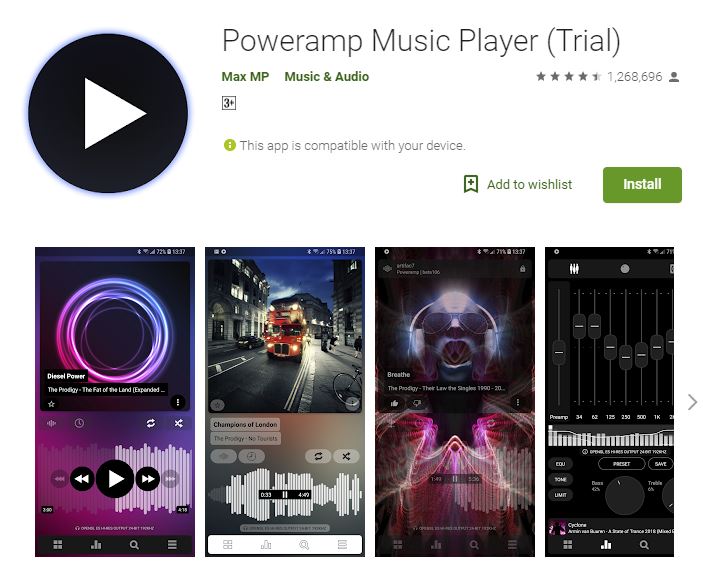 Several go-to music users really enjoy the experience that Poweramp gives them. The app has a sleek interface and you can download its themes from the Google play store. In some times, the user interface can be too clever for its good. However, it is efficient and effective. It also has themes that allow you to make it how you would like. It has several playback features like crossfade, gapless playback, and support various forms of playlists. You will also get tag editing, widgets, and several customization settings. It is the best music player for Android that strikes the right code for almost everyone. However, it has an occasional hiccup as the other apps do.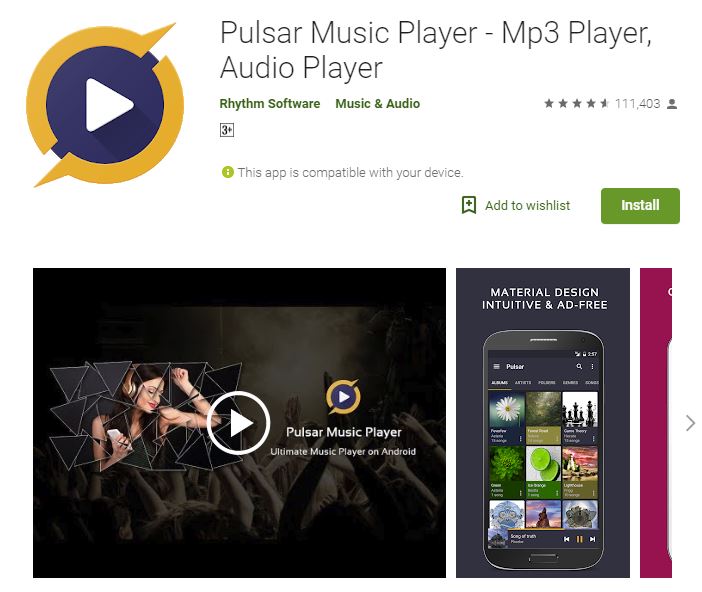 Most people confirm that Pulsar is among the best music players that you can find in the current market. Its features include Last.fm scrobbling, a sleep timer, smart playlists, gapless playback, tag editing, and a Material Design that is beautifully done. The app also has an awesome Chromecast support. It is not heavy is features like the other paid options even though it is still a beautiful app. It will serve you well if you are looking for something that is good looking, lightweight, and minimal. The app also works seamlessly with Android Auto and the premium version is quite cheap.
Read Also: