6 Things to Consider when Choosing a Retail Point of Sale Software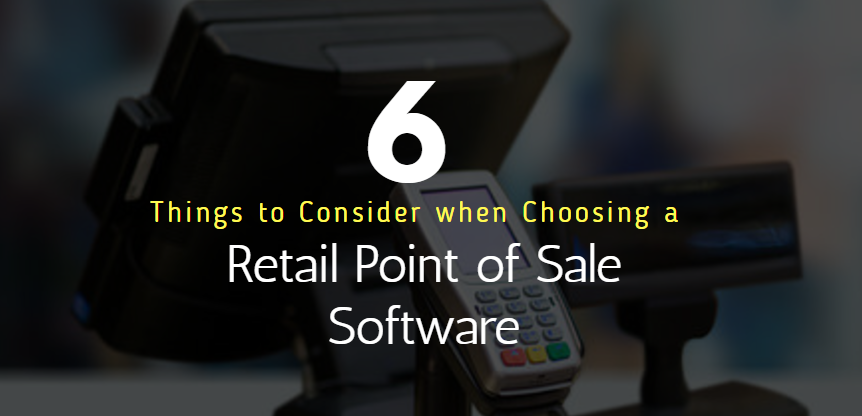 Choosing a retail point of sale software is among the most vital decisions that need to be made by new and existing business owners. You need to invest a lot of time in researching the software of choice. It can be hard to settle on a particular software if you are just starting in business. Choosing the right retail system will help in making your business successful. You can purchase that will handle accounting, employee, and customers. You need a system that can re-order products, manage inventory, and track consuming habits of customers. The productivity of your business will increase for your business to operate effectively and save you money.
[junkie-alert style="red"] 1. Features [/junkie-alert]
All businesses require different features. The features of a café and retail business differs. Some systems are industry specific while others suit a broad range of businesses. You need to determine the most important features you require because these systems have specialized in areas like taxation, promotions, kitting, and compatibility with portable devices. You need to look for similar businesses in your area to identify the system that works for them.
[junkie-alert style="red"] 2. Usability [/junkie-alert]
Usability of the retail Point of sale is vital for any retail environment because of the staff numbers and turnover. This means that you need to have a lower barrier to reduce on training and the likelihood of making errors. The system needs to be easy to use for everybody in the firm. The staff will process quotes, sales, returns, part payments, and laybys on a daily basis and it is therefore important to give an intuitive solution for the to understand how to perform all things without having to refer to a manual. They need to do this frequently to reduce the chances of making mistakes that would destroy the integrity of sales data.
[junkie-alert style="red"] 3. Cost and hardware compatibility [/junkie-alert]
Setting up a retail point of sale software can be pricey because you need to consider the cost of the package, as well as the required hardware. The hardware requirements of a single retail POS is a cash drawer, tablet/computer, barcode scanner, credit card terminal, and a POS receipt printer. You cannot just purchase any hardware because the software is compatible with selected hardware, therefore, you need to understand hardware requirements before purchasing a software.
[junkie-alert style="red"] 4. Inventory tracking [/junkie-alert]
Tracking inventory is vital for any POS software, especially when you possess multiple warehouses or branches. When you want to scale upwards in your business, you need to start by choosing the right inventory tool. There are questions in the store like making orders of products, performance, customers info that require answers daily. You need a system that can manage inventory from the beginning and offer inventory features to the business owner.
[junkie-alert style="red"] 5. Reporting [/junkie-alert]
Strong reporting is essential in any retail environment. You need the right information to make decisions. Tracking customers, sales, product, branch, and the sales rep will help you generate sales. Being able to drill to get data regarding particular info means possessing a great awareness and understanding of your firm and the flexibility required.
[junkie-alert style="red"] 6. Integration [/junkie-alert]
When choosing a retail point of sale software, you need to make more consideration than just the features. You need to think of the future when it comes to technological advancement in technology. You need to choose a system that can integrate with other accounting and e-commerce solutions to make the business run efficiently.
Software is moving fast into the cloud because of increased transparency and flexibility of accessing everything everywhere. You need to look for an online system that will be giving you updates from wherever you are and at any moment. You will have the ability to access any data at all times. However, you need to be careful with the online POS because loss of the internet connection means the loss of access to the system.