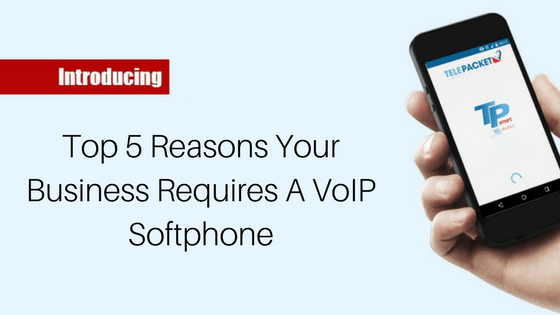 The landline is on the brink of extinction. It's true that its days are numbered. They are slowly replaced by the latest entrant in the era of telecommunication, the Softphones. Yes, you heard it right. Softphones are VoIP enabled phones. They make use of the Voice over Internet Protocol.
The biggest benefit of these phones is that they are operable from a computer or laptop and do not require any specialized hardware. They come enabled with several other facilities like VoIP Anti-Blocking Solution, VoIP Optimization and so on.
The number of users who have switched over to softphones has increased to a whopping 5 million users at the end of 2013. Enhanced functionality, integration of several applications and other features have led to the global increase in the number of VoIP Softphone users.
Here we give you the top five reasons to connect your business via a softphone.
Top 5 Reasons Your Business Requires A VoIP Softphone:
1. Easier & Quicker Connectivity:
Landlines are expensive to install and require regular maintenance. If you wish to install a landline in your business premises, then you have to initially place a request with the company that provides the landline.
Then you have to install it in a central location at your office and even at all desks. Consider the scenario where you're shifting to bigger business premises. Installing and moving your existing connection to a new office is a huge hassle.
Since VoIP softphone installed on a system, they can be taken to any place all over the globe, and you can stay connected to your business, even during travel.
2. Improve the Image of Your Business:
It's essential that you have to present a unified image of your company to your clients, board members, and business associates. With a softphone, there is no gap in communication, and you can easily present a unified face for your business.
3. Out of Desk, Employees Stay Connected:
Is a significant part of your workforce always on the move? VoIP softphone with an SBO Optimizer is highly beneficial for employees who are always out of office. They can easily connect with their team and clients, with a single number.
Clients need not keep track of two numbers. A single number is sufficient to reach you anywhere on the globe. This is the biggest advantage of having a location independent contact number. Making and receiving phone calls is a breeze.
4. Reduction in Communication Expenses:
When it comes to traditional landlines, you must pay a monthly fee to avail of the service. With softphones, there is no fixed charge. You pay only for the bandwidth you use.
Local calls on your VoIP phones are free and overseas calls are pretty cheap when compared to fixed lines. For just a nominal rate, you can keep in touch with your clients and employees all over the globe.
5. Range of Other Features:
Softphones come with a range of other features like VoIP Anti-Blocking Solution, VoIP Optimization that help your business grow. For instance, functions like creating transcripts of voice calls and mailing them to your mail-id are a huge help when it comes to discussing business over conference calls.
You can also monitor employee productivity with data usage.
Get a VoIP softphone and stay connected anywhere. Looking for the best VoIP connection for your business? Switch over to Telepacket and stay connected 24 x 7 and watch your business grow.
Read Also: