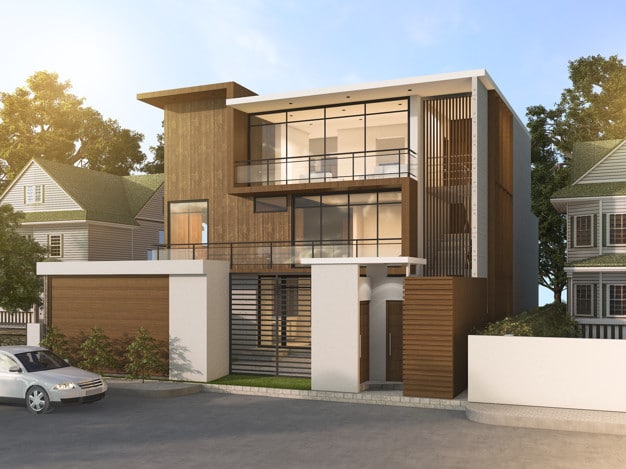 Balconies are all about a fantastic early morning feeling and the most relaxing place to witness the sunrise and sunsets. The cold breeze, the birds chirping, the green trees, and the whole wide blue sky, it offers the most rejuvenating experience with your morning or evening tea.
In recent years, interior design experts have laid a lot of emphasis on how you can invest in the aesthetics of open spaces in your house. Leading designers point out how putting a 3 seater rattan sofa can help you create a nice, cosy and inviting space on your balcony. You can hold functions, have barbecue parties or simply read a nice book on a warm sunny wintery morning. There is a lot that can be done to create warm and inviting spaces on your balcony if you are willing to take simple steps.
When there are bigger spaces for a balcony you could always make it multipurpose or even a hangout spot with your friends, more like relaxing with a view. It is also essential to start your day in a corner giving you positive vibes in order to ensure that it sets your mood right and the rest of the days go right. And for this, a crucial move has to be placing your balcony right.
There are many different ways one can set a balcony design, as per their tastes and preferences. Some would pick sober colors, and on the other hand, some feel better around poppy and vibrant colors. Hence when suggesting designs, it is only to give you an outline of ideas and figure you're aesthetic out. These are various ideas irrespective of whether your balcony space is extremely small or huge.
Aesthetic With A View – Balcony Idea You Can Look Out:
1. No Vast Balcony Space, Yet Want To Be Creative?
The very first idea would be for people living in small spaces, with barely any balcony. Well as it is a small space, and there can't be much of a game to play, the best option would be to set up an armchair, you could definitely go ahead and experiment with the color of the armchair, but do not compromise on the comfort, and definitely a small coffee table to rest your coffee mug, and definitely rest your leg as an add on, a few plants around the corner and you are set, it is definitely as simple as it sounds.
2. For The Yoga And Meditation Lovers:
The second balcony idea is mostly for the yoga and meditation lovers, as your life mainly revolves around peace and positivity, your color play and aesthetic would play an important role, a bright yellow, chrome yellow, or a lovely poppy orange would be a great choice. A definite and lawn and flooring revolving around wood would give you the vibes, a few plants to accentuate and some pebbles around would work as great accessories.
3. The Ones Blessed With A Vast Balcony:
This third option is for those blessed with a vast balcony. This balcony could be transformed into just another drawing-room, for your Sunday brunch parties – all you have to do is incorporate something like this 3 seater rattan sofa, and some side stools so as to be safe on days with more guests, a huge coffee table, and some faux grass, or accent rugs, and you're good to go.
4. The Influential Minds:
This next concept is for those influential minds who would want to reflect this feature if theirs in their space, you can definitely turn or think of turning it into a deck, with a raised platform, add an exuberant sofa set, some plants, and a great color play as of choice around the corners, well red would be a great choice.
5. For The Geeky Book Lovers:
How could we leave out the book lovers, this one's for all you geeks, whose life revolves around novels, a significant investment would be a small bookshelf to the corner of your balcony, away from where the rain could reach, and armchair, to conquer those books with some colorful pillows for the added comfort.
6. Creative Yet Can't Come Up With Ideas?
You can always play with the flooring; a great idea would be a mixture of patterned tiles. And since there is so much going on with the flooring, it is best to go with simple looking and minimal furniture of one color and a massive pot of plant at the corner to add some greenery. Love plants yet don't have the time to take care? This solution is for those who love greenery but don't have the time to keep track of them; you can always opt for some faux plants.
7. No Space At All For Furniture?
For those who don't even have space for furniture, who said you couldn't decorate your balcony, under such circumstances, you can always opt to throw a great carpet with the measurements of your gallery, and fabric of your choice. Some pillows to rest on your walls, and a tray to the corner with your teapot as an optional accessory.
8. The Greenery Lovers:
As there is a new addition to curtains and blinds in the market recently, that is the lawn curtains, which is ideally made for outdoors, and what better place than a balcony to utilize it. This would give you an illusion on grass walls, and can also be a great shade provider for those who are not great fans of the sun. This could also be of great help to stay away from your noisy neighbors.
Apart from grass curtain, there are also vertical gardens that can help accentuate your balcony. Vertical Gardens can add so much color to the greenery if you are someone who just doesn't like it green but also has a soft corner for flowers and color you can always pick vertical gardens over lawn curtains.
9. The Party Animals, Yet Lazy To Clean Up:
This for those people who love having to get together or enjoy having people home during the weekends, in other words if you're a party animal, and do not want to mess up the entire house and worry cleaning it the next morning, the best option would be to transform your balcony into a bar cabinet, this can ensure cold breeze on your Saturday nights, an amazing view, and solve your problem of not having to clean the entire apartment the next morning.
10. The Minimal Enthusiast:
And the last one is for those of you who don't like anything extravagant and your preference is all about minimalistic accessories you can always opt for a white painted wooden swing with some gold metal chains, and dedicate an entire wall to your personality, by getting it painted in pastel colors and some simple wall hangings with a white wood and golden frame details to go well with the swing, and by choice you always decorate the rest of the space with some planters.
Conclusion:
All these balcony idea mentioned above, like spoken, earlier is to just give you a picture of what you can do if you belong to any one of the categories that have been discussed. You can always alter or add on to our suggestions for the balcony to be screaming out your personality.
Read Also: