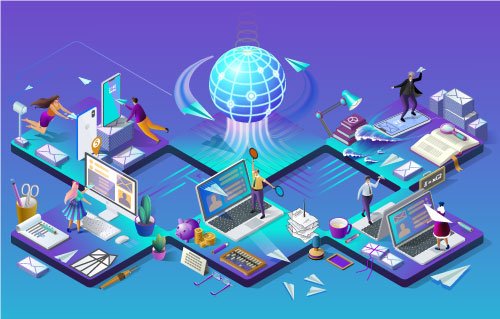 If you are looking for IT out staffs, then the Global Cloud Team can help you.
Hiring full-time employees are very common for most businesses, but recently gaining popularity outstaffing is often more profitable. The modern world of technology promotes the ability to work from anywhere in the world.
Today, outstaffing is one of the main trends around the world. This happens because in any business there are tasks that a company does not always have professional staff to complete them or it is not reasonable to keep in-house professionals.
From saving a lot of capital to cutting down on office infrastructure costs and scaling operations, Outstaffing can help your business in many ways. Like any other sound business strategy, there are definitely challenges when it comes to outstaffing. However, with the right kind of guidance and advice, you can rest assured of hiring complete professionals that can deliver work in a timely and affordable fashion.
With advancements in Information, anyone can carry Technology work from remote locations, anywhere in the world. This is why outstaffing is on the rise in many developed countries. This also helps businesses to concentrate on other important aspects of growing their business and seek more opportunities.
How Global Cloud Team can help with Outstaffing:
We can help you with this matter. Global Cloud Team has IT specialists with a wide variety of knowledge and experience in this sphere. At Global Cloud Team, you will find individuals who can provide the services of development of software for crypto mining, exchange-trading platforms, mobile market analytics, web and mobile development and much more. Our technology professionals have completed 113 projects for our customers, including large scale projects for companies that have over 100 Billion USD in monthly transactions.
We are a perfect choice when you need to complete a one-time project, especially if it is large, or have no possibility or desire to significantly increase staff, but still, need IT specialists to regularly implement your projects. It is also an optimal way out when you need to replace an employee gone on a long vacation or is on sick leave. You might also not want to hire more employees for tax and other reasons.
Many companies offer Maternity and Paternity Benefits to their employees. If there is such an issue in your organization, you can hire someone on a contractual basis from us. As they have years of experience working in different types of projects, they can help you with the estimated period. You do not have to invest separately in terms of infrastructure, benefits, and insurance-related activities.
How can an Outside Team Benefit your Business:
There are many other advantages to getting the Research and Development team from outside. First of all, there is no need to spend finances, effort and time on finding and training the right specialists.
You will also save money because your business will avoid costs associated with providing working space and equipment, vacations and other benefits. This also translates into a significant reduction of a load on the HR department and other employees of your company. Saving time and money, you stimulate the development of your business.
Flexibility in human resource management, ability to downsize or increase the number of people working on the project and use R&D resources only when needed are also great advantages. You will be able to reduce the number of full-time employees without losing professionals.
Moreover, your business will have access to the best experts in this field. Global Cloud Team engineers not only have appropriate qualifications but also regularly improve their skills and expand their experience.
In essence, you can let go of all the liabilities associated with hiring full-time employees in a real physical location. However, all the advantages that are associated with a full-time employee of your company can be gained from such an engagement.
Some of the biggest companies in the world work with remote professionals as they find them much easier to work with in terms of payments, conveniences and fixing responsibilities.
What you should look at when Outstaffing your Business Operations:
When turning to the Global Cloud Team, you will get a team of six to 25 highly-qualified, experienced software engineers and other professional members, including a personal team leader, to complete your projects no matter their complexity. You will have direct contact with the team leader and can be sure that the Global Cloud Team is a team that you can count on to do their best on every project.
It would not be a stretch to state that the Global Cloud Team only works with seasoned professionals. These professionals have years of experience working in some of the most complicated processes in the world. No matter what the nature of your requirements, experts from the Global Cloud Team can help you in many ways.
Your business will also be able to take advantage of Global Cloud Team's experience: our company probably already solved problems similar to yours. Taking into account the total experience of all employees, the deadlines for solving problems arising are minimized. In addition, we specialize in the IT-sphere and get acquainted with new developments before most businesses. Do not miss the chance to overtake competitors by introducing advanced technologies into your projects and business activities.
Conclusion:
By getting a team of software engineers from the Global Cloud Team, your company can fully focus on your core business activities and maximize your labor and financial resources. With reduced costs, the productivity of the company will only grow. Thus, its investment attractiveness will improve and income increases.
At the end of the day, every business wants to cut down costs, recuse itself from liabilities while not sacrificing productivity and profitability. Imagine a situation where you are only getting profitability without the risks associated with them in any way. Outstaffing is one such avenue that businesses are leveraging for maximizing gains in 2019.
Read Also: