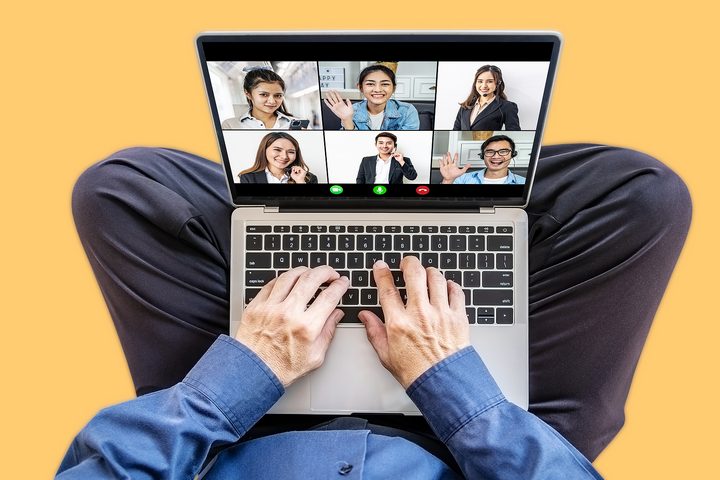 Webcams have transformed laptops into practical and efficient mobile workstations.
The webcam technology allows you to work and attend meetings regardless of where you are in the world. Many modern laptops come with sophisticated built-in webcams, which are user-friendly and contain intuitive features.
In addition to having a high-quality webcam, it's also essential to invest in laptops with adequate computing power. Programs like Skype, FaceTime, and Microsoft Teams use extensive resources, adding stress to your machine. If you want to attend video conferences while operating other applications simultaneously, you'll need a laptop that can keep up.
Checkout Ten Best Laptops With Good Camera Quality
By looking at the webcam, CPU, GPU, and RAM, you can narrow down the laptops that suit you best. Here are ten laptops with good camera quality, ideal for both students and professionals:
1. ASUS Zenbook Pro Duo 15 OLED
The ASUS Zenbook Pro Duo 15 OLED is a unique laptop with exceptional specs. It uses the powerful i9 CPU and the NVIDIA GeForce RTX 3070 GPU to run multiple programs smoothly. This laptop also comes with many innovative features. The Zenbook Pro Duo 15 OLED is famous for its ScreenPad Plus technology, a secondary 4K display integrated seamlessly into the laptop.
With this additional touchscreen display, you can review documents during video conferences without interrupting the image on the main screen. Best of all, the ScreenPad Plus makes it easy to customize your workflow. You can manage navigation controls, take notes, and switch between apps quickly.
2 HP Elite Dragonfly Max
The HP Elite Dragonfly Max is a decent laptop option for attending video conferences and online classes. Its impressive 5-megapixel webcam has a crisp 1080p resolution. Plus, the powerful camera allows the Dragonfly Max to record video in 1440p.
The webcam on the Dragonfly Max also allows you to unlock your laptop using facial recognition technology. The HP Elite Dragonfly Max is a powerful machine and comes with the 11th generation i7 Intel CPU and an impressive 32GB of RAM.
3. Microsoft Surface Pro 7
The Microsoft Surface Pro 7 is an excellent option for those who need to attend web conferences on the go. While technically classified as a tablet, the Surface Pro 7 comes equipped with an impressive 1080p, 5-megapixel webcam. You can feel confident running multiple programs at the same time thanks to its excellent specs. The laptop uses the 10th generation Intel CPU, the Intel Iris Plus GPU, and support for 8GB of RAM.
4. ASUS ROG Strix G15 G513
The ASUS ROG Strix G15 is a great option if you need a laptop with enough power to run games on high settings. This laptop has a full HD webcam that can record 60 frames per second at 1080p resolution. The webcam does a great job recording clear images even in low-light environments.
This laptop enables smooth performance with its NVIDIA GeForce RTX 3070 GPU and AMD Ryzen 9 5900HX CPU. The device will stand up to running multiple resource-intensive programs at the same time. The ROG Strix G15 comes with a high-quality display with an impressive 165Hz refresh rate.
5. MSI GE66 Raider
The MSI GE66 is a powerful gaming laptop that includes a high-quality webcam. The built-in full-HD webcam can record 30 frames per second at 1080p resolution. With the Intel i9 CPU and the NVIDIA GeForce RTX 2080 GPU, you can confidently run multiple programs while attending video conferences without experiencing any delay. The MSI GE66 comes with a high-quality display that can go up to a speedy 300Hz refresh rate.
6. Lenovo ThinkPad X12
The Lenovo ThinkPad X12 is an excellent laptop with a unique two-camera design. The 5-megapixel front-facing webcam enhances image quality using infrared (IR) technology. The ThinkPad X12 also comes with a rear-facing 8-megapixel camera, which is great for taking traditional images and making videos.
The front-facing camera comes with a webcam privacy shutter, helping to enhance privacy during online meetings. The diminutive Lenovo ThinkPad X12 weighs just 2.4 pounds. It is a great option for people that attend online classes or meetings.
7. ASUS Zenbook 13
The ASUS Zenbook 13 is an excellent all-around laptop with impressive computing power. The laptop uses a 720p webcam with infrared support, which allows you to connect with Windows Hello to unlock your computer. Instead of a privacy shutter, ASUS included a kill switch for the webcam, so you can disable your camera to increase security.
This compact laptop comes with a 13.3-inch full HD display with a unique 16:9 aspect ratio. It also has an impressive 95% screen-to-body ratio. Equipped with excellent specs, the ASUS ZenBook 13 offers a smooth performance when running web conferencing programs or enjoying media.
8. Apple MacBook M1
The Apple MacBook Air M1 is a highly portable laptop with a high-quality build. This device is equipped with a 720p FaceTime high-definition webcam, ideal for attending video conferences. Its FaceTime camera uses face detection technology and Apple's Neural Engine to adjust white balance and exposure in real time. The MacBook Air comes with a vibrant 13.3-inch display with a striking 2560 by 1600 resolution.
9. MSI GL75
The MSI GL75 is an excellent option for gamers that still need to attend the occasional web conference. The laptop uses an integrated high-definition webcam with a 720p resolution. This device excels at running games and multiple programs at the same time, thanks to the NVIDIA GeForce GTX 1660Ti GPU and the Intel i7 CPU. The GL75 has a large 17.3-inch full HD display with a quick 144Hz refresh rate.
Related: NVIDIA GeForce GTX 670 Review – Can This Run Games In 2023?
10. Google Pixelbook Go
Are you looking for a portable laptop that can handle video conferencing? The Google Pixelbook Go is an excellent option for people always on the move since it weighs just 1.9 pounds.
This laptop comes with a 1080p Full HD webcam, which empowers programs like Skype or Microsoft Teams. The Google Pixelbook Go has an impressive battery that can give you up to 12 hours of power on the go.
Read Also: