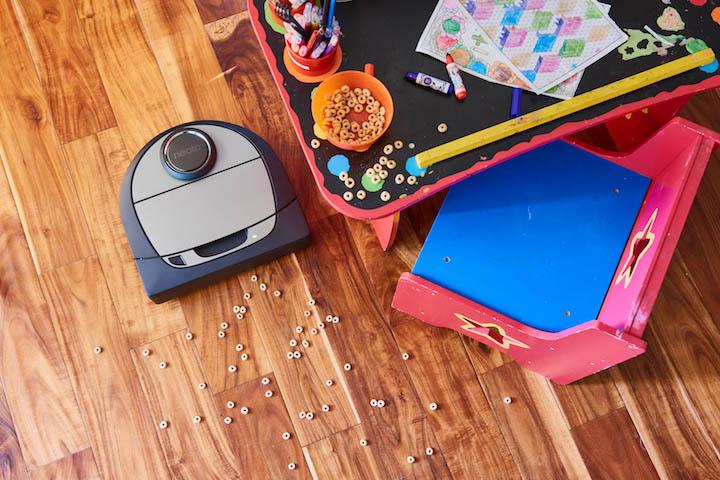 Having a pet is like having a messy friend! For all pet owners, Neato provides great robot vacuuming pet hair removal solutions. For a guaranteed cleansing of all home surfaces, use Neato. Special features of Neato Robot Vacuums include;
Neato vacuuming robots use advanced technology and mapping functions that allow you to;
Set a timer for optimum hours of vacuuming
Remotely control and monitor the process-even from work!
Receive updates on cleaning status, via mobile.
This means you can control vacuuming hours, and set it on autopilot for whenever you need it done. Neato robots also come fitted with advanced filtration systems to rid the vacuum interior of extraneous matter caught up in the vacuuming process.
These can include pollen, dust, and soil particles.
It is important to make sure your furry friends are not inconvenienced by the loud noise that some robots cause during vacuuming. With Neato, this is minimal. Neato incorporated noise filters that dim down the sound.
Here are some points to consider when choosing a Neato Vacuum brand for your pet hair removal needs.
Balancing suction power with surface types
Neato robot vacuums can clean any surface. Some cleaning routines require more power than others. Bigger brushes help with deep hair removal from tangled surfaces like carpets.
Battery lifespan and apartment size
Another important feature is the battery times. Neato's robot batteries models come with various charging capacities and battery lives. This allows you to select the best Neato for your home space and target cleaning times.
Neato robots come at a varying price range. The cheapest ones are great for basic cleaning for smaller apartments with a basic design. Where the need for more complex maneuvering, high power filters and suction power arises, (for example, in a thickly carpeted housing complex with many rooms and corners) the more advanced, expensive ones will work best. The best Neato models come equipped with a system of calibration for bumpy terrains.
All Neato models come with manuals that enable easy navigation. We have listed below a selection of the best Neato brands for pet hair removal (for more information you can research here) but it this list we give you the essential features.
1. Neato D7
The D7 is an outstanding tribute to robotics solutions that provides thorough hair removal. This model can be controlled remotely from your phone. It uses advanced mapping features that enable its owner to direct its navigation while vacuuming. It combines good suction power and large wheels which allows it to access hair in any surface from flat terrain to deep carpet surfaces.
2. Neato D80
Choose the D80 for a great clean, with no corner left untouched. Its special feature is a high-performance filter that allows rapid elimination of dust and soil caught in carpet surfaces and floors. It comes along with a high powered combo brush, which will enable it to sense and pick up the finest pet hairs lying on any surface. Despite being high powered, it is also quiet and hums rather than screeches!
It comes with a vast cleaning sphere of 3000 square feet per cycle. It has auto rechargeable facilities. It is adept at sinking it's suction force into the smallest corners, allowing for a thorough clean.
With the D80 model, one can set sessions to any time of choice and can choose between spot cleaning (localized regions) or leaning over a larger space. This makes it perfect for small one-room apartments or large homes with many rooms.
3. Neato Botvac D85
The Botvac D85 is a quiet, well-designed vacuum for a thorough cleansing experience. Uses laser technology and remote mapping to allow users to control it from a distance. This model includes a large brush and dirt bin for maximum suction volume. It can be utilized for one-spot cleaning or for multiple rooms. Its vacuuming sessions can be programmed to the users' time of choice.
4. Neato Botvac Connected
This Neato Botvac can be either directly controlled via buttons on its console or alternatively controlled via mobile. It features laser-guided technology that allows remote access and navigation. It includes two brush types. The combo brush is specially designed to be able to pick up the finest hair. The spiral blade brush affords superior deep cleaning on all surfaces.
Users can opt between two cleaning modes; Turbo mode, which sets its cleaning power to maximum, or eco mode, which lends for a quieter, longer run.
This model uses long battery life and can reach up to 5000 square feet of space per cleaning cycle. It is superbly designed to enable it to reach the tiniest spaces.
5. Neato Botvac D3 Connected
Buy Neato D3 for a quick, efficient clean. This brand is perfect for smaller space apartments and homes. You can have each room in your home pre-mapped for cleaning. The robot can be remotely navigated for via laser technology. Neato apps then give you an exact status update on all aspects of cleaning involved.
If you want your robot to avoid a certain area during maneuvering, you can set no-go lines to shut that region out of bounds.
This robot can be used for any surface, from hardwood floors to marble tiles. This is a small, nimble design that leaves no space in your home untouched. It uses great batteries and charging capacity to provide optimum battery life.
During the cleaning process, you can monitor your robots navigation either through mobile or through online apps like Facebook and Amazon Alexa.
6. Neato Botvac D5 Connected
This brand is great for intensive, efficient cleans. It can even brush up the sides of walls and corners with its small compact design. It uses indomitable laser smart technology to map out the most crucial areas in the room and misses no detail. On turbo mode, its power is intensified, increasing the rotation speed of its brush, and maximizing suction power.
It comes with a multiple floor plan feature that lets one choose between three-floor plan mappings.
This model is great for any floor surface, from hardwood to tiled marble floors. It can be remotely controlled via smartphone on online apps and provides a good battery life of up to 90 minutes per session. This model is best used for multistoried apartments and small homes.
Read Also: