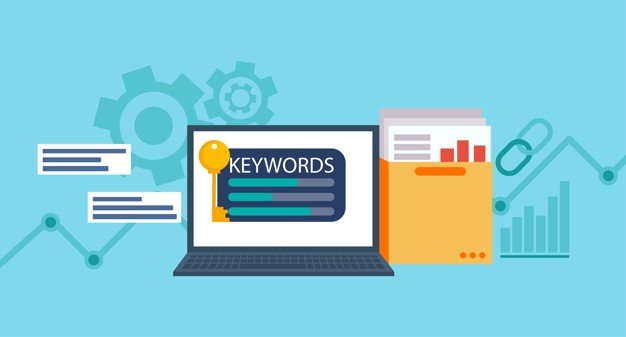 Keywords is an SEO term, which means words or phrases that in the context of search engine optimization describe the content of the web page. They help you with marketing your website and are one of the main SEO tools suitable not only for pro. You can use keywords for contextual advertising in Google Adwords and other search engines for internal and external optimization for free. For internal optimization, keywords are used in meta tags (Title, Description) and headings of texts and linking. By optimizing pages for keywords, you can increase traffic to your website greatly. Selected keywords are used to write a good semantic core of the site — a list of relevant keywords distributed across the site. The collected keywords are counted in frequency, filtered, and grouped by sections.
Before you choose your keywords, take a look at what google search queries are. This will help you choose the right keywords, depending on the type of your website (online store, online business card, content project, etc.) and its domain.
Types of Search Queries:
Search queries are divided into several types:
Information requests specified by users, finders of info (article, video, and other materials). For example, how to set the hit counter of the website, what is virtual hosting, etc.;
Navigational queries used when users are looking for a specific website. For example, Facebook, Twitter, etc.
Transactional queries, which express the desire of users to make any transaction (purchase, registration, or other actions). For example, buy an SSL certificate, download WordPress price hosting, etc.
The type of queries depends on a particular website. For online stores, transactional requests are of the highest priority, followed by the navigation/brand queries, and, finally, the information type. Websites putting branded/information requests in the first place are less interested in navigational and transactional types. Content projects have the following priority order:
Informative;
Branded;
Navigational;
Transactional.
Any type of keywords can be selected with the help of free tools.
Competent Selection of Keywords:
One of the key factors further promoting your site/blog, is, of course, keyword research and the selection of analytics tools. The keys are as follows:
Frequently requested words or phrases diluted with different expressions;
The popularity of the keys depends on the time of year (winter, summer, etc.);
Their popularity depends on the region.
The best way to start making a list of the keywords is to conduct your own research by turning into an explorer of your website and trying to imagine what your potential customers would type in Google search bar.
Read more: How to Create the Most Perfect and Most Successful Blog This 2019
The Choice of Keywords and Free Analytic Tools:
On new Rank Tracker, you can click on statistics of your website which shows:
The original key request within various phrases;
Frequency (per month);
Additional search queries for the keyword per session, the frequency of these phrasal queries;
Regional statistics queries.
The frequency and popularity (percentage) of the given keywords according to the regions;
A heat map of popularity;
Query statistics per month;
Query statistics per week.
This system gives a large amount of information for research, and to avoid confusion, it is recommended to use special programs, allowing observing all the ranking in one window. If your website has several hundred pages, you can treat the statistics manually, and you can add Rank Tracker to help yourself do it faster.
The choice of key phrases for your website should be based on the popularity of the phrase in an exact region. Regional popularity is the percentage of the query to other queries in the region, and this data is very useful for local businesses.
Thanks to a heat map of popularity, you can see the popularity of the query in other countries. Basically, this is a phrase checker by location.
Weekly statistics for research are collected for the past 12 months while monthly statistics are for the last 24 months. The data is mainly used to study the popularity of any queries during a certain season. For example, winter activities are popular in winter. So, you should be a good planner for your business.
After finishing selecting keys, we suggest familiarizing with the materials on-site optimization, for example, technologies of Yandex SEO. In order for your website to appear at the top list by search queries, it is not necessary to use one best method — use different ways and you will succeed.
Tracking Your Competitors:
There is no one who knows the secrets and tricks of a particular product better than the closest rival. Therefore, it is a good idea to determine who the competitors are. They are divided into three types:
Direct competitors. They offer an identical or similar product. They are slightly higher or lower in ranking for promoted goods of search engines, such as Google;
Indirect competitors. They offer other services and products that still can affect your popularity. For example, if your site offers travel packages on cruise ships, then its indirect rival will be hiking clubs and sellers of tourist equipment;
Potential competitors. The sites that may be competing with you in the future.
First of all, we pay attention to direct and indirect competitors. They will help our site to increase the results. You need to find out what the sources of competitor traffic volume are, analyze advertising messages and their semantics, and find pages that attract the most traffic. For a complete analysis of the competitive environment, you will need to use special services. We will track your competitors in the following manner:
Analysis of usability, interface, and technical characteristics;
Analysis of semantics, top pages, and traffic sources.
Conclusion:
You should select key phrases primarily important in your analysis. Therefore, pay attention to them in the first place because their choice depends on which line of the list your website will be. So, now you know how to choose the right keywords and make a semantic core for the site. Analysis of Google searches queries allows you to select only low-frequency queries for advertising or only high-frequency queries, and thus regulate the number of ads, their cost, and the flow of visitors to the site. Remember that knowing what your potential customers are looking for on the Internet is an easy way to create the text and the title of the ad that will attract visitors.
Read Also: