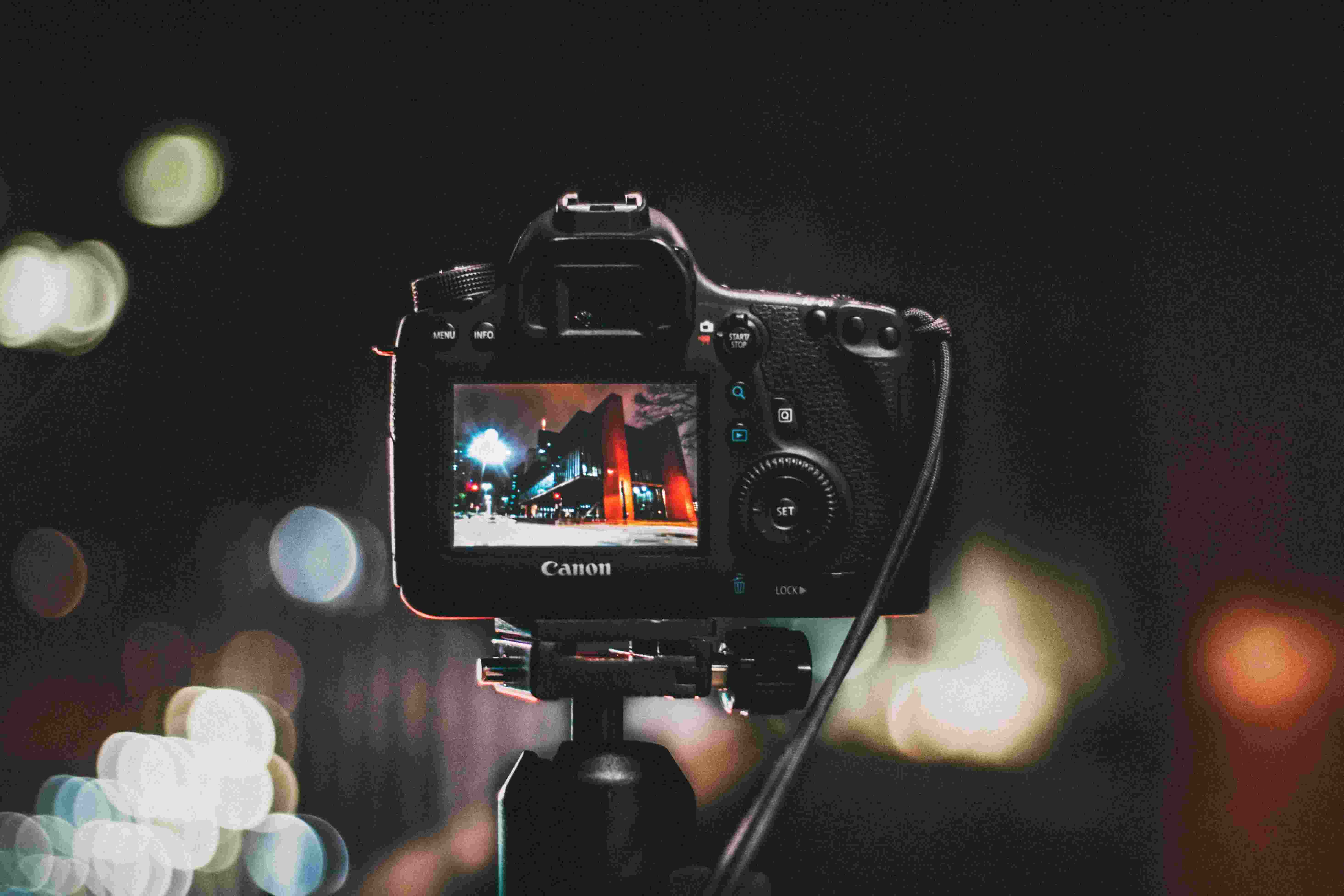 The Canon EOS 80D is known for its ease of use and offers better dynamic range than any Canon camera with the APS-C sensor. It features a dual pixel AF system that allows continuous focus during still and video shoots. An articulating screen makes it easy to shoot at awkward angles, especially in Live View. Despite average image and video quality, the 80D remains one of the best choices of enthusiast photographers.
Canon's EOS range has always surpassed consumer expectations and the EOS 80D is no exception. Released in 2016, this is a midrange DSLR designed for photographers in need of something more advanced than an entry-level Canon Rebel. It offers an extensive set of features and control options the 24MP sensor and DIGIC 6 processing engine are a nice step up from the Hybrid AF III found in lower level cameras like the 750D and 760D.
Other improvements offered by the Canon EOS 80D include a new mirror vibration control system to reduce blur effects of shock and7560 pixel RGB+IR metering sensor for subject tracking. The price makes it a good backup option for photographers who use more advanced Canon cameras. In this post, we examine the features of Canon 80D to find out how the camera performs and if it is worth a higher price than the predecessors.
Key Features
[alert-announce]
7fps continuous shooting with autofocus
45-point AF system with cross-type points
7560-pixel RGB+IR Metering Sensor
DIGIC 6 image processor
NFC and WiFi Connectivity
1080/60p video recording
[/alert-announce]
Pros
[tie_list type="thumbup"]
Excellent screen
24MP sensor offers good detail resolution
Fast and accurate autofocus system
Incredible image quality
Improved buffer depth
Dual Pixel CMOS AF offers excellent performance
Center AF is point sensitive down to -3EV
Good automatic ISO implementation
All 45 points of the AF are cross type
Articulating LCD screen makes it easy to shoot at awkward angles
Decent battery life of 960 images
Offers better dynamic range than the predecessor
[/tie_list]
Cons
[tie_list type="thumbdown"]
30 minute video recording limit
Kit lens could be sharper
Phase detect AF doesn't have very good low-light performance
Lacks 4K video capabilities
No HDMI connectivity
[/tie_list]
Best Canon EOS 80D deals
[supsystic-tables id=10]
Canon EOS 80D Overview
The EOS 80D is one of the best mid-range DSLRs designed by Canon. It was built as a successor to the 70D with more advanced autofocus capabilities. The new 24MP APS-C CMOS sensor offers a Dual Pixel on-sensor phase-detection autofocus system and improved exposure performance. A 45-point autofocus system with cross-type points is a huge improvement on 19 cross-type points on the EOS 70D. This means wider coverage and better subject tracking, both of which are crucial for enthusiast photographers.
The sensor and processor combination offers a wide ISO range of 100-16000, but can be expanded to ISO 25600. The 7fps maximum shooting speed is the same as the predecessor, but Canon improved the burst depth to 25 RAW files or 110 JPEGs. A 7560-pixel RGB+IR metering sensor provides color information to help track subjects.
This camera doesn't offer 4K video recording. However, it offers significant improvements over 70D's video. It can record full HD footage at 60fps and 50 fps for slow-motion playback. The headphone port comes handy when monitoring audio. Also included are HDMI mini, A/V Digital Out, and External Mic ports. The 80D records in MP4 and MOV formats, and has a video snapshot feature that helps users create more dynamic short films.
This is one of the few cameras in Canon's range with both WiFi and NFC connectivity. The latter allows you to connect the 80D to an NFC enabled mobile device or Canon Connect Station CS100. You can share photos instantly online and control the camera remotely using Canon's app. Canon's Anti Flicker System is a clever system incorporated to produce predictable color and exposure when shooting under a flickering light source.
Another point worth noting is that the Automatic White Balance System has White Priority and Ambience Priority options. The former removes color cast while the Ambience Priority setting retains some of the color created by lighting.
Canon EOS 80D Specifications
[supsystic-tables id=9]
Body and Design
The Canon EOS 80D is built well with a relatively lightweight polycarbonate body. It feels quite sturdy and far better than many Nikon's cameras. The grip material contributes significantly to this and so does the curved, tailored camera body. It is weather sealed, making it a good contender for different weather conditions. While it will emerged unscathed after shooting in extremely dusty conditions, it's worth noting that nature of the flip-out LCD screen makes it easy for dirt and debris to get stuck in the compartment behind the display.
Some photographers have expressed concerns that a tilt screen may cause more damage as compared to screens that articulate up and down or stationary ones. This is a genuine reason for concern, particularly if one were to drop the camera with the screen still open. That said, I still think the increased flexibility is an important advantage in most shooting conditions. The mechanical hinge for adjusting the screen is quite sturdy and performs well. The 3″ LCD makes up for its small size with an uncanny ability to make photos looks sharp and detailed.
Controls, Operation, and Display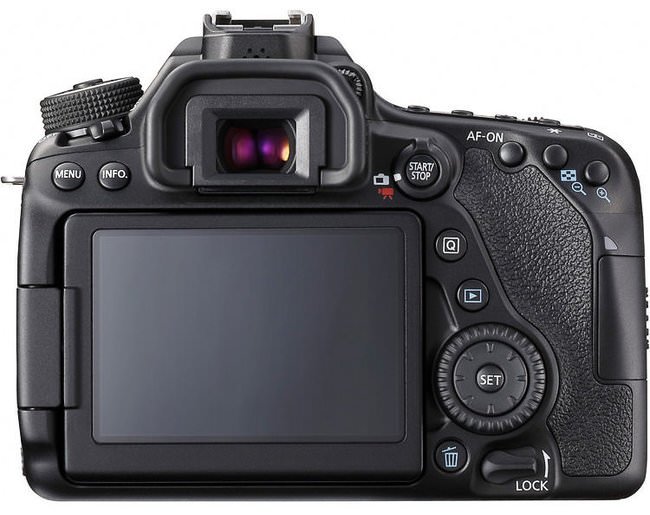 The Canon 80D has similar control points as the 70D in terms of button placement and physical design. The only difference is that the physical shape of Q Menu and Playback Button is different. Additionally, the newer model has a headphone port as well as a custom spot on the mode dial.
Controls at the top of the camera are laid out well. The mode dial on the left side has a locking mechanism to prevent accidental bumps. The right side offers direct access to ISO, AF, Metering, and Drive. Tapping the AF area selection button located between the shutter release and control dial allows you to quickly jump through four AF area modes. The LCD panel illumination is situated to the right of the Metering mode button. All of the buttons at the top of the Canon 80D except ISO and AF area selection button require looking at the LCD to change settings.
The tilt nature of the screen doesn't allow much room for buttons on the right side of the back panel. As such, controls on the left side seem a little crowded for some users. This is made worse by the identical shape and size of the buttons. That said, controls found at the back of the camera include Delete, AF-On, Zoom In/Out, Menu, Info, Q-Menu and Playback among others.
Canon offers plenty of touch control over the Main and Quick Menus, making it easy to scroll through photos. The Quick Menu provides speedy access to commonly used features. Unfortunately, it is not as customizable as it is on the Canon 1DX Mark II. Touch control works well, and you can choose menu options with a tap. A second tap or using the navigation keys allow you to access options. The mini joystick and control dial also come handy when navigating the menu.
The 3" Clear View LCD Screen is delightfully clear and crisp. It has a 1,040,000-dot resolution, resulting in detailed images. It makes it easy to manually focus a target during Live View. Being a tilt screen with a vari-angle hinge, shooting from awkward angles in portrait and landscape orientations is easier than ever. There are six customizable My Screens and a Brightness Control feature for optimized visibility in varying light conditions. You can assign six menu items to each of the My Menu Screens.
Many photographers prefer the viewfinder over the 80D's screen when shooting stills. This is particularly true when the subject is in motion. It provides 100% coverage and a nice, bright view. You can access the Creative Filter mode via the Mode dial. It offers 10 filter effects, all of which can be applied while shooting JPEG images. There are multiple Custom Mode Settings including Auto Sensitivity, Continuous Shooting, Natural Picture Style, Shutter Speed and Continuous AF. The Custom Function III 4 allows the user to customize nine controls for better access to certain features.
Image Quality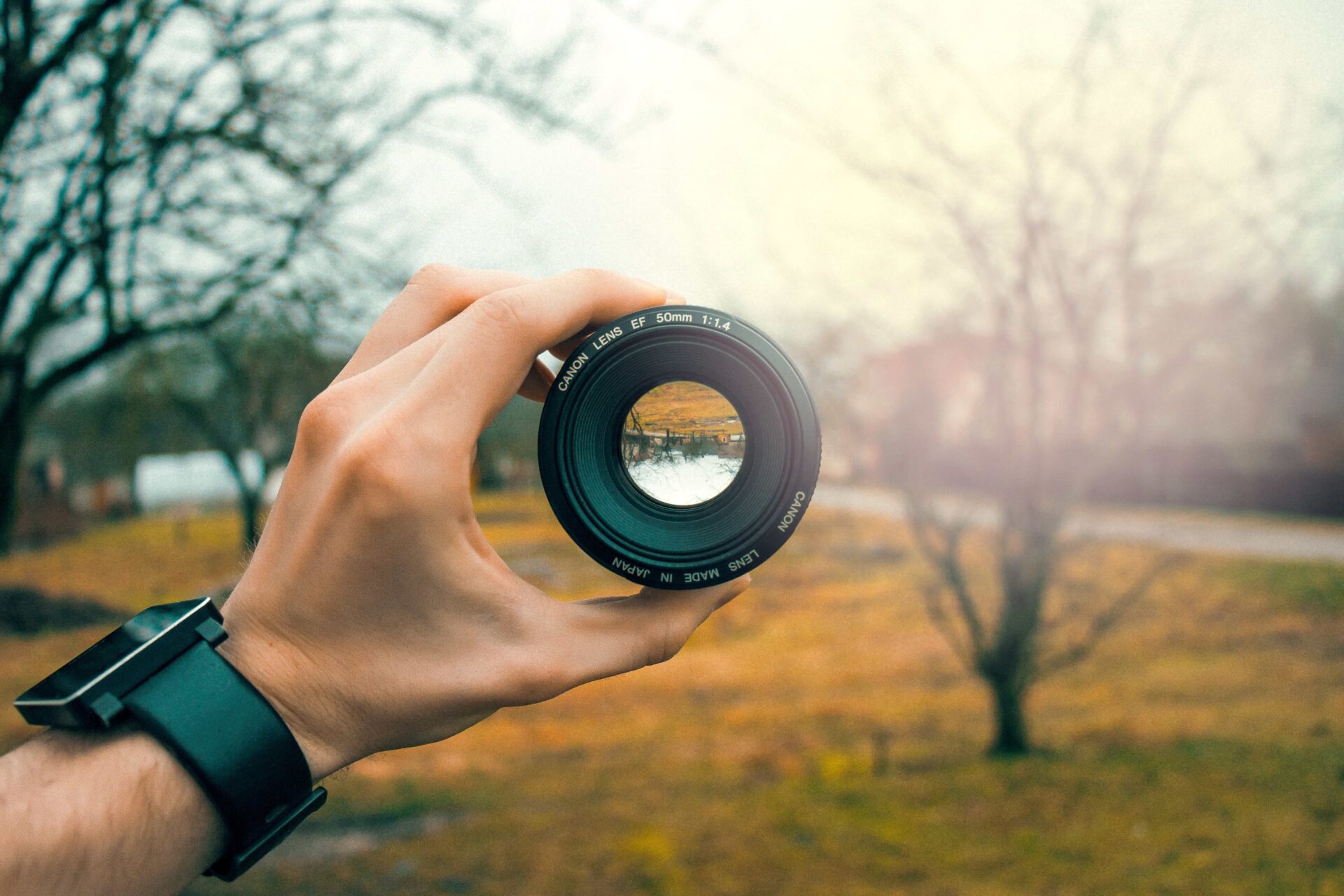 The Canon 80D is capable of producing incredibly detailed and crisp images thanks to a 24.2 megapixel APS-C CMOS sensor and DIGIC 6 processor. The increased resolution is welcome news for photographers who like cropping their photos tightly. Customers praised Canon for improving dynamic range and noise performance in the sensor. Noise levels are lower at the base ISO, a significant advantage given the smaller pixels.
The sensor has an optical low pass filter that offers improved resolving power.  It resolves an exceptional 3400l/ph at the base ISO and this is higher than the 2800l/ph offered by the 70D. This is notable throughout the ISO, with an impressive 3000l/ph at ISO 400 and 2800l/ph at ISO 1600. Luminance noise reduces resolution and softens fine details as you increase the sensitivity setting.
The dynamic range is 12.6 EV, which is almost equal to that of the Canon 70D. This figure drops well below 12.0 EV and remains above 10.0 EV at ISO 200-800. It continues to drop as you increase the sensitivity setting. It is only lower than 6EV at the extended ISO setting of 25600. JPEG images shot at ISO 100-400 have a high level of detail and doesn't show evidence of luminance noise.
Luminance noise starts being visible at ISO 1600 while chrome noise makes it presence known as you approach ISO 3200.  Canon's Fine Detail Picture Style offers subtle improvement with fewer sharpening halos as well as natural fine detail rendering.
You can purchase the Canon EOS 80D with the new 18035mm IS USM lens with a focal range of 3.5 to 5.6. It sports a new Nano USM AF system that provides super quiet and quick performance. The sharpness of the lens kit is a little disappointing, particularly along the edges. Distortion and chromatic aberration are problematic but can be corrected with JPEG files.
User Experience and Performance
The Canon EOS 80D's performance is above average for a mid-range DSLR. With a shooting rate of 7fps, it is quite fast and keeps you shooting for longer than the 70D. This is exceptional given the higher 24.2-megapixel resolution. Buffer clearing is only four seconds for JPEG files and 13 seconds for RAW+JPEG. You can change settings or even keep firing shots while clearing the buffer.
The 45-point phase detects autofocus system is a nice improvement 70D's 19-point AF system. It has cross-type points and offers better versatility. The 80D doesn't have a lot of AF Area modes but provides autofocus functionality down to f/8. Also included is a Dual Pixel CMOS AF, which provides improved Live View focusing for videos and stills. It is very quick, smooth and delivers a cinematic-looking autofocus performance. You can adjust the video speed to fit specific shooting needs.
Overall, the autofocus system works well in stationary subjects, more so in low-light environments. It tracks fast moving objects well, and performance is acceptable at best when compared to other models in its class.
The main downside is that the 80D easily loses the subject when it moves across several focus points. It functions with impressive accuracy if the subject moves less erratically or is stationary. The DIGIC 6 image processor records 1080/60p videos. It only uses a 50p frame rate to record 2x slow-motion video. The camera doesn't have 4K capabilities and the 30-minute continuous shooting rate is a letdown for those who need to record long scenes.
The Canon EOS 80D comes with an LP-E6N lithium-ion battery and a dedicated charger. It has a decent battery life of 960 shots when using the optical viewfinder and 50% flash. This reduces considerably when shooting in Live View mode. You should consider investing in a spare battery for backup during extended trips. The flash recharges in less than three seconds after a full-power discharge.
The fast power up and mode switching, decent shutter speed, generous buffer depth, fast cycle times, low shutter lags as well as fast AF speeds make for good to excellent performance. Considering what the 80D was designed for, this doesn't come as much of a surprise.
Other Features
Silent shooting
The Canon 80D offers multiple silent shooting options for live view and video. This doesn't mean that the shutter is 100% silent, just quieter than others. You can engage this feature via the Drive button when shooting through the viewfinder. Silent shooting is also an option when shooting in single-shot and Al-Servo mode. You can expect a burst rate of 3fps when shooting in the latter. The Silent Live View options shoot at 3fps when engaged.
WiFi and NFC
The Canon 80D has WiFi and NFC connectivity, allowing you to connect it wirelessly to mobile devices. Simply choose Wireless Communication Settings in the Setup Menu and enable WiFi/NFC. You can view and download images or videos to your smartphone once connected. This feature also allows for remote shooting and video recording. The remote control functionality is not the best. It is limited and leaves a lot to be desired when outside the exposure parameters.
Flicker detection
Canon's flicker detection feature "warns" the viewfinder when it detects flicker in the lighting. It encourages the use of different shutter speeds, thus preventing fluctuating brightness in videos. It also allows the 80D to synchronize continuous shooting and match the maximum brightness of the peak cycle. While flicker detection does a good job of preventing inconsistent brightness in frames shot under artificial lighting, it lowers the continuous shooting rate considerably.
Verdict
The Canon EOS 80D is a solid camera and a refinement of the 70D. Its body is eerily similar to that of its predecessor, but the improvements make it a worthy purchase. It has a new metering system, new imaging sensor, and an improved autofocus system. The on-sensor Dual Pixel AF provides the ability to utilize continuous autofocus during Live View. This camera offers the best dynamic range compared to other Canon cameras with APS-C sensor.
On the downside, there are models with better autofocus performance for serious action photographers and filmmakers. Enthusiasts who want to document daily life with friends and family will find the Canon 80D a worthy investment.