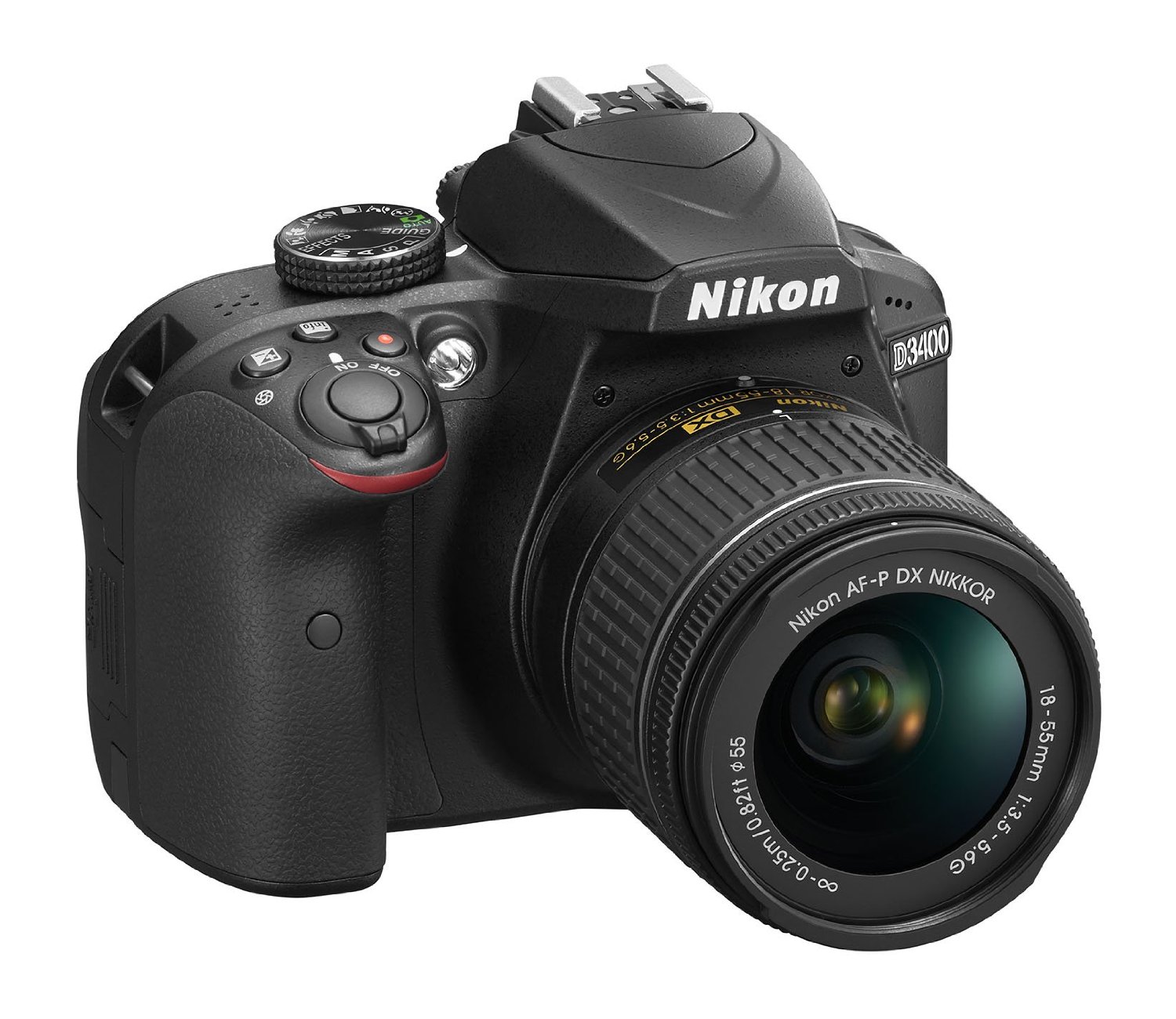 The Nikon D3400 is an entry-level DSLR released in 2017 that prioritizes a simple design, compact size, and lightweight. It adheres to all of these qualities while maintaining the benefits of an interchangeable lens system. In appearance, there is very little difference between the D3400 and the D3300. Both have identical physical measurements, but the newer model is 15g lighter. Before you buy a Nikon DSLR camera, please look at our Nikon D3400 review article below.
Nikon also managed to provide improved battery life, claiming that it can record 1200 images on a full charge. This is a significant improvement over 700 images by the D3300. Considering that the D3300 is more affordable and there is a whole lot of competitors in the DSLR category, the question becomes whether the upgrades in the D3400 warrant the extra price tag. Better yet, is the camera worth every beginner's attention? This Nikon D3400 review examines the features, image and video quality as well as the performance of the camera in an attempt to answer the above questions.
Key Features
[alert-announce]
SnapBridge Bluetooth connectivity
Easy to use Guide mode
1080p video recording at 60 fps
UltraSonic Sensor Cleaning
24MP APS-C CMOS sensor
3" 920k-dot LCD screen
5 fps burst shooting
11-point phase detect autofocus system
Affordable price
[/alert-announce]
Pros
[tie_list type="thumbup"]
Compact and lightweight design
Superior image and video quality
Competitive price
A wide variety of exposure modes
Offers access to Nikon's huge lens range
Incredible battery life
Decent single-shot AF performance
[/tie_list]
Cons
[tie_list type="thumbdown"]
Lacks touchscreen
Controls are relatively basic
Connectivity options could be better
No microphone port
[/tie_list]
Best Nikon D3400 deals
[supsystic-tables id='7′]
Nikon D3400: Detailed Overview
The D3400 is a modest upgrade of the D3300 built around a 24MP APS-C CMOS sensor and Expeed 4 image processor. This processor allows for full 1080p video recording and 5fps burst shooting. Its sensitivity range spans from ISO 100 to ISO 25,600, and there is a night vision mode that can be accessed via the effects option.
The headline feature is SnapBridge Bluetooth, which allows the user to transfer images to and from a smartphone or tablet. It does not have WiFi and as such, you cannot control it remotely using a smartphone. The good news is that Bluetooth doesn't use as much power as WiFi. When using SnapBridge, you can opt to transfer images either at their original size or limited file size of 2MB per photo.
The picture controls are on hand but if you want to process videos and photos instantly, you can access Effects like Toy Camera and Super Vivid via the mode dial. The 11-point single-shot AF system has a maximum sensitivity down to -1EV. The D3400 uses Nikon's 3D tracking technology to focus continuously on the subject. This innovation also allows the camera to continue autofocus in Live View.
Specifications of the viewfinder are no more than we'd expect at an entry-level. It shows up to 95% of the scene and is based on pentamirror construction. As for the display, this DSLR camera uses a 3" LCD screen with a decent 920k-dot resolution. The inclusion of Nikon's Guide Mode helps users capture specific types of images with ease.
All things considered, the D3400 compares well with its chief competitor, the Canon EOS 1300D. Both models use an APS-C CMOS sensor, but the D3400 has an 11% larger sensor area. They have a native aspect ratio of 3.2 and the 1300D has a lower resolution of 17MP. The Nikon D3400 has a high video recording rate of 1080/60p while the Canon EOS 1300D is limited to 1080/30p.
Camera Specifications 
[supsystic-tables id='6′]
Body and Design
This is one of the lightest DSLRs you'll ever spend money on. It weighs a respectable 650 grams along with the lens kit and battery, which you will appreciate during extended shooting sessions. Even better is that Nikon doesn't incorporate a compact and lightweight design at the expense of practicality. The grip is quite good and users don't have to worry about accidentally hitting the wrong controls. It is well sculpted with enough space to accommodate two or three fingers. Both the grip and ridged thumb-rest at the back of the camera have a textured rubber finish.
The components are housed inside a polycarbonate shell, which feels sturdy and resilient enough to withstand accidental knocks. Unfortunately, it doesn't have a weatherproof seal like the Canon EOS 1300D. Like most modern DSLRs, this one offers two ways of capturing photos i.e. optical viewfinder and Live View mode. The optical viewfinder provides 95% coverage, meaning you will see 5% of the actual frame seen in the final image result. It is quite bright and offers useful information to ensure an easier shooting experience.
The Live View mode can be accessed via the fixed 3" LCD screen at the back of the camera. The screen has a decent resolution of 920k dots and unlike other models in this price range, it lacks touch sensitivity. It is very clear and easily visible, even in bright light conditions. The camera comes with a Nikkor 18-55 AF-P lens kit that has a retractable design. While it adds to the extra work extending the lens while working, it is more compact and doesn't take up a lot of space in the bag.
Controls, Operation, and Display

The Nikon D3400 follows in the footsteps of its predecessors, which is not much of a surprise considering that it's designed for beginners. One of the buttons you will appreciate is the Info button. It brings up a screen of the mode you are in and current exposure settings. It is a good alternative for more advanced DSLRs because it allows a quick glance at the most important information without the hefty price tag.
The main mode dial has two scene buttons for optimizing settings on every mode. Scene modes at your disposal include close up, portrait, child, landscape, sports, landscape and night portrait. The Guide feature is accessible via the main mode dial. It offers a simplified menu that enables users to learn more about the camera's capabilities Given that this DSLR is designed for beginners, it is good to know that Nikon found a way to streamline the experience for such users. The Special Effects setting provides access to ten effects and filters to customize your photos. They include Low Key, High Key, Photo Illustration, Super Vivid, Silhouette, Toy Camera Effect, Miniature Effect, Selective Color, Pop and Night Vision.
There are five buttons on the left side of the camera i.e. Zoom In, Zoom Out, Menu, Playback, and the "i" button. The latter accesses a special menu with twelve predefined settings like ISO, White Balance, Image Size, Set Picture Control, Flash Compensation, AF-Area Mode, Focus Mode, Image Quality, Metering, Active D-Lighting, Flash Mode and Exposure Compensation. This goes a long way towards solving issues associated with a small number of physical controls found on entry-level cameras. You will find the main exposure dial, AE-L/AF-L button, Drive/Timer and Delete buttons on the right side of the camera. This is also where the 8-way navigation controller is located.
As for wireless capabilities, this low-tier DSLR uses SnapBridge. It makes 2MP versions of 24MP JPEG images and transmits them to your mobile device via Bluetooth. The feature works well enough for casual sharing, especially when sending a single photo to your smartphone. Unfortunately, SnapBridge is not very efficient when transferring dozens of full resolution images. It takes hours to get through the images and the battery may even die before you are done.
Image Quality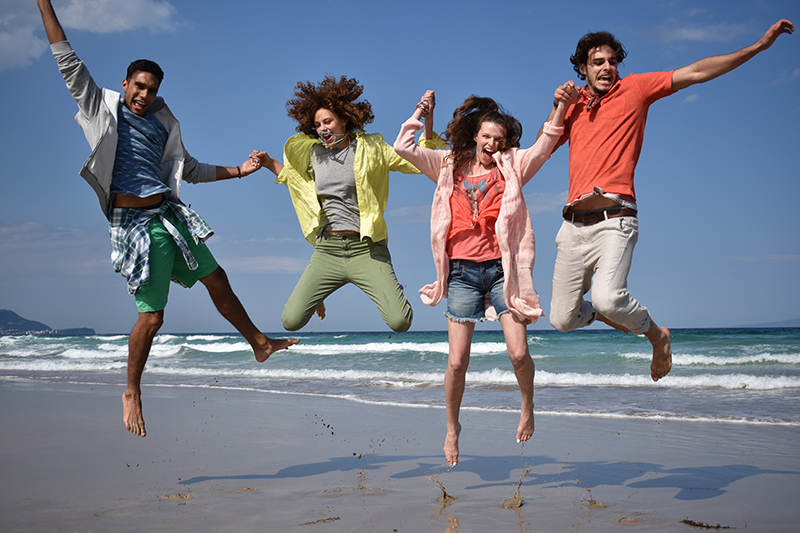 For an entry-level DSLR, the D3400 takes excellent photographs. Nikon did incredible work with the image sensor, making it one of the main selling points for this model. The fact that the sensor doesn't have anti-aliasing filter means that you get incredibly detailed pictures. The colors are vibrant and exhibit a pleasant amount of warmth in different shooting conditions. White balance is automated and performs well in a variety of conditions. However, the cloudy setting may prove more useful when the skies are gloomy. The camera produces accurate colors that are not blighted by an orange or yellowish tinge under artificial lighting.
Images are well exposed under general purpose settings. If using high contrast settings, you will need to dial in exposure compensation to avoid losing some detail in the shadows. The ISOs perform well, even the highest one of ISO 25600. For best image quality, you should stick to ISO 1600-3200. The speeds in that range result in great images with minimal noise.
The 18-55mm VR kit lens lets down image quality and doesn't show off the true capabilities of D3400. You should be able to get images with excellent details if you pair the camera with better quality lens. Photos are somewhat soft at wide apertures but exhibit good sharpness in the center of the frame when used in intermediate focal length. The curvilinear distortion and chromatic aberration are visible in RAW files but automatically dealt with when shooting JPEGs.
Optics
The Nikon D3400 comes with the Nikkor AF-P DX 18-55mm VR lens kit. It utilizes a step motor for a faster, quieter and smoother continuous autofocus. Macro performance is fine with some softness across the frame. The built-in flash throttles down at minimum distances, hence good images with moderately even flash coverage. The lens exhibits high barrel distortion, and this is notable in some images. When enabled, the Automatic Distortion Control results in minimal geometric distortion. This feature is available in most Nikkor lenses. It is usually off and has to be turned off after purchasing the camera. One can also apply Manual Distortion Control to JPEG images.
The lens produces soft corners when wide open at maximum apertures. There is notable blurring at the edge of images while the center is notably sharp. This camera has built-in shading correction, which helps with the vignetting at the wide end of the zoom and telephoto end. The viewfinder offers above-average coverage accuracy as compared to optical viewfinders found on traditional beginner DSLRs.
Dynamic Range and Noise Reduction
The healthy dynamic range of the D3400 is another reason why it is so popular among beginners. Most underexposed images can be rectified without noise becoming an issue, although this largely depends on the ISO setting. The camera tends to gravitate towards underexposure when shooting in bright conditions. This means that more highlight detail is retained, something that can be fixed during post-production. In conditions where high ISOs are the better option, images are well colored and don't have noise issues.
We were disappointed to discover that other than on and off, there is no control over noise reduction in high ISO settings. On a brighter note, the VR kit lens minimizes the need for high ISOs. Noise levels are low at ISO 100-400 and some fine details are low at base ISO. The fine noise grain at ISO 800 allows for well-detailed images and controlled chrome noise. Noise levels increase at ISO 1600 resulting in more visible grain and low chrome noise. There is higher and fine-grained luma noise at ISO 3200 but chrome noise remains low, and detail superior. It becomes stronger and blurring at ISO 6400. The only time chrome noise becomes an issue is when the ISO setting is above 12800.
Video Quality

Despite having excellent picture quality, this is not the camera for someone who wants to shoot videos exclusively. However, it offers plenty in terms of quality and functionality to satisfy the needs of a beginner. It records videos in 1080p at a frame rate of 60 frames per second, which is almost never found on entry-level DSLRs. This guarantees smoother footage than the predecessor, which records 1080p videos at 30fps. It also allows freedom to experiment with the slow-motion footage.
You can change the aperture, but not during recording. You get full manual exposure control while recording videos. There are no advanced features or a microphone jack. The stereo headphones provided are decent and audio levels are adjusted manually. Also notable is the continuous AF for video. It offers decent performance but footage in Live View can be improved with the new AF-P lens. Overall, the quality of videos is good in high and low light conditions.
User Experience and Performance
When it comes to user experience and performance, the Nikon D3400 is nothing short of impressive. For an entry-level camera, it exceeds expectations on every front. The autofocus has 11 points available, and only one of them is a cross-type point. While some customers were disappointed with the lack of AF improvement since the Nikon D3200, they noted that the D3400 offers a quick and accurate focus in good light. The new AF-P lens kit helps with focus in poor light, thanks to a new AF engine that is faster and quieter.
Nikon's trademark 3D tracking technology was incorporated for subject tracking purposes. It exhibits an ok performance at best, which is to be expected given the limited focus points. The traditional focus modes don't disappoint. The user interface is well thought out and going through it is easy. While the 5fps burst rate may seem low for some photographers, it is more than enough for an entry-level camera.
The buffer depth is an improvement over the predecessor and excellent when shooting JPEG images. Buffer clearing ranges from 1 second after 100 JPEG photos to 4 seconds after the maximum length burst of JPEG and RAW files. We were impressed with the incorporated flash as it took only two seconds to recharge. Another major improvement is the battery life. At 1200 photos, it is impressive for any DSLR camera. It is also very useful for individuals who never think about purchasing a backup battery.
All things considered, the performance of the Nikon D3400 exceeded expectations for its price range. Shutter lag, startup time and AF-speed are good. Burst performance is perfect and so are the single shot cycle times for low-tier DSLRs.
Verdict 
The Nikon D3400 is an excellent camera for beginners who don't have a lot to spend. It offers a strong performance, user-friendly features, and excellent value for your money. Entry-level DSLRs should be easy to use and provide plenty of control over crucial settings. This model strikes a good balance between the two with a simple control scheme and user interface, as well as the ability to use it in different modes. A disappointing factor for us is the optical viewfinder, which only provides 95% coverage.
The image and video quality is good for an entry-level DSLR camera and despite the simplistic autofocus, the user experience is positive in most regards. A 1200-shot battery is a huge advantage for those of us who like going to festivals or anywhere without access to power supply. The built-in Guide mode is a welcome feature for those who don't have a lot of experience with DSLRs. Though initially pricey when it was launched in 2017, it is now more affordable. In addition, the availability of backup accessories and lenses make it a worthy investment.