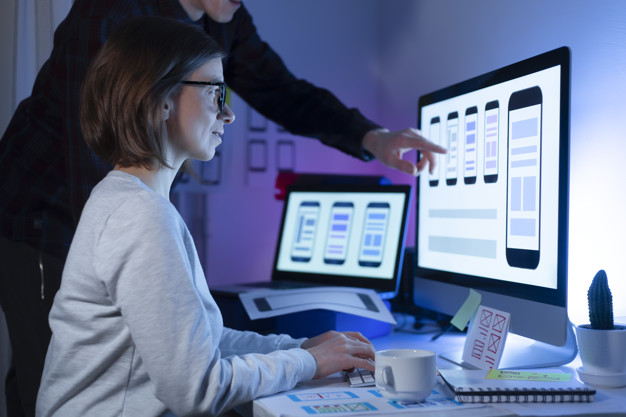 Web-based apps have become a great solution for many companies in the era of digitalization. But are they really essential, and how can your business benefit from them? Let's find out in this article. If you can't decide which type of web-based app to choose, keep reading.
What is a Web Application?
A web application is a website that looks and interacts like an application via a web browser. The biggest benefit of web-based apps is a more straightforward, affordable, and faster development process.
In this article, we will discuss different types of web applications and their advantages and disadvantages for your business. Like websites, web apps can be static and have rare updates, whereas dynamic ones are highly interactive.
5 Reasons Your Business Needs a Web App-
Web apps have become a crucial component of any business type in the modern world. With the use of web portals, businesses are developing rapidly and reach their goals considerably faster. Here are the main ways web apps are helpful:
Maintaining interaction with potential customers
Enhancing the level of customer support and service
Making your business more competitive
Reaching more customers
Simplified content creation and management
These functions sound highly beneficial for businesses in different industries. However, there are different types of web apps, each having its peculiarities.
7 Types of Web-based Applications-
Let's look more closely at each type and define which one is the best pick for you. To be more illustrative, we prepared examples of web apps of each type.
1. Multi-Page Apps:
This is probably the most traditional type. MPA reloads the whole page and shows a new one when the user goes from one page to another. The new page is displayed in a web browser by sending a request to the server, which requires more loading time.
Pros:
Beneficial for SEO ranking
Highly scalable and portable
Suitable to display a wide range of products and services
Cons:
Comparatively slower speed
The development process is more demanding and time-consuming
The most successful MPA examples are eBay, Amazon, Medium, IMDb.
2. Single-Page Apps:
This type provides smooth and fast interaction with the users. Developing and deploying a SPA is comparatively easy. There is no navigation to numerous pages as all the content is presented on one page. This type of web application operates faster than other web apps because of executing logic within a web browser itself and not on the server.
When it comes to the pros and cons of a single page application, we can single out the following:
Pros:
can work offline
stores all the data only on one server
fast operation
dynamic content updates
Cons:
Not the most effective for SEO
Vulnerable to XSS attacks
Among the examples of web-based applications, we can single out such market giants as Gmail, PayPal, and Netflix.
3. Static Web Apps:
This is the most straightforward type of web app as it has little space for movement. The most popular technologies for creating static web apps are CSS and HTML. This type is the most beneficial when the content doesn't require any substantial changes. If it does, making updates becomes a real challenge.
Pros:
Cost-effectiveness
Fast loading time
Optimal for small websites
Cons:
Updates and upgrades are not desirable
A typical example of this type is a portfolio.
4. Dynamic Web Apps:
This web application type has more technical complexity than the one we discussed previously. The pages are generated by a web server upon the real-time user request. Once the user sends a request, the page goes from a web server to software called an app server. The use of databases is at the very process end, so the users always receive access to up-to-date content.
Pros:
Easy content upgrading and editing
Higher flexibility and scalability
Enhanced interaction with users
Seamless navigation
Cons:
Complex and time-consuming backend programming part
High development cost
Examples of dynamic web apps are calendars, to-do lists, blogs, etc., that need frequent changes.
5. Progressive Web Apps:
PWA allows businesses to personalize interaction with their customers. The highlight of this type is that the content is available to registered members only. After the user creates an account, you can track their behavior and activity, and the functionality adapts according to these criteria.
Pros:
The behavior is similar to native applications
Indexable by search engines
Highly responsive
Available on any web browser
Cons:
not all devices support the entire functionality
limited support for offline operation
The most successful example of web applications of the progressive type is Instagram. This type is also suitable for developing different software from employee management portals to digital banks and educational software.
6. eCommerce Apps:
With the rapidly increasing popularity of online shopping via mobile devices, the need for an eCommerce application is urgent. The statistics show that in 2021, 72.1 percent of retail eCommerce will be generated via mobile devices. The mobile-first economy is shaping the entire industry. eCommerce apps help customers make purchases faster and improve their experience.
The development process is more complex than in all types we mentioned before, but it helps the retail business achieve higher results. Such apps are a great choice to simplify such time-consuming processes as order, inventory, payment, and customer management.
Pros:
improving customer retention
establishing strong relationships with customers
increasing customer loyalty
simplifying and automating the business operation processes
Cons:
high user demands
severe market competition – most apps can't survive
high development cost
a time-consuming and complex process
7. CMS software:
Content Management Software is helpful in creating, managing, and updating the website content without any technical expertise and knowledge of web programming. CMS is a relatively affordable and user-friendly solution. With it, you skip the stage of writing the content in static HTML and uploading it to the server.
Pros:
Simple and fast edits
Extending and upgrading the present functionality
Making changes by multiple users
Cons:
security risks
high maintenance cost
The most outstanding examples of this type are WordPress, Drupal, and Joomla.
Wrapping Up:
Beyond any doubt, custom software is a must-have for any business in 2021. Web apps are a progressive solution that brings the online presence of your business to a considerably higher level. We hope that our detailed overview of all the web app types helped you decide on the optimal software that perfectly fits your business needs and requirements.
Read Also: