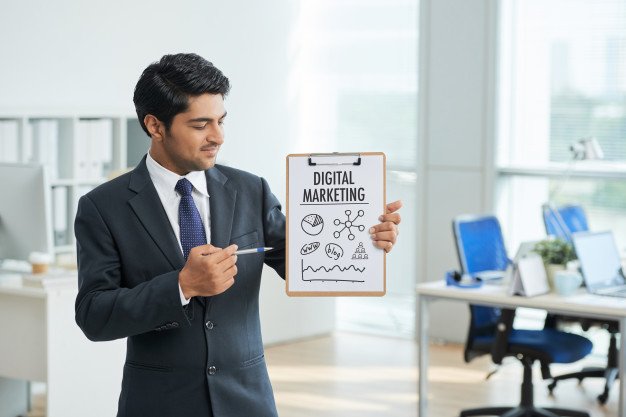 Introduction
Are you a beginner looking to master the highly competitive and challenging world of Digital Marketing?
Do you know how you ace Digital Marketing by creating a solid foundation based on research and information?
Have you tried following the advice and guidelines as laid down by some leading digital marketers?
In the past few years, a field of specialized professional activity has grown immensely. The recent COVID-19 pandemic has also made the transition to digital platforms possible at an accelerated pace.
Given the increasing number of small businesses looking to exploit digital for their gains, the rise of digital marketing as a profession is understandable. However, for someone looking to start in the field of digital marketing, the situation can be very challenging.
In this article, we are going to help aspiring digital marketers feel confident about excelling in the field. We are going to point out certain challenges, which young digital marketers can expect. Finally, we will list certain sections, which form the crux of digital marketing.
Challenges to Becoming a Digital Marketer in 2020
If you are reading this article, you are probably trying to become successful as a digital marketer. However, there are plenty of others who are looking to make their mark in the field. Let us list down some of the major challenges to becoming a digital marketer in 2020.
We spoke to the leading hosting experts at Interserver. For many of you who are not aware of Interserver, the brand offers some of the best servers and hosting capabilities for small businesses. If you are interested in availing services from Interserver, here you can check the reviews about it. Their affordable rates and efficient support ensure you do not face troubles.
a) Technical Nature-
In 2020, Digital Marketing has become highly technical. When the discipline first emerged, it was driven by creative professionals who could leverage the same. However, search engines and social platforms are now requiring a brief idea of the technical aspects of the software. This means that young digital marketers need to incline to understand the same.
b) Continuous Evolution-
The algorithms of search engines and social media are constantly evolving. This means that strategies, which were once successful a couple of months back are now being rendered redundant. This can become quite irritating for young digital marketers who have just mastered one aspect and now would have to do get knowledge about something else.
c) Too much Digital Noise-
The growth of digital marketing has meant that there are far too many self-proclaimed experts in the field. For someone who is starting. Following anyone can be difficult. This makes many young marketers see their concepts and strategies getting confused and leads to disillusionment. Everyone seems to be an expert in the field of digital marketing in 2020.
How to Start on the Right Path of Digital Marketing
Neil Patel or Brian Dean did not become successful in a few months, or years. They tried, failed, persisted, and are now regarded as some of the leading names in the digital field.
If you are someone who is starting and wants to know the right way to go about it, you need to start with the basics. Let us outline some of the basics steps-
Step 1- Start with a Blog
The first thing you need to do at the start of the digital marketing journey is to know about blogs and blogging. Handling a simple WordPress Blog can give you a lot of insights about handling complex things later on. For example, you will get to know about the basics of content marketing, SEO, keyword research, and small promotions.
Step 2- Understand how Content works
Ask any experienced digital marketer about what are the top three things professionals should master and they will point at content. If you can master content, keywords, and Inbound Marketing, you will set yourself up for the future. Content is important for both audiences as well as search engines. Mastering the same will help you in the long run.
Step 3- SEO + SMM = Success
Once you have been able to understand how content works, it is time to start with the essentials of SEO. This means doing a bit of outreach, knowing about Guest Posting, getting a hold of On-Page SEO, and so on. Many experts suggest that in addition to SEO, it is important to figure out how social media works and the best practices of the same.
Step 4- Website Essentials and Hosting
Digital marketing professionals must get an idea about technical aspects like hosting, servers, and domains. Understanding how it works can help you gain critical insight into aspects like speed, security, and so on. You will be able to understand how these elements contribute in a major way towards increasing digital performance.
Step 5- PPC
Many feel that becoming a PPC expert is isolated expertise in itself. I have seen experts with fifteen years of PPC experience not knowing anything about how content works. If you wish to specialize as a PPC expert, you should only make the transition after you have an idea about everything else- SEO, SMM, Content Marketing, etc.
New Areas of Digital Marketing which you will need to focus on
If you have been following the article till now, congratulations. You are now in a much better position to understand your progress in digital marketing.
Two areas, which are emerging in a very important manner in digital marketing are-
Data Management
Internet Security
Digital marketers must pay particular attention to how data can be used beneficially to boost performance. Also, it is important to protect your digital assets (client's website and data) from cyberattacks and ensure proper security protocols are being followed.
Understanding how data works can help give you a competitive edge over other agencies and marketers. Knowing about security can help keep you free from the fear of your websites or data getting into the wrong hands.
The Final Word
As a digital marketer, you cannot hope to achieve success in a quick period. You must spend a lot of time and effort in going into the details of every field of digital marketing. Unless you understand all the aspects, you will not be in a position to convert leads, command a team of professionals, or give your career a much-needed boost.
Read Also: