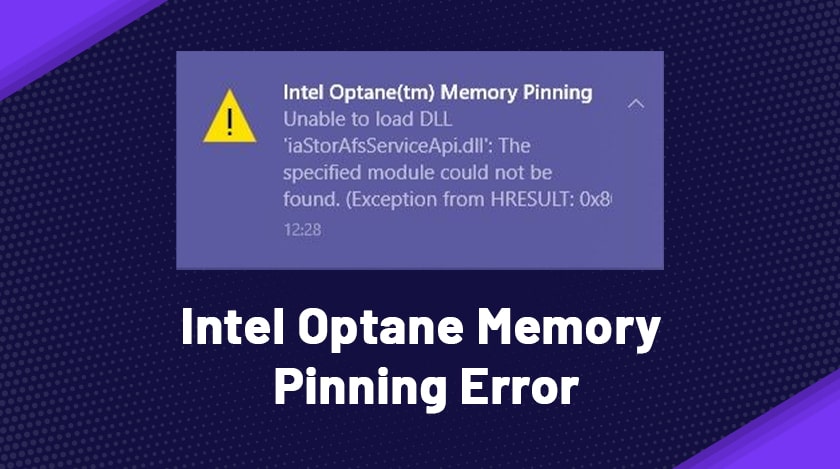 The intel optane memory pinning error keeps popping up when you try opening certain specific applications on your PC. The issue seems to happen due to the installation of the intel optane memory application. It gives rise to the problem when the system looks for some drivers but cannot find them. 
Thus, when an intel optane memory pinning error comes up, you can apply only a few solutions to mitigate this. But before hopping on to that, don't you need to understand what this error message is and why it shows up.  
Read this guide carefully till the end to get satisfactory answers to all your questions regarding this. 
What Is Intel Optane Memory?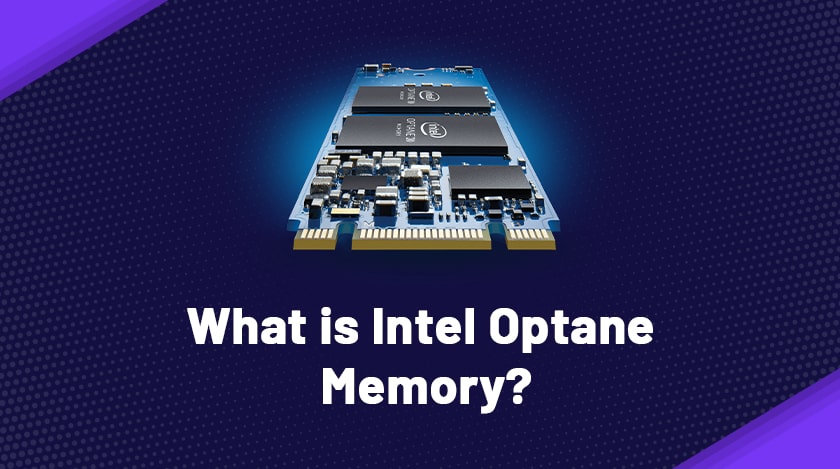 Apart from the seventh generation, Intel invented intel optane memory in 2017 for different core processors. As per Intel, optane memory is a remarkable new beginning. It is because it opened up a roadway to the memory field being smart technology. 
Intel optane memory considers such applications and stores them even if there is no power connected to the system. This, in turn, facilitates quick access to necessary information. 
Actually, its critical usability is related to the storage or backup of data. It opposes the mechanism of volatile Random Access Memory (RAM), which needs constant power to store data.   
Intel optane technology moves high capacity and high-speed data storage towards a computer processor. But did you know that it uses 3DX points? Surprisingly, this fact is unknown to many tech-savvies as well.
What Causes Intel Optane Memory Pinning Error?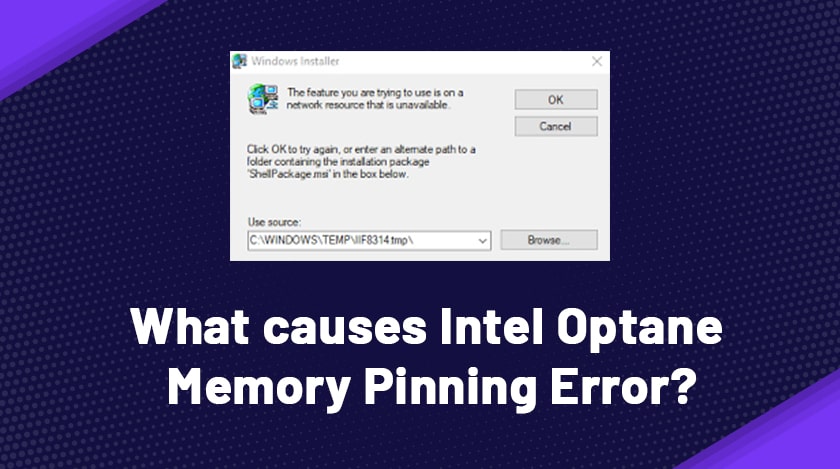 Do you get an error message from Intel Optane Memory Pinning all the time? For example, does it say 'unable to load dll iastorafsserviceapi.dll'? 
You just have looked for solutions everywhere for this. But you are here, which means that none of the resolutions were effective. So before starting anything, the only thing that we can say is you now have come to the right place. 
The intel optane memory pinning error began after the update of a Windows feature, i.e., v1904. The update installed the latest Intel drivers in systems having Intel optane service extension. 
However, the intel optane memory application is the epicenter of the error message in your system. It generally repeatedly appears Owing to the absence of caching drivers. These caching drivers are nothing but are backed by Intel optane memory. 
It to mention that a machine with new OS installation (RST drivers) is not prone to this issue.
In order to resolve this issue permanently, you must implement the solution stated below in the answers. We have guided you mainly on uninstalling Intel optane memory application. In addition, the following section speaks about installing an update for intel Rapid storage technology drivers.
What Are Possible Solutions To Intel Optane Memory Pinning Error?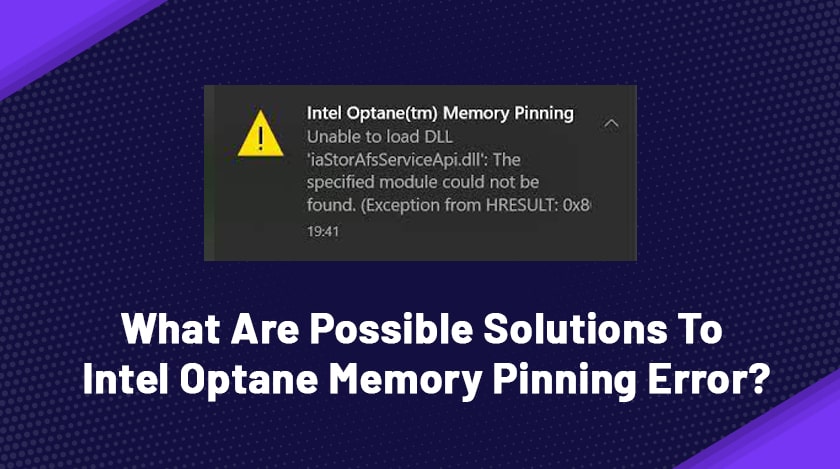 1. Fixing Intel optane pinning explorer extensions
First of all, refresh the recently installed driver package after renovating the Intel optane memory pinning extensions. Then:
Press together Windows key+R and open Programs & Features. Now type appwiz.cpl and hit OK. 

Detect the

Intel optane pinning explorer extensions.

Click on the Repair option. 
2. Uninstalling Intel Optane Memory Application
The next essential step towards solving an error is uninstalling the faulty application that your system installed while a Windows update. Nothing to worry about because it a simple process. The main requirement here is to have a clear concept. 
Here is how to execute the strategy in easy steps:
For eliminating the application from your device, press Windows+I together. Now take a pause until your system opens the Settings window.

As soon as the settings window pops up, quickly type in 'Applications' in the existing search box. After that, press enter.

By doing this, you will reach the list of all installed applications on your PC. In that window, look for the intel optane pinning Explorer extension. Next, tap the option to unveil uninstall and modify buttons.

It's time to click the Uninstall option. Then follow all the instructions appearing in front of you to dismiss the extension from your system.

Once everything is done, reboot the system to delete the extension permanently.
Solution 3: Installation of updated Intel Rapid Storage Technology Drivers 
Alongside the above tricks, there is another strategy that you can implement. It is similar to the idea of vaccination- injecting a virus to defeat another virus existing in our body. So what you have to do is install Intel rapid storage technology drivers on your PC. You can then check whether it has fixed your issue. 
To install this, download the SetupRST.exe file on your machine. After you have downloaded it, run the setup file and adhere to the screen instructions. In this way, you will complete the installation successfully. As the last step, restart your system to check if the problem is gone or not. 
Steps To End The Intel Optane Memory Pinning Error From Dell Community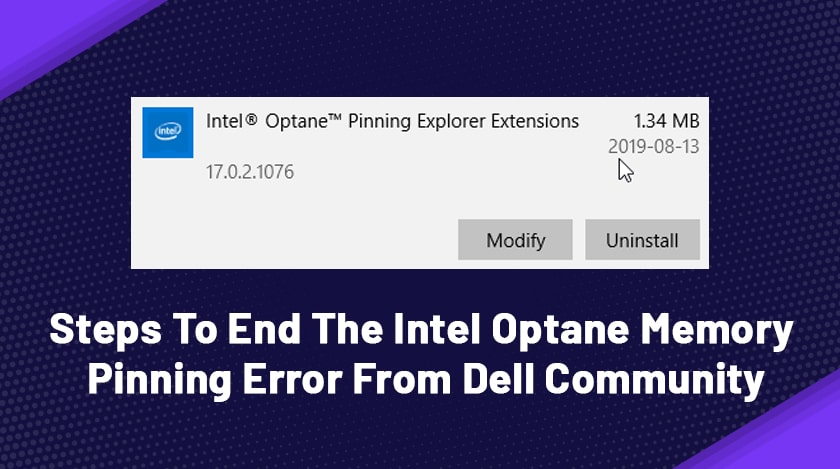 Several Dell users have been complaining continuously about the error in their system. Anyways, there is a tried and tested resolution – 'intel optane memory pinning error dell community.' Check out each step in the below segment:
Solution 4: Take Off The Backdated Pinning Package
The purpose of this solution is to prevent the error from reappearing after future OS updates. The procedures to do this accurately are as follows:
Open your Device Manager. To open it, click and hold the Windows key and then hit the X key. 

After the list appears, select the option Device Manager from it.

Click or tap the arrow located at the left-hand side of the Software components field. 

Now select Uninstall Device by right-clicking the entry for Intel® Pinning Shell Extensions.

 After this, click to mark the box saying "Delete the driver software for this device." Then proceed towards uninstalling it. 

Hit the options Uninstall. 

As a last yet indispensable step, reboot the computer. Then verify once if the issue is still there. 
A Pro-Tip
The hacks above are technically proven, and we hope you will get desirable outcomes if you have diligently followed. However, there is a minimum chance of their ineffectiveness. If that happens, you surely have missed a step in between. 
For amateur persons, the steps in previous sections seem to be a little complicated. Thus, we have brought a special tip, suitable for them. Here is an exclusive trick for you to mitigate the intel optane memory pinning error. If this issue is with your notebook or laptop, you try to make use of Restoro Repair. It scans the depository thoroughly and then replaced the missing and corrupt files. 
This method is workable in most cases where the error roots in system corruption. 
The Bottom Line
The intel optane memory pinning unable to load dll is a common problem many of us have faced. But, unfortunately, most of you have not found the actual solution. Hence the problem has been persisting in your system for such a long time.
Although it is a challenging difficulty, it might sustain for the long term you do not take timely actions. Now that you have learned how to fix the error, why don't you give it a nice try?
Read Also: