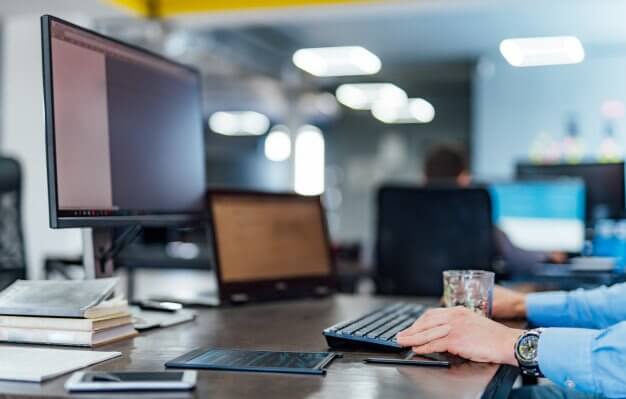 The late 90s was the age of Computers and .com, but today the scenario has changed and we live in a mobile-dominated world. Throughout the globe, technology is gaining precedence over all other technologies. Various mobile applications development companies have come forward in this field and presented apps for the different operating systems such as Google-based Android, and Apple-based iOS. However, all the mobiles may not function just with the hardware; they require apps that will execute in the mobile environment. Today all around us we can see a boom in the field of mobile app development. Various mobile app companies have come forward in this field and presented apps for the different operating systems such as Google-based Android, and Apple-based iOS. Besides app development companies, we can also find app developers for these mobile operating systems. Whether you are located in India, the US, the UK, or Canada, you can always find these app developers and app development companies. This article discusses the mobile app developer companies in Toronto and the skills used by the app developers in Toronto.  The mobile app development companies based in Toronto are a factor that contributes to its economic growth as well. For those businesses which are looking for potential app developers on either Android, iOS, or both, this article will provide a lot of help.
1. iQlance:
iQlance is one of the top and best mobile app development companies in the Toronto region. With its rich experience in app development, iQlance is leading the market because of its top-notch services. Some of their clients are from well-known companies in the world. If you are having any business plan, then this company is something that can give wings to your dreams. Experts of this well-established company give proper attention to clients' requirements and then work on them.
2. Net Solutions:
Net Solutions came into existence in the year 2000. Currently, it has offices in India, London, UK, and Toronto, Canada. Net Solutions offers a host of services that can be classified into the web, e-commerce, mobile apps, and cloud solutions as well. In the past few years, they have come up with mobile apps that support payment gateways. One such example could be the Mobile Wallet. They provide a good UI/UX for their apps, the technology they use is cloud-based, and have also included Wearable technology in their Mobile Wallet. Also, they make use of Agile technology while developing their mobile apps. They have been awarded and recognized by Forrestor, Gartner, Clutch, GoodFirms, Adobe, ITFirms, W3, and Brandon Hall Group. Their partners include prestigious names such as Amazon Web Services, Microsoft, Adobe, and others. Some of their clients include Microsoft, PayPal, Yahoo!, Xerox, and The English Premier League.
3. 247 Labs:
247 Labs is an IT company that started in 2013, and it deals in web as well as mobile app development. The company, which is based in Toronto, has notable clients such as Johnson & Johnson, General Motors, and Motorola. Under the aegis of web development, they cover Full stack, front end, back end, servers, APIs, Android, iOS, Windows, Mac, Linux, and Ubuntu Phone. They even take up projects that failed initially and turn them into successful projects. Under the mobile app category, they develop for Android, iOS, Wearables, and TV apps. They also help to integrate mobile technology with Bluetooth and geolocation etc.  They stand out due to factors such as custom design, custom applications, and quality assurance.  They also are specialists in the field of Product and Project Management. While developing applications they are using the Sprint methodologies in order to develop Agile applications for their clients.
4. Clearbridge Mobile:
Clearbridge Mobile is a full-stack, Toronto-based mobile app design and development company. It has released more than 250 applications for big business customers including more than 35 Fortune 500s. Apps from Clearbridge have been downloaded more than 300 million times. Clearbridge created a full-featured iOS and Android app that allowed telecom clients to pay their bills and manage their statements. The client raged about the positive mindset of the team, immaculate project management process, and deliverables that were flawless throughout the complex apps.
5. HIPO:
The app development company located in Toronto, Canada develops apps that the users cannot ignore. The company develops web apps as well as mobile apps(both for iOS and Android). Not only do they take the responsibility of designing and providing a good UI for your app, but they also cover all the aspects right from the core to the advanced stages of the app. The code used by the developers is scalable when a newer version of the app is launched. Besides just providing the client with the promised app, developers at HIPO also provide post-development support to the clients in case such a need arises. Some of their most noteworthy remarks came from business houses such as TechCrunch, The Verge, Wired, FastCompany, and The Next Web. Apps developed by HIPO include RobinHood, Moment, AlgoRand, Filament, BlogTo, and many other wonderful apps.
6. Essential Designs:
Essential Designs has its offices located throughout Canada with Toronto being one of those locations. The developers are known for their expertise in Web applications, Mobile Apps, and their skills in designing the UI/UX for their apps. They are known to take care of all the issues that may stand in their way during the development of mobile apps. The project experts whether for Android or iOS manage all the project components. The development stages they follow include Planning, Wireframing, Designing, Coding, and Deployment. The developers perform 4 stage testing for each of their apps. This includes a Sprint List in stage 1, Quality Assurance in stage 2, a review by the Team Leader in Stage 3, and yet another review by the Project Manager in the 4th and the last stage.
7. Osellus Mobile:
Osellus Mobile is one of the top app development companies. Osellus Mobile has various awards to its credit which includes many ultimate mobile solutions for top companies in the finance, retail, Windows Phone, insurance, health, IT, and entertainment industries. Moreover, this company has a professional team of experts for iOS, Android, and HTML5 platforms.  They help businesses turn their ideas into useful apps at hardly any time. They develop every program and avoid certain frameworks like cross-platform. They use their unique cross-platform methodology for developing apps to reduce the cost of developing apps for different platforms, and to shorten the market time.  Some of their clientele include AOL, Cisco, Verizon, Bell, and Pepsico.
8. TWG:
TWG was founded in 2002 and is a software development company headquartered in Toronto, Ontario, with a satellite office located in New York. TWG offers web development, custom software development, and mobile app development services with a team of approximately 140 employees. The company makes use of Lean Six Sigma, Sprint, and Agile methodologies. Their concept of thinking approach goes beyond problem-solving by rethinking what's feasible for the customer experience.
Summarizing
In today's world, almost every business wants to provide its services to clients at the time when the clients require it. It is possible by creating an app that hosts the services, and information about the products that are being offered by the business. Due to this, there has been a boom in the mobile app development market. This article has listed some of the very good app developers who are based in Toronto, Canada. The developers listed here are no doubt world-class app developers, but it is always the choice of the business or the individual to choose which app developer should create the app for them. This purely is based on the needs and requirements that the client has. Also, while getting the app developed there are many other factors such as price, cost, and features that will affect the choice of developers.
Read Also: