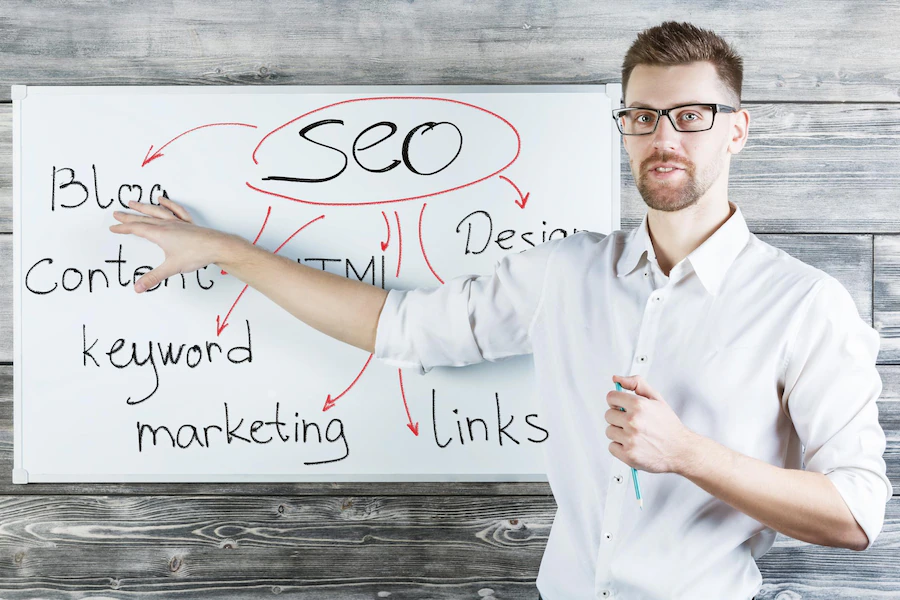 Search engine optimization (SEO) is a vital component of any digital marketing strategy. It ensures that your business website ranks high in search engine results, making it visible to potential customers.
As technology continues to evolve, businesses must keep up with the latest SEO trends to remain competitive in their respective industries.
This blog post is to bridge the gap between your business and the SEO trends that will lead you to success. Together, we'll explore the top 2023 SEO trends that you need to optimize your website for, along with essential tidbits that will help you achieve success in the market.
SEO For Dummies
SEO, or Search Engine Optimization, is an essential part of online marketing. In simple terms, SEO is the process of optimizing your website to rank higher in search engine results pages (SERPs). When someone types a keyword or phrase related to your business in a search engine like Google, your goal is to appear as high up on the first page of results as possible.
By using SEO techniques like keyword research, optimizing website content, building backlinks, and improving website speed and mobile responsiveness, you can improve your website's ranking on SERPs.
It's important to know that SEO is an ongoing process, as search algorithms continue to evolve and change, but investing in a solid SEO strategy can help drive valuable organic traffic to your website and attract new customers.
Is SEO Important For My Business?
In today's digital age, SEO has become an integral part of any successful business's marketing strategy. With over 1.7 billion websites on the internet, competition is fierce and having a strong online presence is essential.
SEO helps your business to rank higher on search engine results pages, making your website more visible to potential customers.
This increased visibility translates into more traffic to your website, which can lead to more sales and revenue for your business.
Ignoring SEO can be detrimental to your business's performance in the long run, so it's important to invest in it as early as possible. By incorporating SEO into your marketing strategy, you can stay ahead of your competition and attract more customers to your business.
2023 SEO Trends and Tips For Your Business
Voice Search Optimization
Voice search is fast becoming the preferred search option for smartphone users globally. In 2023, the majority of online searches will be conducted via voice search.
As a business owner, you should optimize your website to accommodate these changes. Voice search optimization involves creating content that caters to conversational language and tone. Also, ensure your website is mobile-friendly, as most voice searches are done via mobile devices.
Featured Snippets
Featured snippets are a powerful tool for driving website traffic and gaining high-quality leads. Featured snippets are brief snippets of information that appear in search engine results.
They provide concise answers to user search queries. In 2023, Google and other search engines will prioritize featured snippets in search results. As a business owner, ensure that your website contains valuable information that can be displayed as a featured snippet.
Video Content
By 2023, video content will make up over 82% of all online traffic. Video content is an effective tool for driving website traffic and increasing brand awareness.
Adding video content to your website can also help improve your search engine rankings. Ensure that your video content is relevant, informative, and engaging. Optimize your video content by using relevant keywords in the title, description, and tags.
Artificial Intelligence (AI)
Artificial intelligence (AI) is rapidly transforming the digital marketing industry. AI-powered SEO tools can help businesses analyze data, optimize content, and improve search engine rankings.
AI can also provide valuable insights into user behavior, allowing businesses to tailor their strategies to their target audience better.
Mobile Optimization
In 2023, smartphone users will account for 72.6% of all internet users worldwide. As such, mobile optimization is crucial for businesses that want to attract and retain customers.
A mobile-friendly website not only improves the user experience but also improves search engine rankings. Ensure that your website is optimized for mobile devices by using responsive design, optimizing load time, and prioritizing mobile-friendly content.
Bottom Line
In conclusion, staying up to date with the latest SEO trends is vital for businesses that want to remain competitive. From optimizing for voice search to creating engaging video content, businesses must adapt to the changing digital landscape.
By incorporating these SEO trends into your digital marketing strategy, you can ensure that your website ranks high in search engine results and attracts high-quality leads.
Read Also: