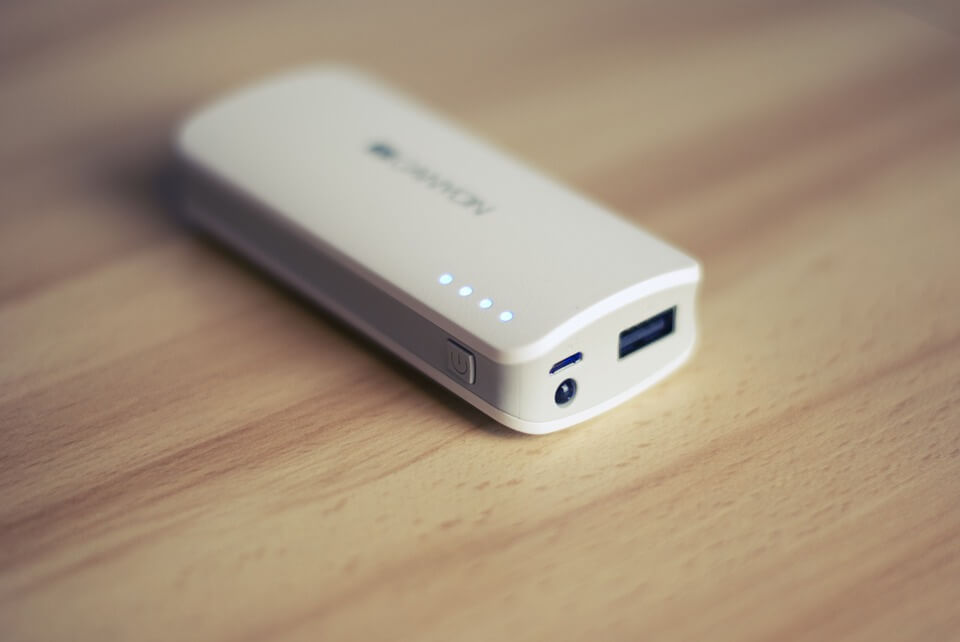 Just like smartphones, there is a lot of power bank out on the market. This is both a good and a bad thing. For one, having a lot of power banks makes the need for portable chargers very apparent because a lot of people need power banks in their daily life to have their smartphones and other devices charged up. Also, since there is a lot of power bank that is being sold, it also means that there's more variety with what they can do; so ultimately, the vast amount of competition is able to make power banks better.
With that said, though, a lot of power banks that are sold just aren't up to standards with what they should be. This is because there are some companies that rely on many people not knowing what power banks are good or bad. So this results in a lot of power banks being sold with a poor conversion rate of their power capacities, slow charging, and overall bad build quality.
This is why I have created a few tips on what you should look out for when purchasing a power bank because, in the end, you want a reliable, powerful and mostly portable charger that you can use. Not something that provides poor charging speeds and is going to stop working after a week.
Tips On Getting a Great Power Bank:
Charging Electronic Companies:
As I mentioned before, there are a lot of power banks being sold and that also means that there are a lot of companies selling them as well. However, not all companies produce equal quality power banks. Since most companies skimp out on production costs, which results in a poor quality power bank. To avoid purchasing power banks from electronic companies that don't provide value with their products, know what companies are trustworthy.
Anker:
One of the most well known charging electronic companies. Anker produces all kinds of charging electronics from power banks to wall chargers and car chargers as well.
The reason why they're one of the best is that their customer service has almost always purchased a quality power bank from them. They have one of the highest sales with one of their power banks called the PowerCore+ Mini being the best-sold power bank on Amazon. Each of their power banks is built for a purpose and not just built because they're just a power bank. Some of them have high power capacities but those high capacity power banks also have multiple charging ports with fast charging speeds.
A slim power bank of theirs isn't just slim, it can provide powerful charging and enough power capacity to charge smartphones twice to its full power. Also, even though Anker doesn't have any rugged power bank, the build quality for their chargers is simply amazing because they're built with precision to ensure that they won't fall apart.
Additionally, Anker makes use of all the latest charging tech from Quick Charge, to USB-C and even faster-recharging designs for their higher capacity portable chargers.
Aukey:
Aukey is quite a lot like Anker, but the goal isn't to be like Anker, it's to provide quality, and Aukey understands that.
This is why they like to have an objective amount of power banks and that results in most of their portable chargers being geared towards a certain purpose.
They have great high capacity power bank that is actually pretty small, but still heavy; these high capacity power banks have power capacities as large of 30,000mAh and along with those high power capacities they also have many charging options. This goes into the innovation of Aukey's portable chargers because they use USB-C, Quick Charge and are able to recharge their 30,000mAh power bank faster by providing two Input recharging ports.
Along with their advanced use of tech, Aukey is one of the few companies that have implemented USB-C charging onto a Mini power bank. Since it's not common for a mini power bank to use USB-C, rather most mini power banks only use USB ports. In Aukey's through those that own USB-C smartphones can actually charge their smartphones at max charging speeds while they're on-the-go.
Jackery:
Next is Jackery, and we think Jackery's drive for innovative solutions is what truly makes them great. This is because they release products that not only have high power capacities and fast charging but also ones that most competitors aren't doing.
For example, Jackery has a product called the Jackery Jewel. It's a power bank that is attached to a charging cable. It has quite a low power capacity of 450mAh and the Jackery Jewel only comes in a Lightning variation so it can only charge Apple devices like iPhones, and iPads.
With that said, the Jackery Jewel is perfect for emergencies and you can use the cable just as a normal charging cable if the power bank portion is empty. It's this kind of innovation a lot of people can find value in and yet many people don't because a lot of these kinds of power banks don't exist.
In addition to the Jackery Jewel, Jackery has a product that's on Kickstarter which is called the Jackery Power Pro that is basically a generation that features a whole lotta power capacity, charging and powering options for your devices and appliances.
The Power Capacity and Size of the Power Bank:
The power capacity and size of a power bank are both directly related. For the most part. I say "For the Most Part" because now we're able to fit higher power capacities into small sizes.
However, the rule still stands that if you want a power bank small enough to fit in your hand very easily or one that is going to fit into your pocket then you have to go with small power capacity power banks. These kinds of power banks have power capacities of 3,000mAh to 5,000mAh. The usual dimensions of these are cylindrical and slim designs.
Personally, I think if you're getting a small power bank, then it's best to go with slim ones because they're generally easier to carry around.
Of course, on the other end of the spectrum, something like a 20,000mAh power bank and beyond is going to be large and heavy. With that said, even though you won't be able to hold these high capacity power banks for too long because it'll eventually become too uncomfortable, they can still charge lots of devices many times over. Also, they usually have charging tech that is able to charge certain devices at their max charging speeds.
This goes for Quick Charge compatible devices as well as USB-C ones too.
Amount of Charging Ports and their Speeds:
Power banks are one of the most versatile charging electronics since they're not only portable power, they can be portable charging stations.
Higher power capacity power banks usually have numerous charging ports, and that means you can charge many devices at once. One very important thing that you should note is what those many charging ports are capable of. Since you don't want slow charging speeds when you're charging many devices.
My recommendation is to make sure that a high capacity power bank's charging ports have a charging speed of 5V/2.0A at least and with those charging ports, you should make sure that the Max Output is also good. The Max Output is how much power the power bank is able to Output all at once. So if you have a power bank that has 3 charging ports with each port being able to deliver 5V/2.4A charging speed and the Max Output is only 3 Amps all at once, that's bad.
A power bank with 3 charging ports should be able to take advantage of the full power that comes through at least two of its ports. This way, when you're using all 3 of its charging ports the charging speed of each will still be pretty good.
Read Also: