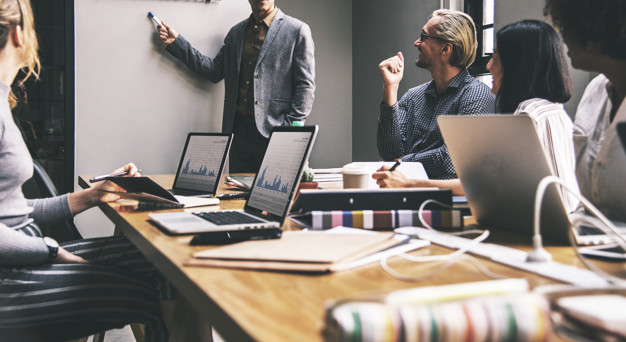 Planning might not be the most exciting part of running a business, but this doesn't mean it's not important.
Planning and goal-setting is a common and fundamental step in building a business. Organizational goals are a driving force behind companies of all sizes. They push the business forward, and without them, a company might not get to where it wants to be.
If you want your business to grow exponentially and for the long-term, here are some of the most effective goal-setting methods you should consider.
1. Objectives And Key Results (OKRs)
OKR, short for Objectives and Key Results, is an efficient goal-setting technique that helps businesses to focus on goals and results that matter by bridging the gap between strategy and implementation.
The objective informs you of where to go or what to do in the future. It sets the direction so that all employees understand what the company is working to achieve.
On the other hand, the key results are a quantifiable outcome that's to be achieved by the objective. They are like a target value that informs you what you need to achieve to realize your objective or how close you are.
The immense popularity of the OKR system is largely attributed to John Doerr. Doerr introduced the goal-setting method to Google during its early days of operation and has been in use at the tech firm ever since. Its efficiency and success led to other companies such as Amazon and Netflix also adopting the framework.
Setting OKRs for Your Business
While setting OKRs for your company, you need to consider the views and opinions of your employees. An OKR workshop where the people involved in creating and implementing company strategy collects what functions employees think the company should prioritize could work.
Leveraging Profit. co
Another effective method of setting OKRs for your business is using Profit. co. Profit OKR software helps businesses ensure they're focused on their objectives and driven to realize key metrics.
It has a user-friendly dashboard that allows business owners to manage tasks effectively and manage employee performance. For employees, Profit software gives them a voice by encouraging engagement from the bottom.
Visit Profit. co today and sign up for a 30-day free trial or to request a free, customized demo.
2. S.M.A.R.T Goals
Objectives of any kind are often a good thing for a business to have. However, they often fall short in certain aspects.
For instance, they can be hard to quantify. This can make it hard for a business to determine if or not it is making any significant progress towards achieving its set targets. At times, the goals are not achievable, leaving an organization in a limbo state where it doesn't ignore its set goals, but it doesn't work to achieve them either.
This is where S.M.A.R.T goals in business come in. S.M.A.R.T goal setting is an effective process for setting and achieving organizational objectives. It can transform regular goals for your business into more immediate, achievable, and measurable goals.
S.M.A.R.T is an acronym for Specific, Measurable, Attainable, Relevant, and Time-Based.
Specific
Specific goals are focused and well-defined and not obscure or vague. 'Earn more business' is not as direct as 'win a few more million-dollar corporate clients in the New York real estate market.'
Measurable
Numbers are important for tracking the progress of a company. An objective without a measurable outcome is like a football game without a scoreline. 'Win ten-million-dollar corporate clients in the New York real estate market is a good example of a quantifiable or measurable objective'.
Attainable
Business owners and entrepreneurs often set goals that are, unfortunately, unachievable. No
conglomerate has been built overnight. This doesn't mean that it's not right to dream big. But one should be realistic all the same. For example, 'winning ten-million-dollar corporate clients in 3 business days' might not be an attainable or practical goal.
Relevant
Attainable goals are set depending on the existing realities and conditions of the business environment. A business may want to increase its revenue by 75%, but hostile economic conditions may render your objectives irrelevant to the realities of the market.
Time-Based
A time frame is very important to the goal-setting process. Working with a set time helps keep employees motivated and alive to their tasks. For instance, 'Win five-million-dollar corporate clients within the second quarter is a practical business goal with a realistic time frame.
3. HARD Goals
Have you ever wondered why some people seem to spin their wheels with no meaningful direction while others achieve so much?
According to Mark Murphy, people who achieve big things set HARD (heartfelt, animated, required, and difficult) goals for themselves and work towards realizing those objectives with high intensity and dedication.
Heartfelt
People are likely to work towards a goal they have a strong emotional connection with. As the saying goes, it should be all that your heart desires.
Animated
If employees are to connect deeper with business goals, they need to visualize them. This means creating a picture in their minds about the effects of achieving particular goals or how they would feel about the final result.
Required
Consider how the set goals help the organization achieve overall success. Are the goals necessary, and what impact will they have on the business?
Difficult
Business goals should be ambitious for the company to achieve success. The employees need to learn new skills and undertake projects that challenge them to get out of their comfort zones.
While a business setting HARD goals may not guarantee success, it is an effective way of setting the company on the right path. As such, HARD goals may need to be adjusted from time to time.
The Bottom Line
Achieving strategic objectives is a critical function for every organizational strategy. Goal-setting helps outline priorities and tasks for everyone in the company.
Employees learn what they need to give the most focus across a certain period. For managers, it helps them decide what ongoing projects deserve the most priority and what tasks can be delegated.
The importance of goal-setting cannot be stressed enough. Consider implementing the goal-setting methods if you want to avoid setting vague goals with no clear direction.
Read Also: