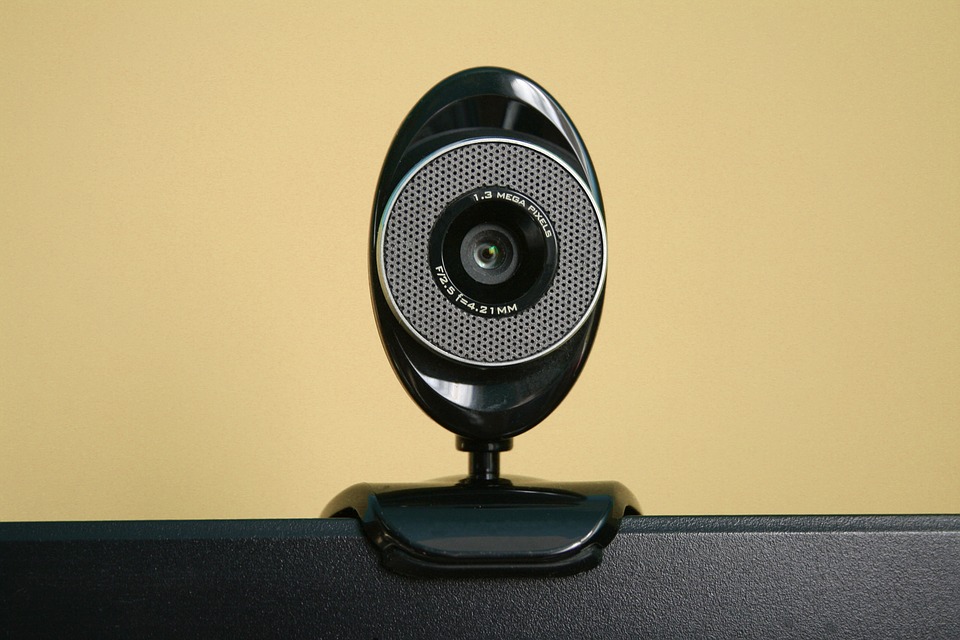 Most people use front cameras on their Pc, laptop or tablet for video chatting on Skype. But there are more options for using the webcam on our windows devices like video chatting or capture screenshots. In this article, we put forward ten best free webcam software that will help you to chat and capture most of the video related activities. These solutions are ideally applicable to all Windows devices. However, each of them has something unique to offer, and you can choose the best webcam software depending on your individual needs. We have put forth a smart list of 10 best webcam software you can find on the market. You can check out on this if you wish to use the best video recording and image capturing software for Windows devices.
10 Best Webcam Software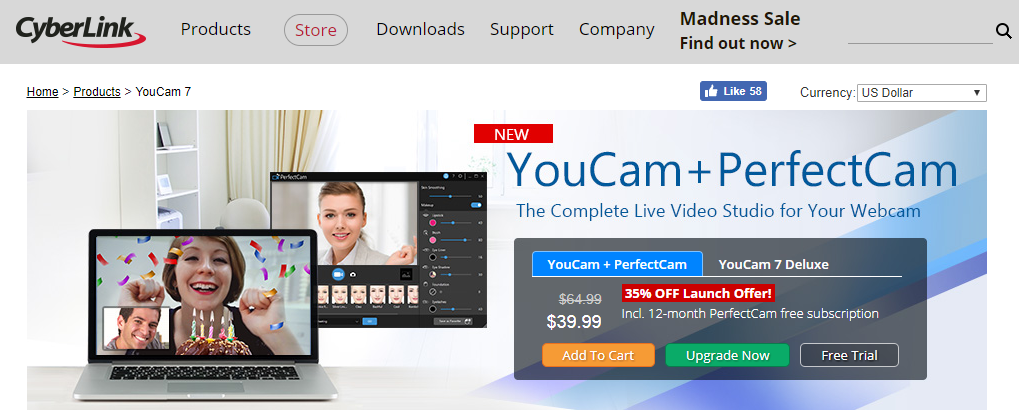 YouCam is one of the best free webcam software that comes with an impressive diversity of face distortion lenses, scene filters, dynamic effects, emoticons, and stickers is the most useful webcam. It also provides services like Yahoo messenger, Skype and even a video calling application for Twitter, Facebook, Amazon, etc. You can save multiple sizes images like JPG, PAN, BMP on YouCam. It is a highly capable video recording supported like AVI, WMV.
The Platform of support: Windows 7, Windows 8, Windows 10, Windows Vista,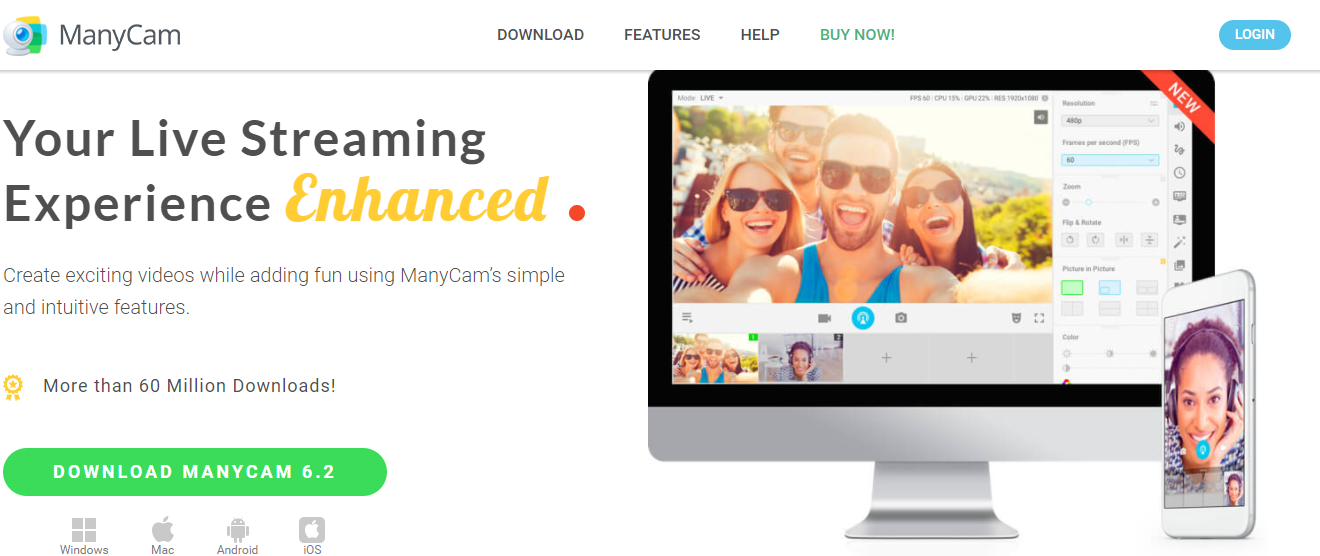 Nowadays the popularity of ManyCam is increasing day by day for its recognizable program. It is a free best  webcam software and offers a handful of useful options and besides it supports many programs and services. It is specialized for its studio, and special effects during skype call among other multiple video chats.
You can use it as a camera source of skype and make gaming footage by its game capture feature. It is also capable of YouTube Integration.
The platform of support: MacOS X 10.9, Windows 7, Windows 8.1and Windows 10,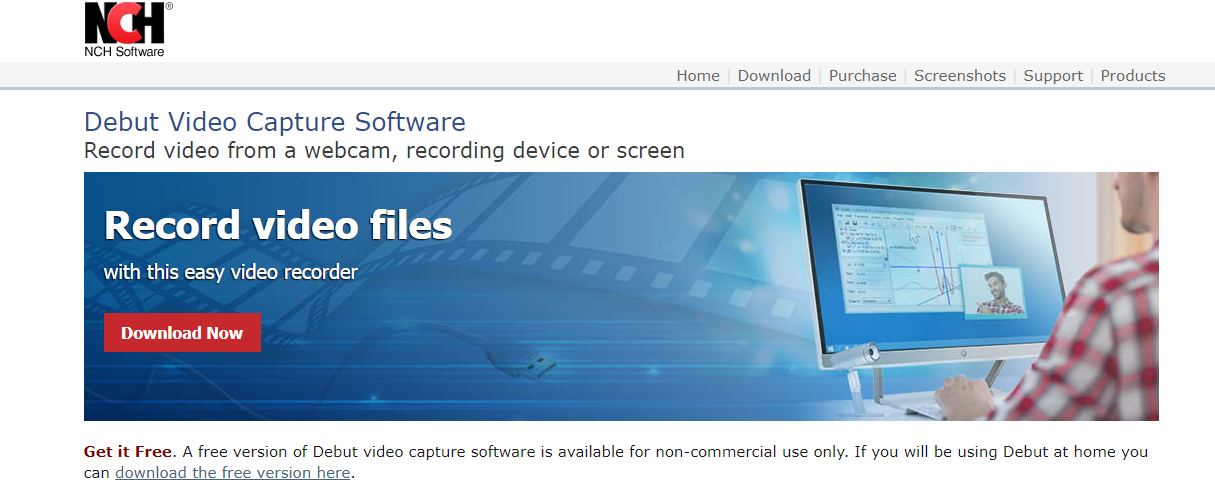 Debut Video Capture Software is well known for recording and screen capturing, but it has more useful features like mouse highlighting; color settings and video effects before recording. It is free webcam software whose biggest USP is the clutter-free UI.
This software is helpful for recording gameplay or tutorial videos. It allows you to record videos like AVI, WMV, Flv, Mpg, mp4, and more video formats. In this software, screenshots can be saved in two types of files like PNG and JPG.
The platform of support: Mac OS X 10.5, Windows XP, Windows Vista, Windows 7, Windows 8 and Windows 10

Apowersoft Free Online Screen Recorder is easy-to-use for screen recording and audio at the same time. This software is ideal for clicking images, recording audios and videos. In Apowersoft Free Online Screen Recorder images are saved in JPG, PNG, BMP format and videos as mp4, and you can convert those mp4 videos into AVI, FLV, WMV, and SWF.
The platform of support: Windows 10, macOS
Camwiz WebCam Recorder is the most straightforward webcam software to use. It has a drawback side that it is exclusive to the mac0S platform, so the windows users are out of luck. This has excellent features with clean UI with all the recording tools located on the home screen itself.
It has some nifty features such as Remote Webcam, Motion Detection, and screen Cum capture. The user can apply a timestamp, night vision, and view clip during video recording. These features are useful when your screen is too dark or too bright.
The platform of support: macOS 10.9 or later

Windows Camera is so simpler and faster than the other best webcam software. It is a camera app for Windows 10 itself. If we describe its features, then we will say that it has a few editing tools, but it is more efficient for recording the home screen. For communication purposes, just like talking, you don't need any additional options, and this is an ideal solution.
It is capable of capturing images in two aspects ratio viz. 16:9 and 4:3. You can record videos in three resolutions, which are 360p, HD, and Full HD. By activate the time-lapse mode, you can capture burst shots and multiple shots until the camera button pressed again. It is among the best webcam software for windows you can find in the market.
The Platform of support: Windows 10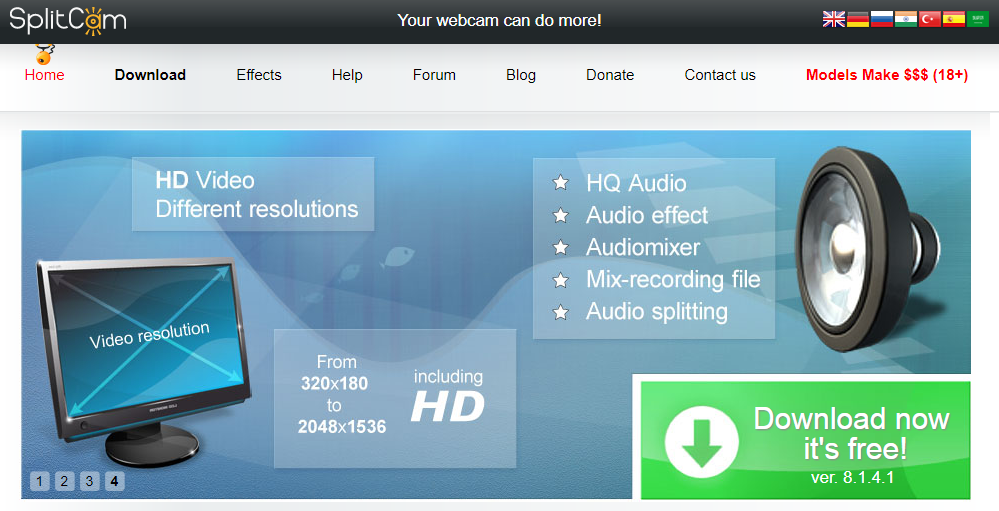 SplitCam is one of the best free video taking webcam software, having more positive emotions during video calls, offers cool webcam effects. You can convert your webcam to multiple cameras by using this software. By using its additional tool like video streaming, you can add effects to your video chat and also can change the display resolution. It gives more benefits to the split-screen that integrate the program with various streaming services.
The platform of support: Windows XP, Windows 7, Windows 8, Windows 10, Windows Vista.

When the context comes about surveillance, then IP Camera Viewer ranks first among all webcam software that is easily applicable for surveillance besides video chatting and the live streaming app.
This software supports over 1800 different IP camera models. It can record videos in three resolutions viz. 360p, 480p, 720p. It also can add up to four cameras at once, and the users view their videos on a single screen. So, you can cover your house or working place by using it.
The Platform of support: Windows XP, Windows 7, Windows 8, Windows 10, Windows Vista.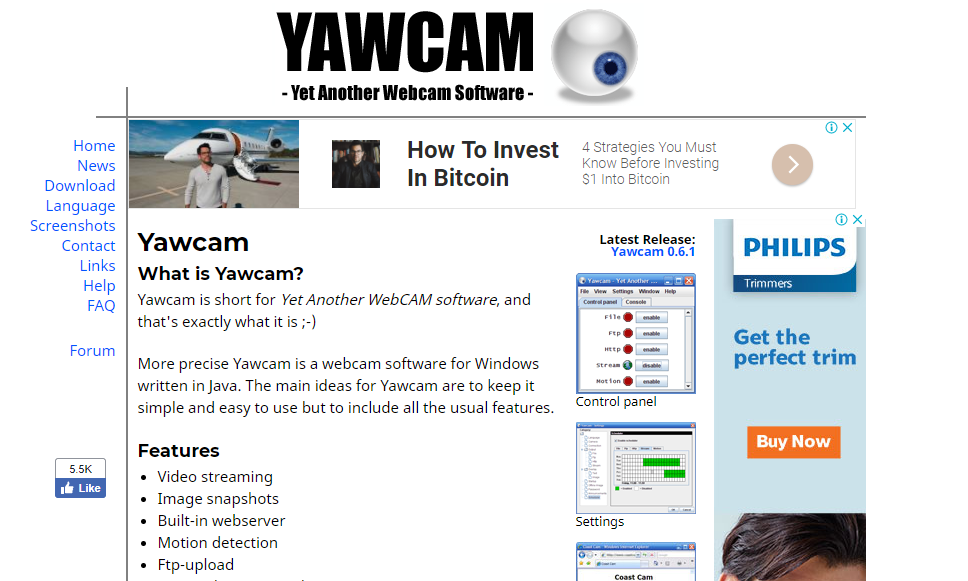 YawCam is another best webcam software that helps you to capture and send images directly. It is capable of motion sensors and surveillance mode, and it carries some more attractive features like talking snapshots, image to movie converter and with this software you can capture video recordings and also send it online scheduling- which makes the software more better. It is a small webcam utility that provides several useful features. You can lock this tool as privacy secure.
The Platform of support: Windows 2000, Windows XP, Windows 7and Windows 8

Logitech is one of the best webcam software in the world. You can record videos and capture images using this software. It also has some striking features like the ability to adjust the camera's sensitivity or motion detection. It also has a surveillance mode so that users can apply it from home or workplace.
This software allows you to record movies, configure settings and click perfect images; and post pictures or video to social network platforms.
The platform of support: Windows 8 and Windows 10
So, these are our picks for the top ten webcam software. You can select and download from them as you need. Each of these software has an in-depth assignment of their UI and is easy to use.
Overall, each of these software is extremely useful, highly responsive, fast and convenient. All you need is a reliable webcam software for pc. We hope that you go through the list and select the best webcam software that will meet your unique needs.
Read also: