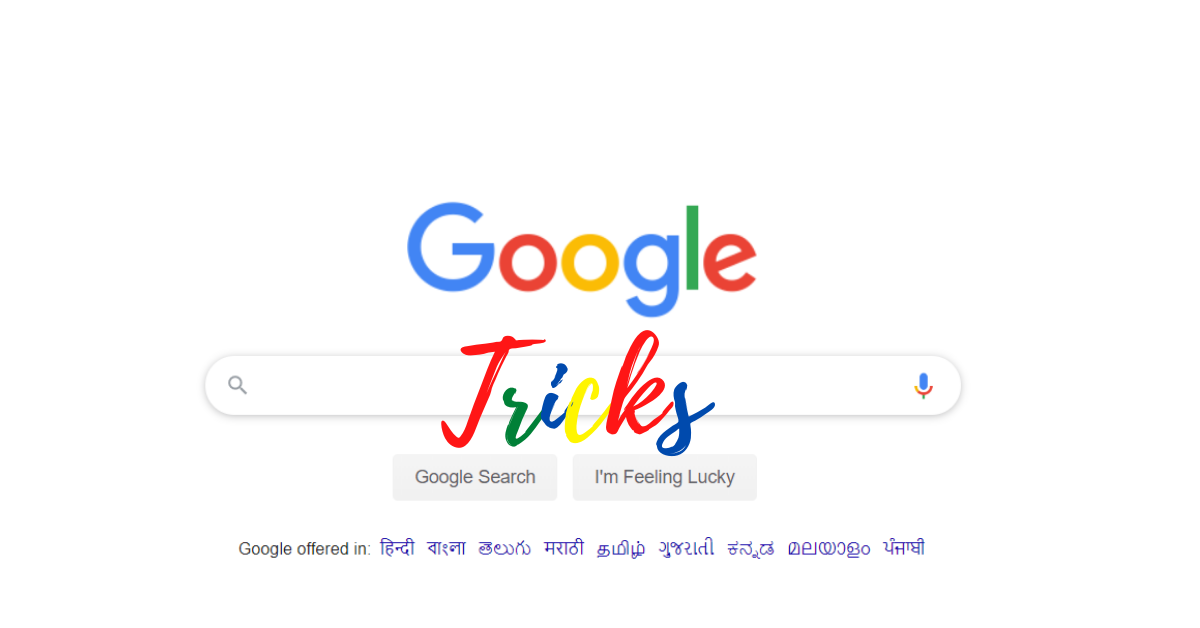 Whenever we talk about the internet the first thing that comes in your mind is Google. Google has been a part of our life since the beginning. For most people, you can consider the internet is google and google is the internet. We often ask people "google it" for any query. That how we use the name of google as the synonym of the internet. And google tricks are just the part of it.
Google is not just about searching for things that you like. Google is more than that. Have you ever thought that google can be used to play tricks to have fun? Well, I never thought about this once before. I have been using Google for only one purpose that is as a search engine.
It has been only a few days that I have come to know that there are many cool tricks that you can do with google in your free time. You actually do not need to have an internet connection for some of these google tricks.
Cool Google Tricks That You Should Try
Google is not just a search engine, but it can be much more if you have the right eyes to look for it, there re several google tricks that you can do on the go.
If you are stuck in a traffic jam for hours, and you do not have any mode of recreational activity to entertain yourself then even 10 minutes may be seen to be an hour. But if you know these google tricks you might have a recreational activity that can help you to pass that boring minutes of yours.
So, without any further ado, let's get down to the list of google tricks, that are hard to miss.
1. Barrel roll
If you want to surprise your friend, and want him/her to believe that their google has crashed down then this trick can be the best weapon to do so. You just have to ask them to search "Do a barrel roll" and then enter. The whole homepage will roll down to them, making them that their google has crashed down.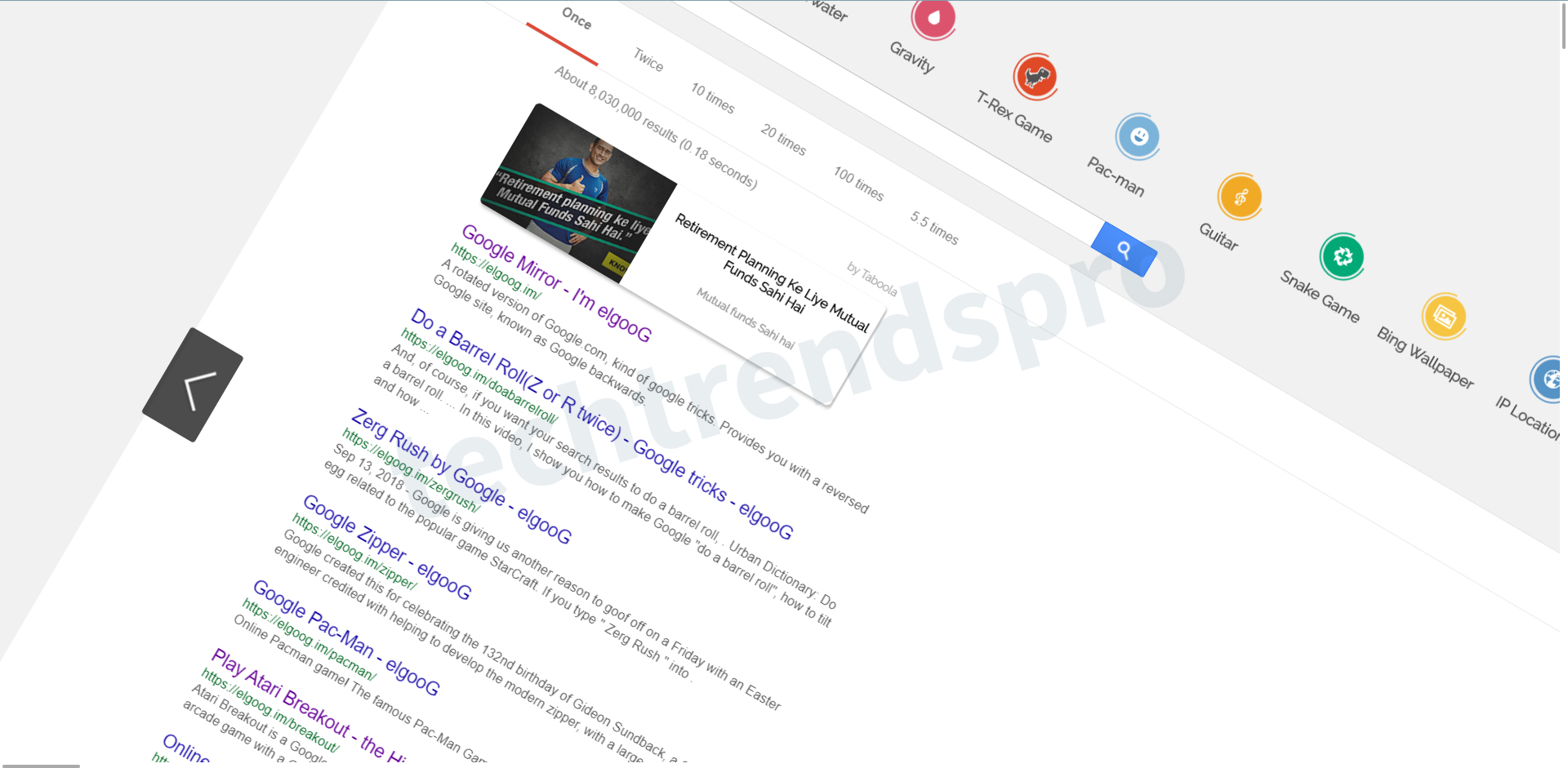 You can take this trick to the next level by just asking them to do a search " Do a barrel roll 20 times" and then press enter. Man, this can make them go nuts as the site will roll down 20 times before coming back to normal.
I had already tried this google trick on my friend. It took me more than 10 minutes to control my laughter.
2. Google is a word nerd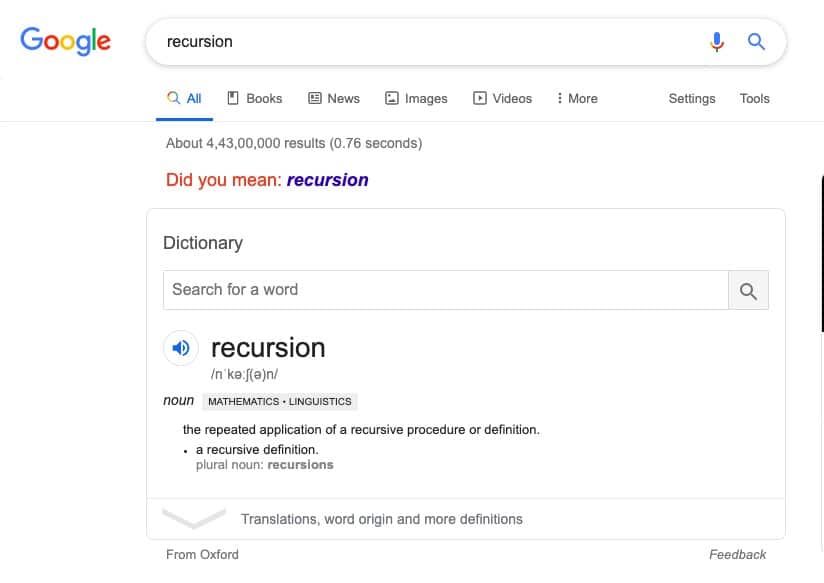 We all know that Google is very accurate with the words. But it can not be any weirder. There have been many instances that you have reached a word and have found out that the pronunciation of the word has been different from google. Well, I am not saying that it is a good thing, but yes you can say it is a cute thing coming from google.
3. It can read images
We all have known that no matter what your queries are, as long as the queries are intext format, google will have an answer for it. But, have you ever thought of searching an image with the help of an image. I know, I know, you all must be thinking I have gone crazy, but the thing that I am saying is actually true. You can even try it out by your self.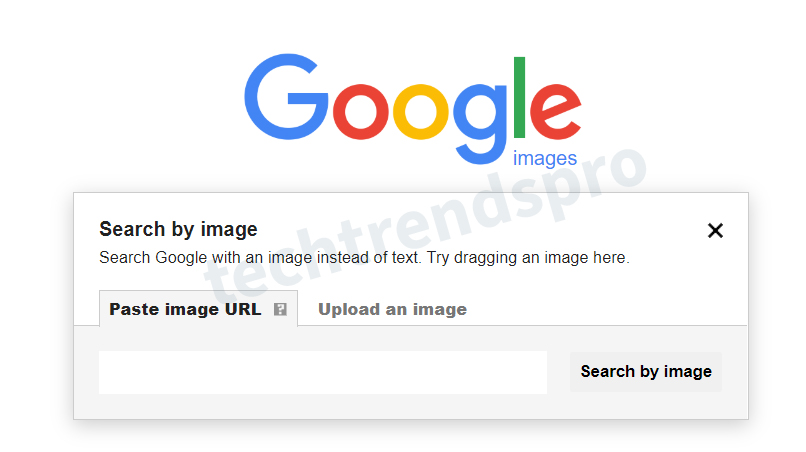 You just have to go to the camera option on the Google homepage. And have to place the image that you want to search. Google will do the job of finding the same image or the images relevant to that.
4. It can speak alien languages
You all must be thinking that how can google do that. Well, I am not literally correct. Here I mean to say that there are many languages in the Google database and if you want you can change your basic language to that. That is if you understand that language.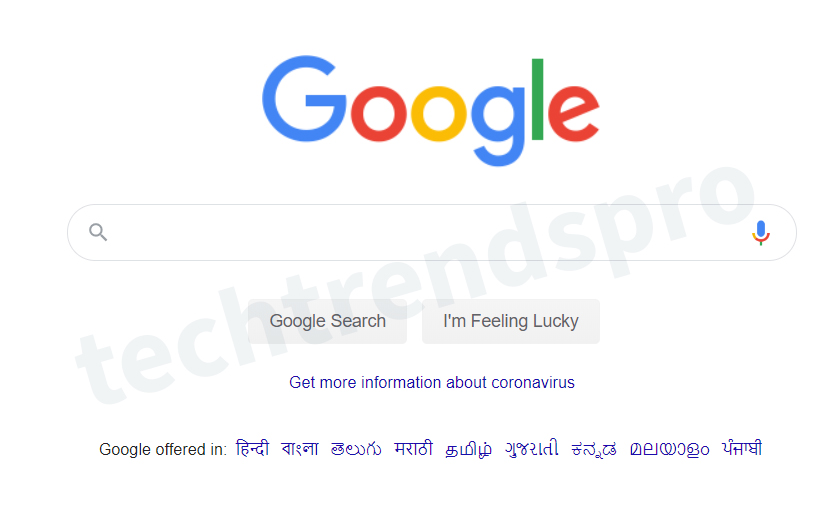 You just have to select the language from the language option and you are good to go. Even the search results will be in that language.
5. Defies gravity
This google trick is one of the most used tricks to fool your friends and relatives to make them believe that google has crashed down on them.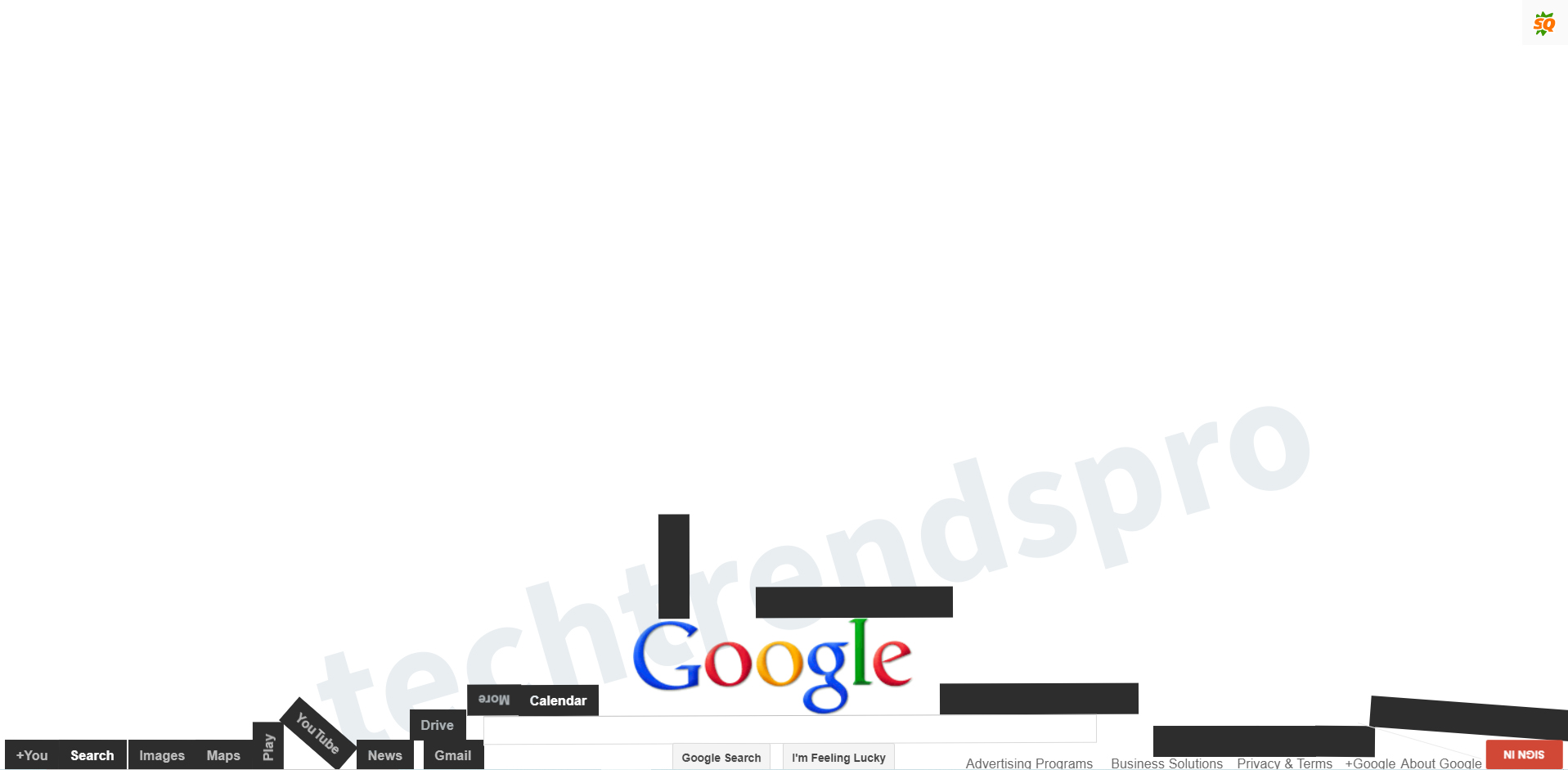 You just have to visit the Google homepage and have to type google gravity. There will be an auto-suggestion to correct it. Ignore that part and click " I'm feeling lucky" the whole google page will crumble down as if it has been hit by a massive earthquake. You can also drag and throw away all the crumbled pieces.
6. Provide you with offline game
It may happen that you are stuck in a place, where there is no internet connection. And the circumstances that you do not have any games on your phone as well. Then what are you to do to pass your time?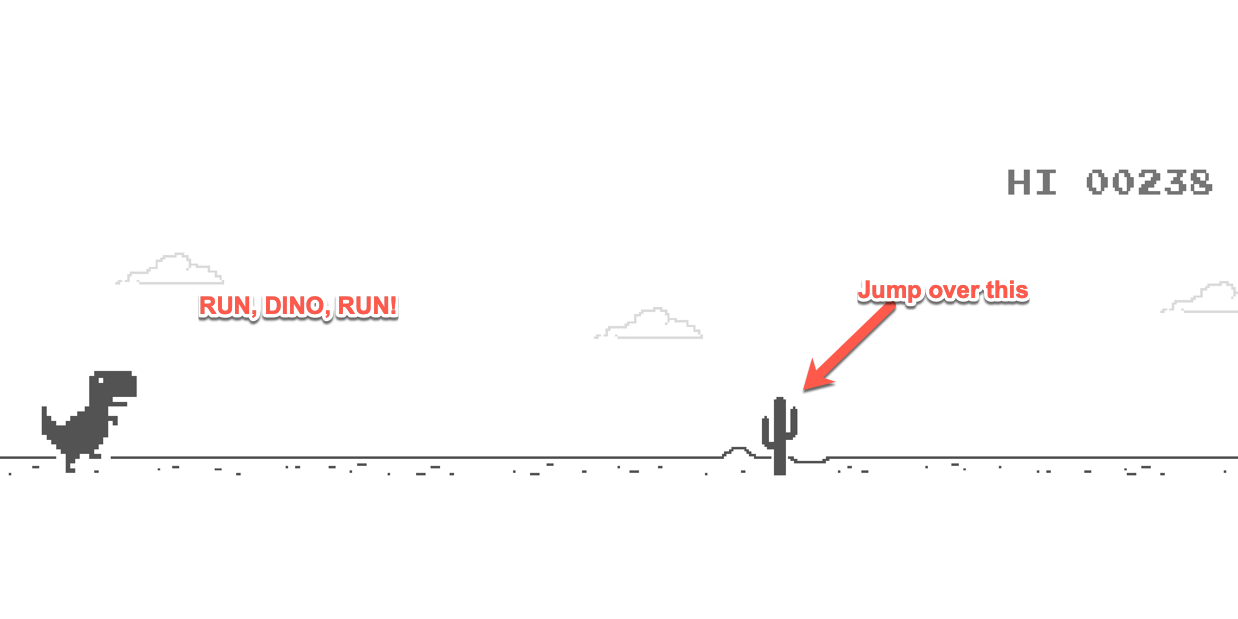 It is very hard to do so. But if you have google you can certainly do one of google tricks with the google chrome browser. If you search something and there is no internet connection you will be welcomed by a Tirex saying no internet connection. Touch that Tirex and an offline game will start. You can use the space button to control the avatar.
7. Works better than Branolia
This is not one of the Google tricks, but yes only a few use it though. Google is a high source of knowledge. Whenever we are in a pit and want to know all about it, the first thing we do is to search it on google.
That's how important Google is. You do have to drink energy booster, granola to boost up your brain cell. You just to have a good mindset yup and have to study hard from the google. This will definitely help you to gain the knowledge you are seeking.
8. Play with the doodles
Doodles are one of the parts of Google tricks. Every day google launches new doodles that re related to current events. If you want you can play with them.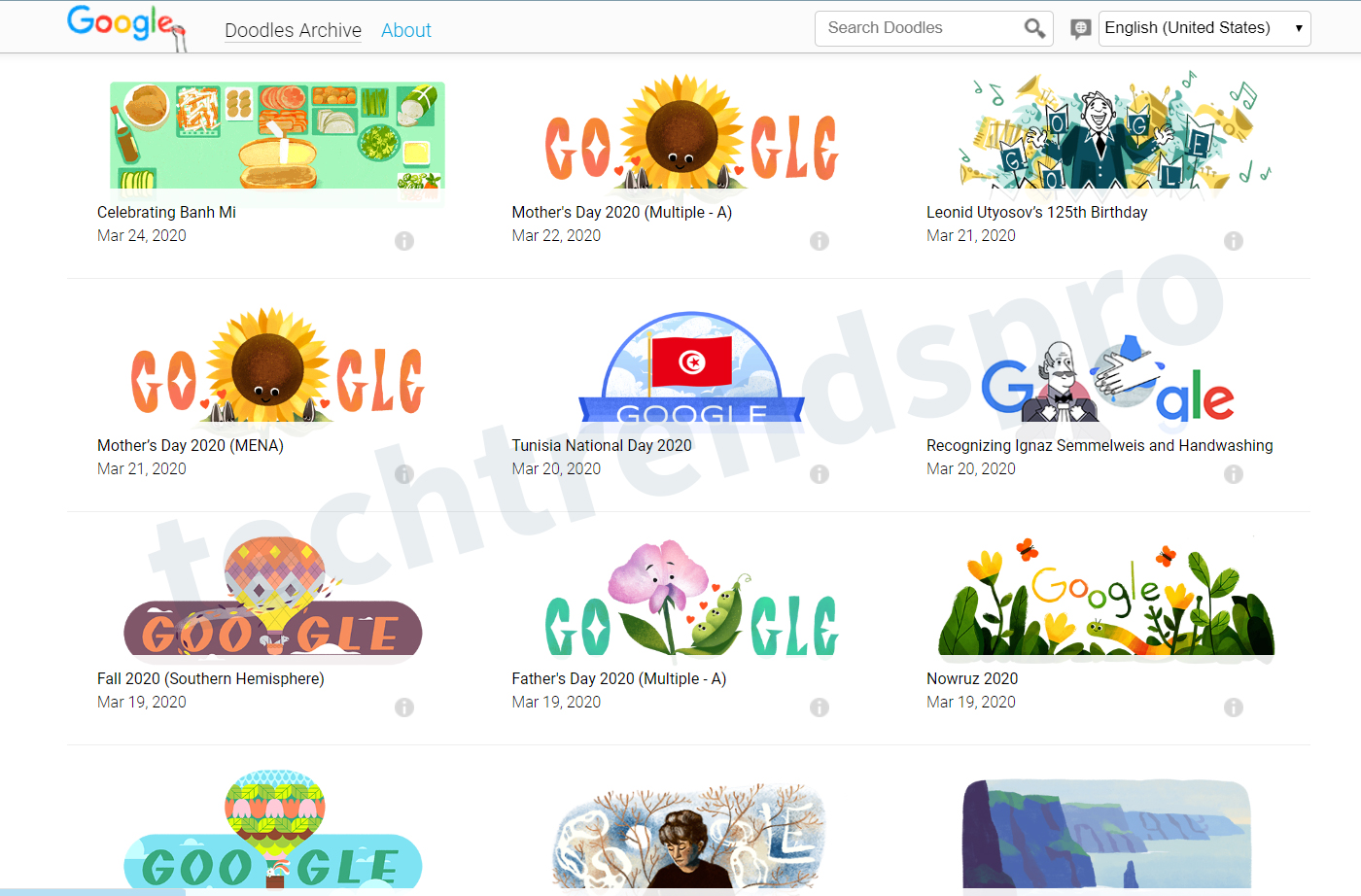 Whenever you visit google next time and see a doodle, you just have to click that doodle. It will redirect you to a new page where you can play doodle related games.
Here are some doodle games that you can enjoy while reading this article.
9. Flip a coin
When you are in the midst of dire situations with nothing at your disposal to entertain yourself. Then even a flipping coin game can become interesting. And google knows that very well.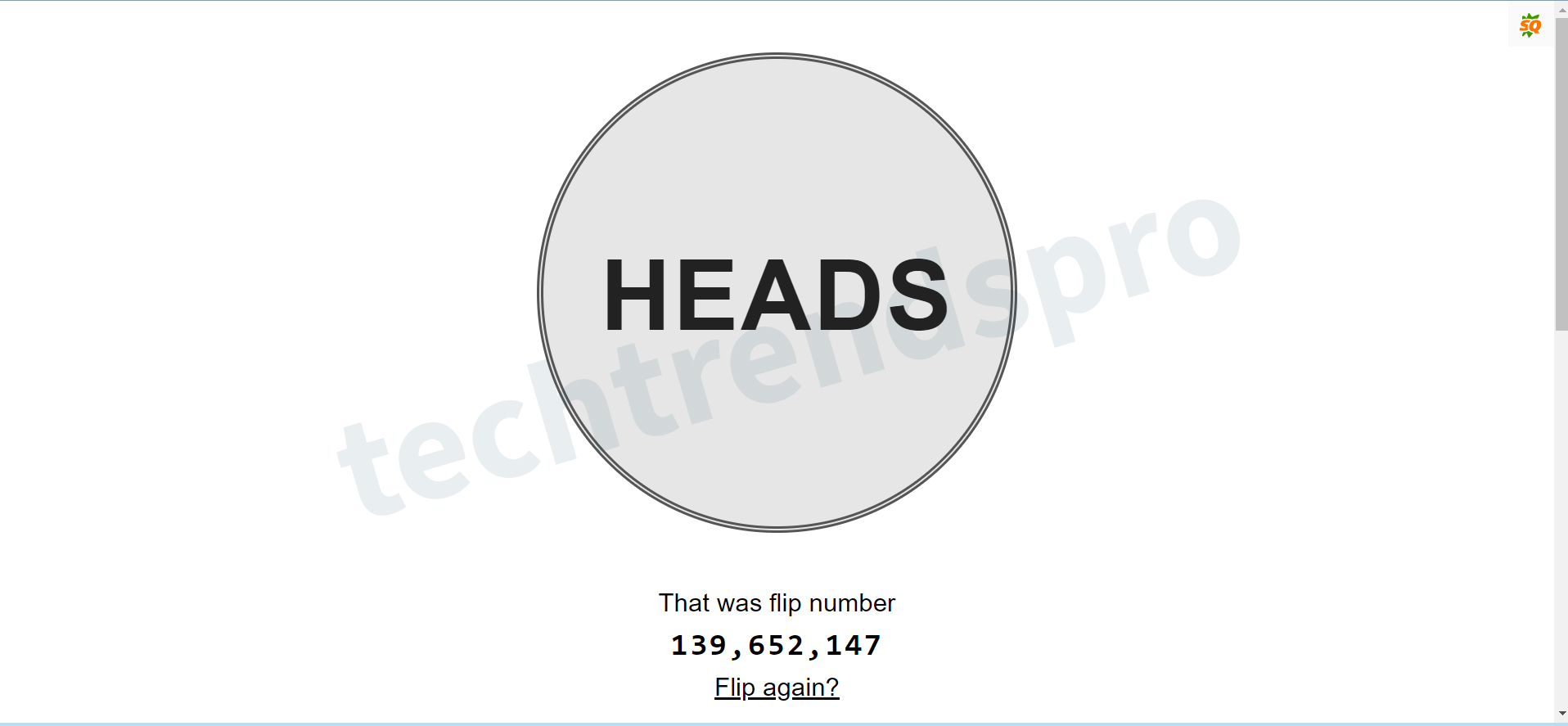 Therefore it has a game called flip a coin. You just have to search the sentence "flip a coin" and google will show a coin that you can flip it and play like a game.
10. Atari breakout
Have you ever thought that the images that you search can be converted into games? Well, I certainly never have thought about it. I come to know about it when I was doing my research on google tricks.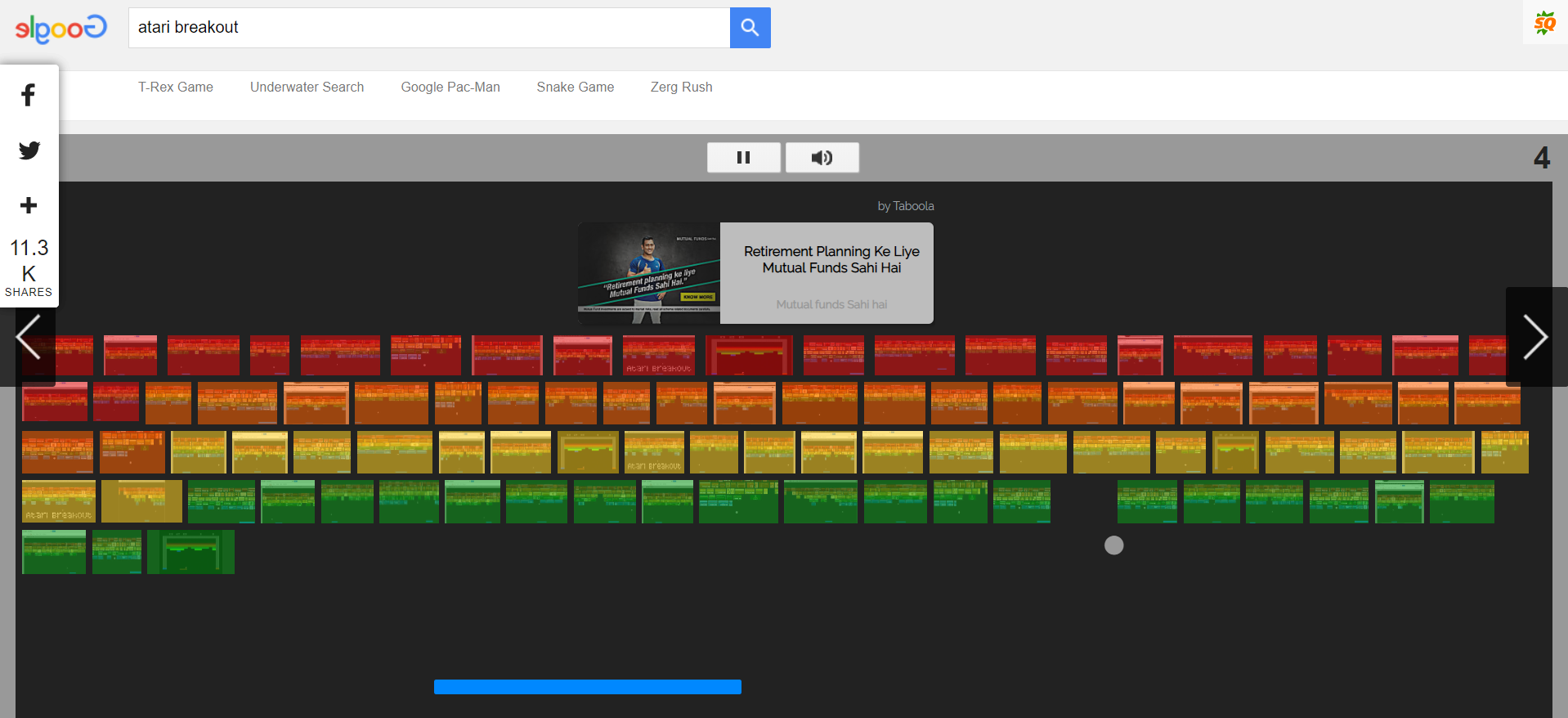 Visit google Homepage and try typing "Atari Breakout" and try searching for the images. Viola, the game will start. Oh boy, oh boy, you are actually liking it. Aren't you?
11. Google Sphere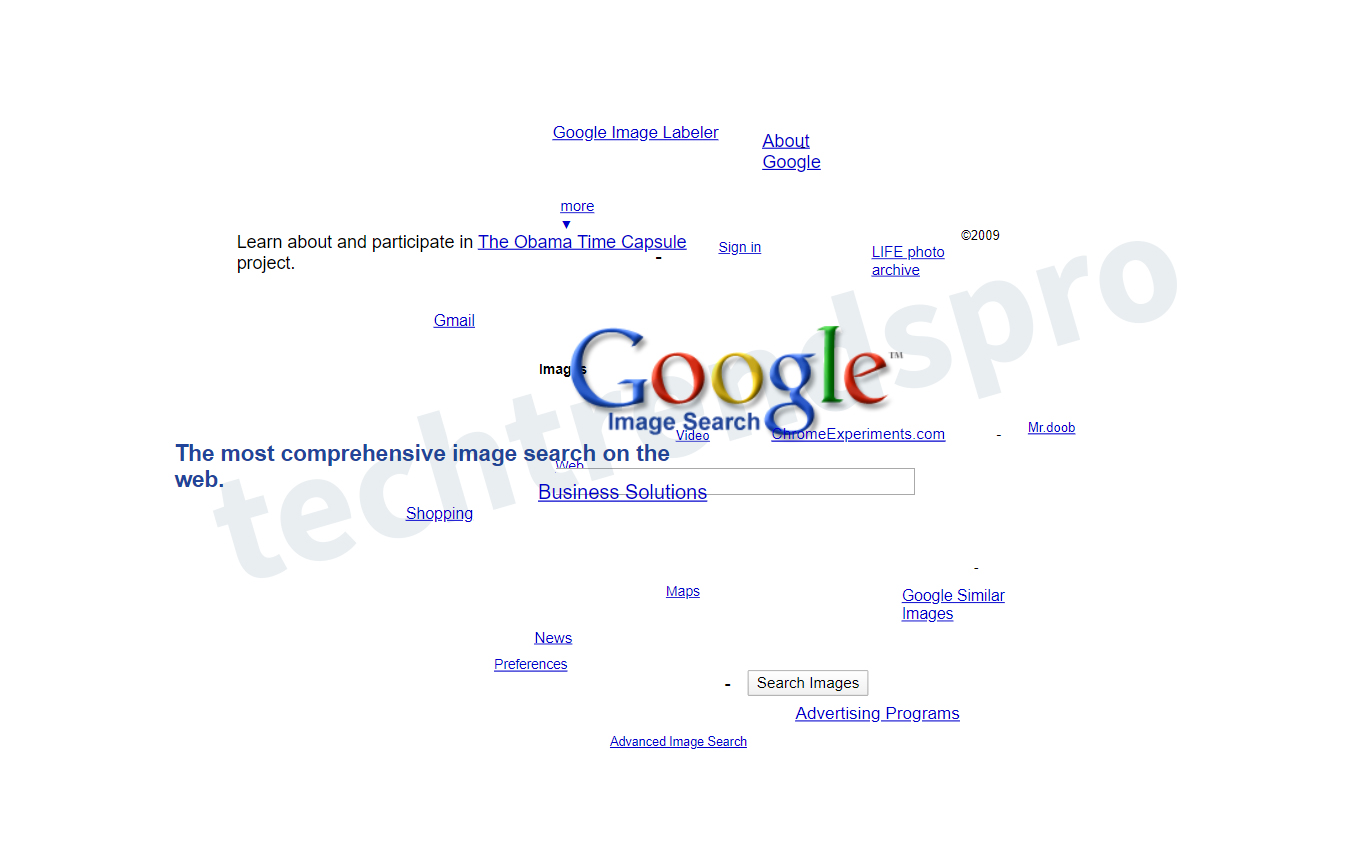 Do you want to see the earth made of words? If yes, google tricks can help you with that. Visit google homepage and type "Google sphere" and then click "I'm feeling lucky". All the constituents of the google homepage will convert into a moving globe. Don't you this its cooler that way?
12. Google pirate
After the release of the pirate of the Caribbean, I was really hooked by the term pirate and had also started talking in pirate languages. But I never knew that google tricks can also mimic the pirate talking asset. When I come to know about this google tricks, I quickly changed my google to talk in pirate language.
You just have to search google pirate and then have to click I'm feeling lucky. Google assets will change to the pirate language.
Don't you like this google tricks, aye matey?
13. Google mirror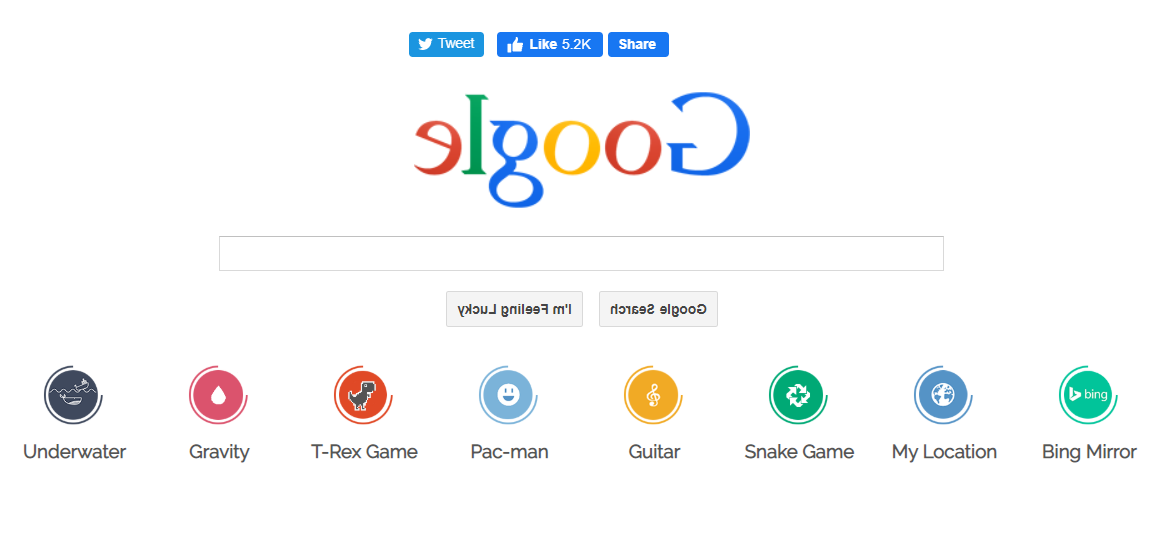 You all have heard about the mirror selfies right, you can do the same thing to google. You can create a mirror image of the google with just simple google tricks. Go to the Google homepage and try searching google mirror and the click I'm feeling lucky. This trick will cover everything on the google written in the mirror way. Everything will look inverted.
14. Customize google with your name
Who does want to see their name on the Google homepage? But only a few know the google tricks to do so. Simply type "goglogo" and click "I'm feeling lucky".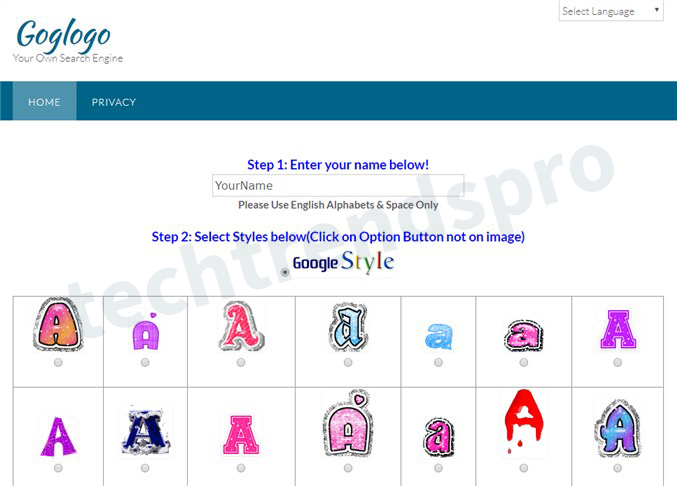 Now you just have to write your name in the goglogo search box. This will direct you to the customization part, where you can customize google with your name. Isn't interesting?
Conclusion
In conclusion, Google is all in one platform. You can teach yourself, you can search for different queries, and in times of need, you can even entertain your self with the best of google tricks.
I have done all I could to look for some of the greatest google tricks. And handpicked some of the best for you, and have enumerated above.
Do try these tricks and do not forget to tell me how much do you like it. You can even subscribe to our newsletter to know more interesting facts about google or you can even visit our homepage for more related content.