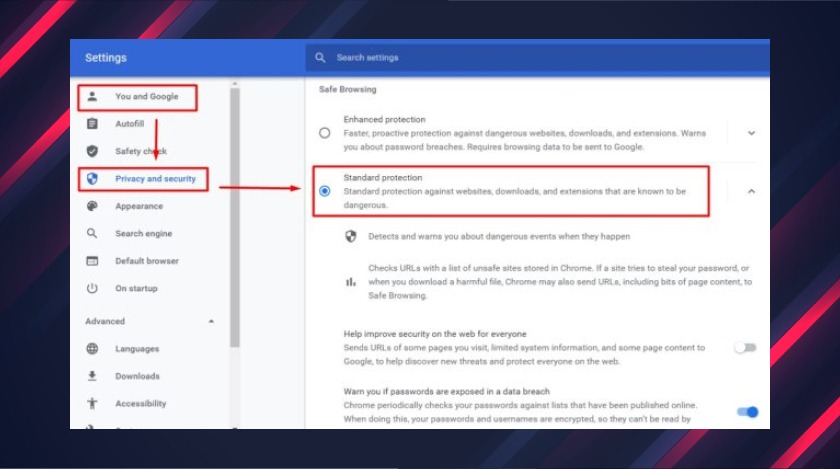 Say you are trying to download your college assignment, and as usual, you are using Chrome to download that. But, all of a sudden, you get a download blocking notification. I'm sure that must feel very annoying. So, now, this calls for the solution of how to stop Chrome from blocking downloads.
How To Download A File In Chrome?
While everyone knows how to download a file on Chrome, you must first learn to download a file before knowing how to stop Chrome from blocking downloads.
Launch Chrome browser on your device.

Search for the website from where you want to make your download.

Tap and hold on to the file you want to download.

Now touch on the download option for downloading your desired document, video, or audio file.
Why Does Google Chrome Block Your Downloads?
Chrome has a built-in security system that works as the frontline defense mechanism when doing online work. As a result, Chrome is very concerned about your online security. But sometimes, Chrome becomes overcautious, like an overprotective parent, or girlfriend, or boyfriend; and blocks secure downloads.
Which Files Does Chrome Block From Downloading?
There are many malicious web pages, download links that may cause harm to your computer's system. In addition, sometimes unwanted files, malicious, corrupted files sneak into your computer through your download links. For preventing that trespassing malware, chrome blocks downloads.
How Does Chrome Block Downloads?
Chrome keeps a list of harmful files in check while simultaneously checking executable files; for instance, ".exe," ".msii" files. When the executable file does not match, a safelist chrome goes to google for further information. In addition, Chrome inspects whether the website that you are accessing is a host to a high amount of malicious downloads.
Chrome uses safe browsing settings to keep your system far away from viruses and malicious websites. Chrome uses two types of protection levels, Enhanced protection, and Standard protection.
The Enhanced protection warns you about risky sites, extensions, and downloads. In addition, it automatically gives you a warning about password breaches. The Standard protection also functions the same way and provides moderate protection.
Because of Chrome's safety protection, you get the download block warning. That is why you need to know how to stop Chrome from blocking downloads.
How To Stop Cookies From Reducing The Efficiency Of Your Chrome Browser?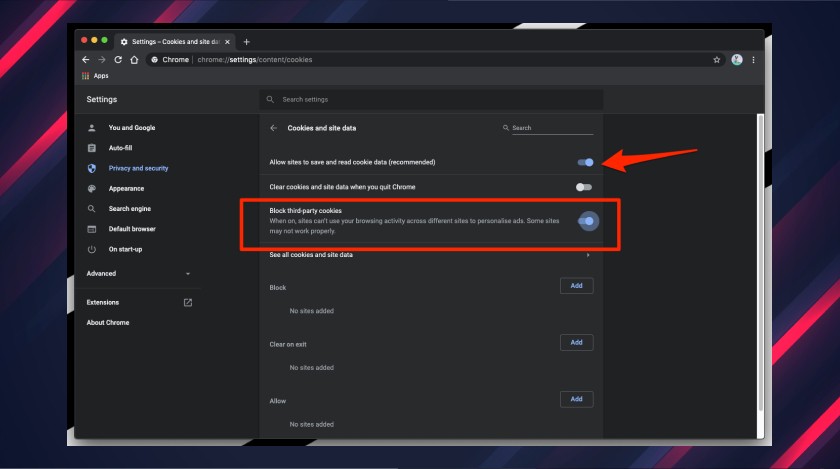 Cookies can slow down your Chrome browser. A cached copy of the sites you visit always remains with Chrome. Chrome uses cookies to load pages faster when you revisit the sites. Unfortunately, Chrome also keeps data of your browsing history for the same purpose. As this data keeps piling up, Chrome starts to slow down.
See-through these steps if you want to turn cookies off.
Launch Chrome on your computer.

Click More on the top right corner.

From there, click More, then click settings.

Now click Site Settings.

From here, you can turn off cookies.
How To Stop Chrome From Blocking Downloads?
You can stop Chrome from blocking downloads by turning off the safe browsing feature temporarily. Then you can download the file that you want to download. First, however, I will suggest you turn on the privacy feature because it will keep your device from malware and viruses.
Follow along these steps to stop Chrome from blocking downloads successfully-
Go to the Chrome menu in your browser. It is in the top right corner.

Now select settings.

Click on show advanced settings.

There is a box named "Protect you and your device from dangerous sites," you have to uncheck this box.
Conclusion
So, here I have given you the solution on how to stop Chrome from blocking downloads. Chrome is. Surely you will find this helpful. To remind you again, it is always in Chrome's best interest to always keep your device system safe from virus attacks. So, even though it feels annoying, you should consider using the chrome download warning.
Don't forget to share your thoughts on this.
Read Also: