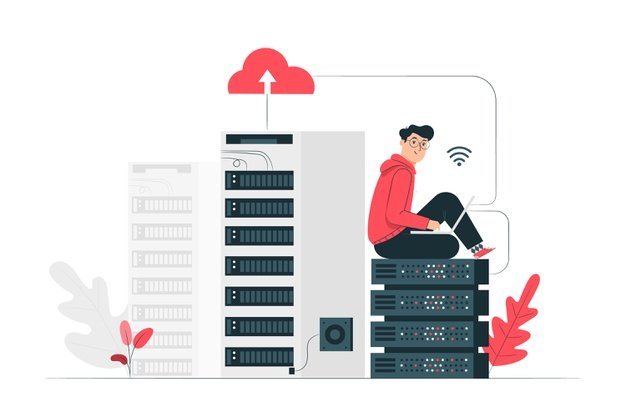 In the past few years, the question about choosing the right server for your business has become a paramount one. While choosing a server depends on the needs and requirements of your business, there is consensus about the benefits of a 'Managed Server' over an 'Unmanaged Server'.
A Managed Server is also referred to as a 'Dedicated Server'. This dedicated server comprises of all the relevant hardware, software, and maintenance of the server by a specialized team.  A dedicated server is one of the most demanded among various infrastructure services. The essence of this solution is using by a single-tenant. However, is there a difference between rented dedicated servers and companies' on-premises servers inside of office buildings?
Definitely, it is. Dedicated servers as an infrastructure solution offered by a provider are placed at protected data centers and maintained by the support employees of the provider. You don't need to purchase a dedicated server and then invest in its upgrades and further maintenance. You just rent this solution and use it.
As a business, if you are looking to take care of such services on your own, you might get into a lot of trouble. No business wants to compromise on the security of their data under any circumstances. This is why the leading Business IT Support Melbourne suggests that working with a trained and professional expert vendor can make a big difference. By being specialists, they will be able to help your business and all its data requirements.
Not all businesses are going to have a need for the same kind of servers. According to leading data server provider, 4d Data Centres, some businesses might prefer a managed or dedicated server. Examples of the same might be e-commerce businesses, which store customer data and financial transactions. A simple brand website on the other hand might opt for an unmanaged or shared server. They usually do not have much data on their websites to attract the attention of anti-social elements.
In this article, we look at the benefits, points, and importance of managed server vs. unmanaged server.
Managed Server vs Unmanaged Server: A Brief Introduction
All of the equipment, including servers, located in the data centers of the providers of IT-infrastructure solutions, including servers, is Enterprise-class. It means this equipment is designed and configured for many years of continuous operation under high-loads. Continuity of operation is ensured by the duplication of critical elements, including power supplies, Internet communications, connections with Tier-1 (rare, Tier-2) providers, etc., as well as access control and fire prevention measures.
Besides, users' access to the server in the provider's data center is via the Internet, while access to the local server is through the company's local network.
Recently, business drastically changes its approach to corporate infrastructure hosting issues. More and more companies prefer to rent dedicated servers in the remote data centers of providers instead of using on-premises hardware in offices of local datacenters. The provider can offer either ready-made server configurations or compose a server for you following your preferences, requirements, and business needs. Learn more about dedicated server rental by clicking on the link.
So, when you've already decided on the configuration of the dedicated server. However, the next question is also important — what type of server is better to choose, managed server vs. unmanaged server?
 What is a Managed Server?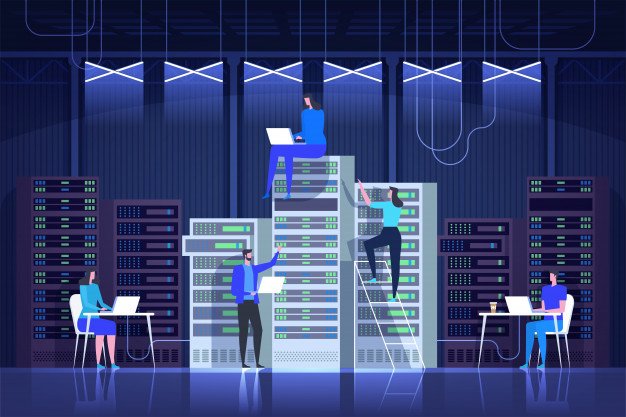 When we talk about the managed server, we mean that the provider's system engineers and administrators maintain and customize this server, install and set up all the necessary software, monitor and control the status of all systems, apps, and components of a server.
Following the best practice, infrastructure service providers usually offer the customer several kinds of server-managing that include various sets of services provided and prices.
For example, the server-managing service set can include server installation, an initial customizing of a server, OS and necessary software installation and setup, permanent monitoring of the hardware, its systems, and components, troubleshooting, and error control, updating software, and other services up to full IT support.
Server-managing service is demanded most of all by companies that have no IT experts in staff, or he/she has a lack of competency in the field of server managing.
 What is an Unmanaged Server?
The unmanaged server is a bare-metal dedicated server. In other words, you only pay rent and get access to the hardware. Some advanced infrastructure providers can offer customers to install and provide initial customizations of a server for free. E.g., SIM-Networks offers it.
When you rent a bare-metal server, you get root access, so your system administrators are able to customize and manage your dedicated server as they wish. By choosing an unmanaged server solution, you should know that all administrating operations such as settings, updates, troubleshooting, service support, and monitoring are the customer's responsibility. This option is much cost-effective compared with a managed server, but it matches not for every company because it requires a competent IT staff.
As the infrastructure providers' experience shows, unmanaged server solutions usually choose either companies that have a wide-competent system administrator (so, they don't need to pay for support and maintenance) or businesses with strict requirements for flexibility, security, and performance that want to avoid third-party access to their systems and corporate data.
Benefits of using a Managed/Dedicated Server
Almost every business, works to ensure that they get a Managed or Dedicated Server for themselves. In this section, we will look at some of the major advantages of managed server vs. unmanaged server for businesses.
1. Managed Servers are very Convenient-
If you want to spend the majority of your time on your business, you would want to keep yourself tech headaches. This is why most businesses prefer to work with managed servers, as they take into consideration the maintenance aspect of the server. This ensures that your server always works to the best of its ability and is handled by true professionals who are proficient in their jobs.
2. Lower chances of breakdowns and errors-
As you always have a maintenance team ready at hand, you can rest assured that you will not experience any server downtime. The best server platforms also guarantee defined uptime to the tune of 95%! This is remarkable as fewer errors and breakdowns mean that your digital business will always be performing to the best of its ability. This means more traffic, more sales, and more room for revenue generation.
3. Safety and Security of Dedicated Servers-
Reports and studies have shown that's shared servers are prone to be hacked or slowed down. This is a proven fact, which can cause disastrous implications for your business. If you are an eCommerce business, which stores financial details, it is important that you have a managed or dedicated server for yourself at all times. You would want to protect the data and privacy of your clients and your business.
Conclusion
In this article, we tried to look at some important aspects relating to servers. We discussed the differences between the managed server vs. unmanaged server, as well as looked at some of the major advantages of dedicated servers.
Therefore, as you can see, the managed and unmanaged server solutions are entirely different models for the infrastructure services providing. Thus, the only choice of which one is better doesn't exist. Both of these models are aimed to achieve some goals, and each of them has its own target audience.
Read Also: