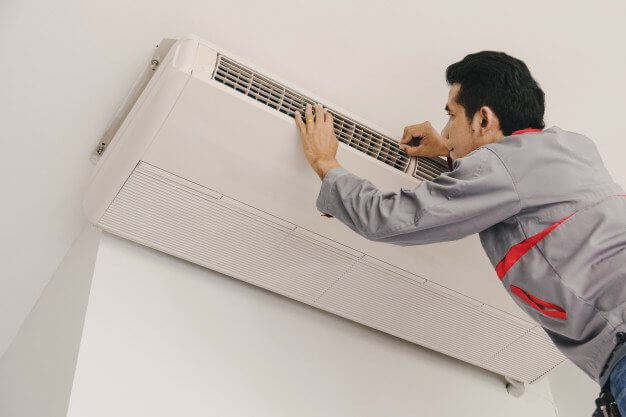 If you are looking to buy an AC, then you should know that the latest and efficient technology available in the market these days is the Inverter AC.
A large number of buyers prefer inverter air conditioners today. It is because they are manufactured in such a way that they save 30-50% power over a regular AC. If you are unaware of the inverter air conditioner technology, then this post will guide you!
An Inverter Air Conditioner: Introduction
The inverter AC works in the same fashion as the mechanical process of acceleration in a road car. When the engine/compressor demands a surge in power and performance, more power is generated. Likewise, when the requirement of power reduces, the compressor reduces the output.
In an inverter air conditioner, the compressor is put on active mode all the time. It is the power requirement that keeps varying. Requirements of the surge and complimented with the increase, and requirements of decrease are complimented similarly. The speed, power, and technology automatically adapt to changing needs. Currently, this feature is available only on split air conditioners.
Why you should buy an Inverter AC?
A non-inverter air conditioner is designed to make its compressor work in the same fashion at all times. Whether it is a 1-Ton Machine or a 2-Ton machine, the compressor always remains the same in terms of running at the full utility.
Non-inverter machines do not take into account many other variables of things. For example, if there are less number of people in the room, the set temperature of 16 will be reached easily without any load on the compressor. The ac can achieve the same at lesser levels of power consumption. However. A non-inverter ac will not be able to do this.
A word of caution
An AC with inverter technology can adjust its capacity as per the room's needs on its own. However, choosing an AC of the right size is important. You can't expect an inverter AC to reduce the light bill if you install a 1 ton in a large room. Hence, you should make sure to evaluate the area where you need to install the AC and its tonnage capacity at the time of making a purchase.
Are there Star Ratings for inverter ACs as well? 
A new Star Rating standard for inverter ACs was introduced by BEE in 2016. As of 2018-19, all inverter air conditioner models are in BEE 3, 4 and 5 Star Rating
A quick look at some best inverter ACs in India
If you are looking to buy an inverter AC and don't know about the best models across brands, here is a quick list.
1. Voltas 1.5 Ton 3 Star Split Inverter AC
The Voltas 1.5 Ton 3 Star Split Inverter AC is one of the leading ACs with inverter technology. You can opt for it and reduce your power bill substantially. Some of the key features of the AC are:
5-ton capacity which is right for medium sized rooms
3 Star BEE Rating 2018 for energy savings up to 15%
Auto restart feature
Copper condenser for energy efficient performance
Sleep mode to ensure comfort during sleep with auto adjustment of temperature
The price of this Voltas inverter AC in India is around Rs.35,000.
2. Lloyd 1.2 Ton 3 Star Split Inverter AC
The Lloyd 1.2 Ton 3 Star Split Inverter AC is yet another inverter AC that may help you suits your needs by also reducing the electricity bills drastically. Here are some vital specs of the AC:
5-ton capacity which is right for small to mid-sized rooms
3 Star BEE Rating 2019 for energy savings up to 15%
Auto restart feature – no need to reset the settings manually power cuts
Copper condenser for an incredible cooling performance
Sleep mode option available
You may buy this Lloyd inverter air conditioner in India at around Rs.31,000.
Some of the leading inverter air conditioners that you can buy in India are now discussed. However, the price of an inverter AC is on the higher side compared to a 5 Star Split AC. As a result, it may hurt your wallet if you pay its entire price at once.
Read Also: