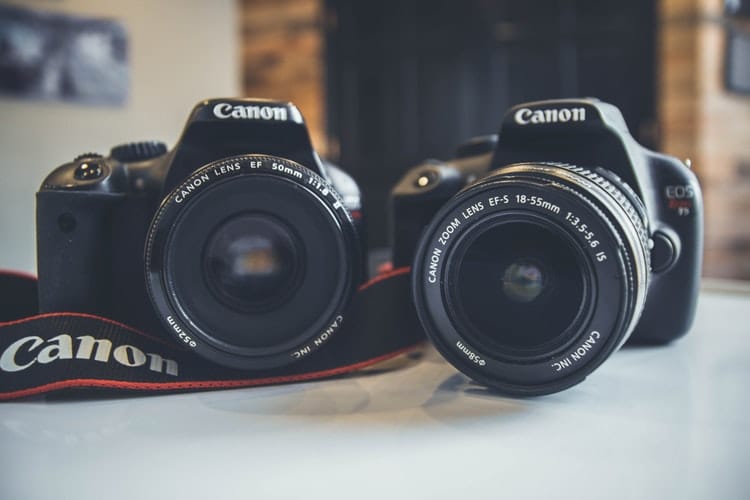 A DSLR camera is undoubtedly the famous breed of cameras in India. The sheer accessibility of interchangeable lenses, image quality, and performances have made DSLR likes by the professional and amateurs alike.
We all have memorable moments that we want to keep alive forever. What better you can do other than capturing in stealth mode with the best DSLR camera in India.
No matter how good smartphones are, they are still light-years behind the image capturing technology than DSLR. Choosing the best DSLR camera can be tricky at times. They have many features that are hard to understand if you are not aware of the photography terms.
To make things easy for you and make you know the best camera in the world, here is a list of the best DSLR cameras that you can buy in 2020.
For many photography lovers out there that are in a constant dilemma of upgrading their game in photography, 2019 has packed along with the best DSLR cameras you can imagine. DSLR cameras are pricey sometimes. You can get a hand on review if you rent a camera from a reputable source.
To advance in this field, you may have contemplated changing from a smartphone to a DSLR. Initially, they targeted professional photographers but can now be easily accessible in different models for many people. In addition to that, there are many online photography courses that can give you the essential knowledge of working with a DSLR.
Best DSLR Cameras 2019
1. Nikon D3400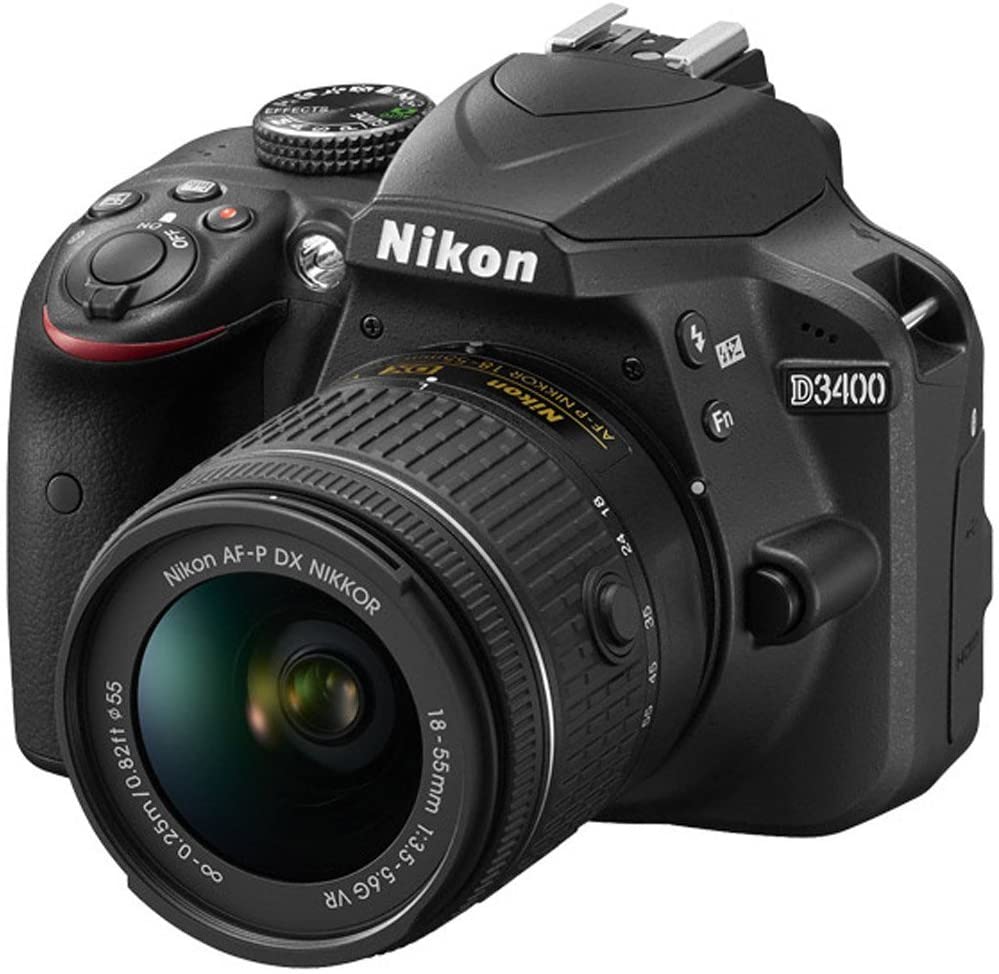 Value For Money
24.2 MP Lens
MH-24 Quick Charger
Class 10 Memory Card
Pros
It has a snap bridge that backs-up photos to create albums.

It has long battery life.

It's simple to operate.

The camera produces high-quality pictures.
Cons
It is not Wi-Fi enabled.

The optical viewfinder does not offer 100% coverage.

It has a fixed, non-touch-sensitive screen.
It is one of the best DSLR cameras in the market right since 2016 due to its unique features of 24MP APS-C CMOS sensor, 11-point phase detect auto-focus system, Bluetooth, 1080/60 video capability, and many more. The Nikon D3400 is the best entry-level DSLR in the market. This camera makes you feel at home in the world of photography.
It features a unique compact body, which cannot go unnoticed. Surprisingly, you can use a camera and smartphone to share amazing photos wirelessly. To avoid disappointments while working, this camera comes with an EN-EL 14a rechargeable Li-ion battery and MH-24 quick charger.
Photos and videos were taken using Nikon D3400 always appear timely and impressive as the camera is fitted with a pro .43x wide-angle lens with the macro pro 2x telephoto lens converter. You can shoot successfully in shallow light. It's impressive how the D3400 captures sounds and sights. It is because the gadget records 1080/60p Full HD Video at the touch of a bottom. Only the moment's sounds are recorded with the camera's internal mic as Nikon's new AF-P DX NIKKOR 18-55mm f/3.5-5.6GVR lens ensures smooth and quiet autofocusing.
Surprisingly, the D3400 DSLR camera is compact and lightweight. You can quickly move from one place to another, and its controls are clear for easier operation. The bright optical viewfinder provides a clear vision, and the grip is comfortable for easy handling.
The Nikon D3400 features a 24.2 MP DX-Format CMOS Sensor with an Expeed 4 image processor, heightening image quality. Moreover, the camera's speed is great as it starts up quickly and allows for continuous shooting of images.
Key Features
Verdict
Nikon D3400 is the best-suited DSLR camera for amateur photographers as it is simple to operate. The product is of high quality, and you will not regret buying it. It's the best device to buy for leisure time, and it guarantees holidays full of fun. You can easily acquire one for $599 and remember the shipping is free. It's easier to choose between the black and red color depending on your choice.
2. Canon EOS 80D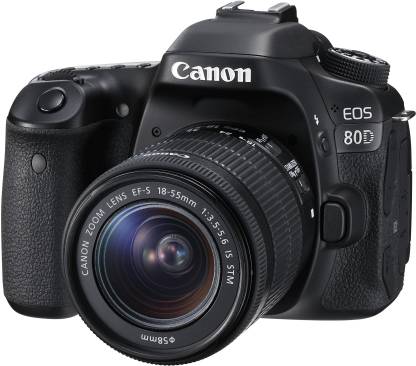 Value For Money
Wireless Connectivity
Remote Shooting
Dual Pixel CMOS AF
Pros
It is easy to operate.

The battery is long-lasting.

It produces quality pictures.
Cons
The wireless trigger may fail to work

Limited to specific brand colors.
It is among the best DSLR cameras when quality and speed are factored in. It is due to the recent features like a 24MP APS-C CMOS sensor with Dual Pixel AF, weather-resistant body, Wi-Fi connectivity, among others. These unique features make it stand out in the market as it offers quality images and videos.
With a 24.2MP APS-C CMOS sensor and a DIGIC 6 image processor, it can capture high-resolution images close to 7fps and Full HD 1080p60 video, with minimal noise and high sensitivity up to a widened ISO 25600 for performing in challenging lighting conditions. It also has a headphone and microphone jack in the body design for later control in audio recording. 
The body design is unique, with built-in Wi-Fi and an NFC. The 3.0 inch, 1.04m-dot clear view touchscreen LCD features a unique angled design that allows working from differing angles, and the touchscreen allows control of menu navigation and touch-to-focus operation. 
Key Features
Verdict
Interestingly, both photos and movies can be shared wirelessly with smart items, using the Canon DSLR Camera Connect app. Remote shooting from a linked mobile device is also made possible. There is no doubt owning such a camera will add more joy to your lifestyle. This camera is easy to use and suits even entry-level photographers. In case of breakdown, it attracts 1-2 years warranty.
View On Amazon View On Flipkart View On TataCLiQ
3. Nikon D7200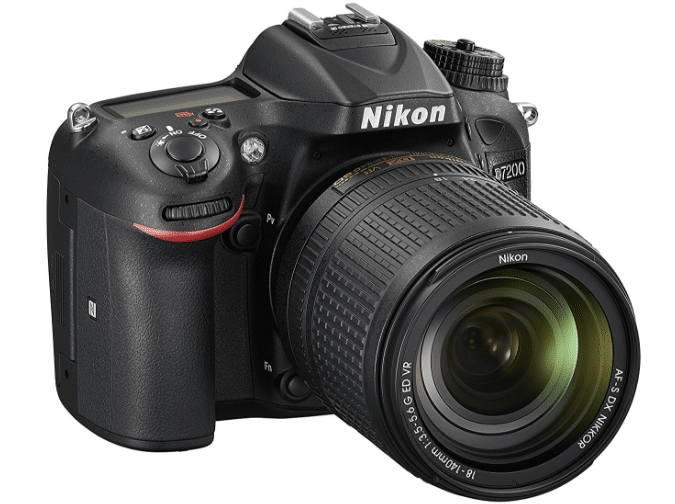 Value For Money
24.2 MP Lens
USB Hi-Speed Port
1/8000 sec Shutter Speed
Pros
Long battery life

Smart features

Excellent image quality for its class

Very high resolution
Cons
Lacks OLPF, hence prone to aliasing.
It is the new star of Nikon's DX-format camera line-up. It is among the best DSLR cameras for beginners currently in the market. Nikon D7200 is an improvement of Nikon D7100 with a larger buffer, excellent performance in low light, 60p video, Wi-Fi with Near Field Communication (NFC), and a 15% improved battery life. It's incredible how it supports autofocus on screw drive lenses. This camera competes with Sony SLT-A77, Canon EOS 7D Mark 2, Pentax K-3, etc.
The Nikon D7200 DSLR camera has a significantly improved AF system. Anyone who shoots continuously will notice the improvement of the Nikon D7200 compared to the D7100. The buffer size has increased compared to its earlier version, which was tiny and affected bracketing and burst shooting.
Photo sharing is made more accessible as Nikon D 7200 has built-in Wi-Fi and NFC. You just make the smart device compatible with NFC to the camera to establish a Wi-Fi connection. After connection, you can use the smart device to browse photos on the D7200 and share the best via email, message, or post them online.
Key Features
Verdict
With the Nikon D7200 DSLR camera, you can transform the unbelievable! This camera produces very sharp, pure photos and videos. It is made possible by its 24.2 MP DX-format CMOS image sensor that collaborates with EXPEED 4 image processing and NIKKOR lenses to improve tonality and detail.
Surprisingly, this fantastic image quality is kept up to ISO 25,600 for an interesting low-light picture. Shooting still or video images in sports or wildlife, the settings can be adjusted to get a closer view of the objects.
Nikon D7200 is, therefore, a unique camera that is easy to operate. The product is user-friendly, and it helps to achieve your dream in the world of photography
View On Amazon View On Flipkart View On TataCLiQ
4. Fujifilm X-T2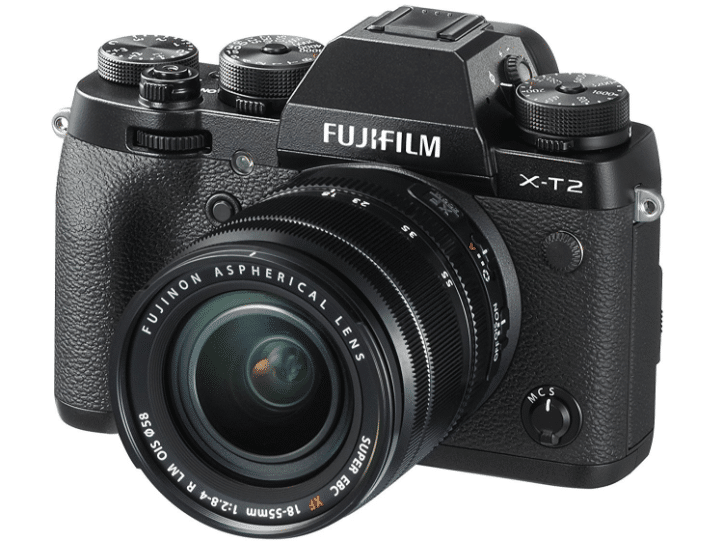 Value For Money
24.3MP Sensor Resolution
X-Processor Pro Support
4K UHD 2160p Resolution
Pros
It has fantastic lenses

High resolution

Great image quality

Nice features
Cons
It is expensive

It is heavy

No touchscreen
Fujifilm X-T2 is the company's latest DSLR camera that has attracted many people into photography. Whenever the idea of high-quality filming hits your mind, do not hesitate to include Fujifilm X-T2 in the top list of opted DSLR cameras.
This camera features a 24.3 MP X- Trans CMOS III APS-C sensor for enhancing image quality. The random pixel array reduces false colors without the use of an optical low-pass filter. It is worth noting that when combined with an XF lens, the sensor produces images greater than the number of pixels used. The camera has an amazing read speed, high-precision AF tracking, and excellent video recording.
Fujifilm X-T2 sensitivity range expands from the recent 200-12,800, but there is room for expansion. It's evident that unlike the previous X-T1, this model allows shooting with raw capture, unlike JPEG-only.
From the records, the X-T2 is the first Fujifilm X-series camera to shoot 4k UHD (3840 ×2160) video recording, thereby offering a bit rate of 100Mbps. It provides recording times of up to 10 minutes. However, this can be extended to 29 minutes and 59 seconds when the optional battery grip is attached.
Initially, the X-T1 was great for shooting landscape-format. However, the X-T2 covers both portrait and landscape. It is made possible by a new double-jointed articulated design, making it possible to pull the screen outwards and against the body if the camera is tilted on the side.
Key Features
Verdict
It is well said that judgment comes from experience; again, experience comes from bad judgment. This camera does not only offer nicer features but guarantees quality services. It is user-friendly, and the manuals are easy to learn and apply. I highly recommend this product to people with unique tastes and passion for photography.
View On Amazon View On Flipkart
5. Nikon D500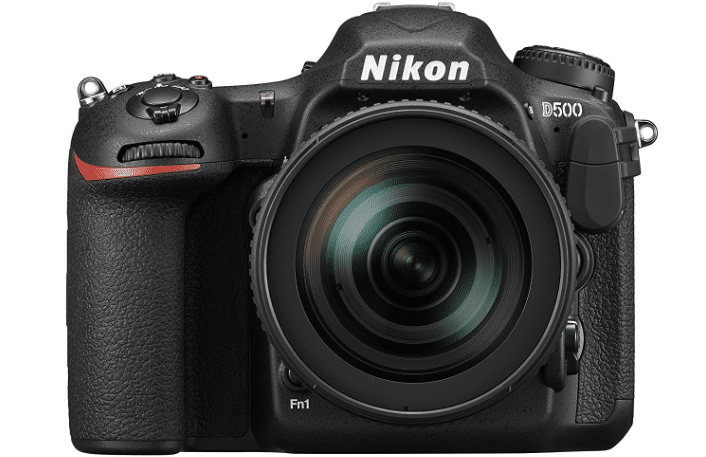 Value For Money
4K UHD Video Recording
Touchscreen LCD
51200-1640000 ISO
Pros
It has a 100% optical viewfinder
Dual memory card slots
Amazing centric controls
Tilting screen
Super-fast FPS
Cons
The screen does not articulate
The battery may at times disappoint
The new Nikon D500 is among the best deals of 2019 in the competitive market. This DSLR camera takes you wherever your passion leads you. It is unique as it is an upgrade from the D300s. Nikon has produced better qualities with technological advancements, most notably a new autofocus system that facilitates shoots up to 10 frames per second. Nikon D500 is mainly trusted in its ability to focus and shoot very quickly.
It comprises a 153-point AF module that gives close to full-width coverage and is associated with the 180,000-pixel RGB metering sensor to facilitate its AF tracking potentials. It is crucial to understand that its AF system currently offers two parameters for fine-tuning the auto-focus behavior, thereby enabling the user to choose the type of subject movement and respond to any hindering obstacle.
The D500 DSLR camera has a joystick and touchscreen features that enable you to select the point of use. This great camera offers autofocus points across a significant area of width that is important when selecting a topic either manually or automatically.
Nikon D500 Camera has the inclusion of a larger viewfinder. It automatically makes it a genuine high-end camera. In addition to this, it has 100% coverage but also provides 1.0x magnification, which is the largest optical viewfinder recorded in an APS-C camera.
Key Features
Verdict
The DSLR camera can shoot 4k video with the inclusion of both an input for using an external mic and a headphone socket for audio monitoring. The camera again provides a flat picture profile to allow more post-processing flexibility and power aperture control that allows selection and changing of the aperture when in movie mode. All the features combined give you one of the best experiences while taking photos.
View On Amazon View On Flipkart
6. Pentax K-70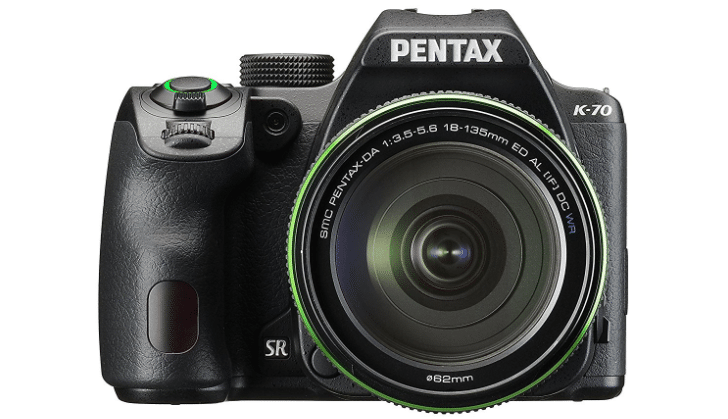 Value For Money
APS-C CMOS Sensor
Wireless LAN Connection
Dustproof & Weather-Resistant
Pros
Built-in wireless
1920 × 1080 maximum video resolution
High-resolution sensor
Remote control with a smart device
Environmental Sealing
Cons
No touchscreen
Low battery life
It is the product that has shaken the market with its outstanding features and performance. This DSLR camera is a product of technology and is among the latest models in photography. It brings you excitement and great experiences, a stable grip, and a weather-sealed body. When shopping for a camera that delivers quality videos and images, Pentax K-70 can never be ignored.
Pentax K-70 has a sensor-based image stabilization system. It allows all the images to be stabilized when used on this camera. It is to be noted that the image stabilization of K-70 is effective up to 4.5 stops. Again, 22 lenses consist of weather sealing for this camera that you can join with its weather-sealed body.
On the side of sensor and photography features, Pentax K-70 has a 24.0MP APS-C (23.5 ×15.6mm) sized CMOS sensor and resembles the PRIME MII processor. It means you can shoot at the highest resolution of 6000 ×4000 pixels with ratios of 3:2. Surprisingly, K-70 has a native ISO range of 100-102400 and can save files in RAW format, thereby enhancing room for post-processing. This camera compares with Sigma Quattro in the market.
The resolution mode in Pentax K-70 is excellent since it takes multiple images of a context while moving the sensor, using the sensor-shift image stabilization system. This, in turn, combines the photos automatically to create an image of much higher resolution. This feature is best suited for non-moving scenes, and it is crucial to use a tripod to reduce stitching artifacts.
Key Features
Verdict
This DSLR camera was indeed built with a professional photographer in mind as it offers a varying angle LCD to facilitate unique compositions. It has in-body shake reduction to guarantee sharp, non-blurred images, even in challenging situations. This camera is among the best models and is well priced. It is merely an ingredient in the world of creativity and fun.
7. Sony Alpha a6400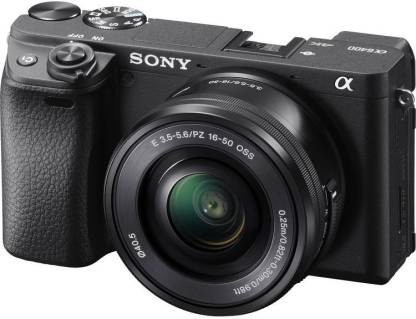 Value For Money
24.2 MP Exmor CMOS sensor
Fastest 4D FOCUS
4K(QFHD: 3840 x 2160) Recording
Pros
Great image quality

Solid burst performance

Higher-ISO performance
Cons
Lacks in-body OIS

Complex for beginners
It is one of the best mirrorless DSLR cameras since 2016, due to its great specification and performance. It has dominated the market to date, and its unique features guarantee excellent results. Whenever you think of venturing into the photography world, this is the best camera for photography with simplified manuals.
Sony Alpha a6400 DSLR camera has the world's fastest Autofocus speed (0.005 sec.) Secondly, it has one of the world's highest numbers, an impressive 425 phase-detection AF points2 widely positioned over the whole image area. Surprisingly, it can shoot images at close to 11 frames per second with autofocus and exposure tracking continuous. This device has impressive fast hybrid AF for movies in both 4K and HD.
The Sony Alpha a6400 has a 3-inch LCD screen that tilts up and down for better high and low-angle framing. It makes it easy to capture images of crowds or objects that are near the ground. The screen can tilt up at around 90 degrees and down at approximately 45 degrees. Due to the large display, the images produced are of high quality and brilliant.
This camera has a unique 4×/5× slow-motion recording at 120fps Full HD. This means it can capture high-quality footage at high speed shooting with a bit rate of close to 100Mps. The frame rate is set at 30p or 24p, to edit into slow motion later on during recording.
Key Features
Verdict
It is possible to have a high-speed continuous shooting with AF/AE tracking. As a result, one can capture clear points of action at an added high speed close to 11 fps continuous shooting with autofocus and auto exposure tracking. Sony Alpha A6400 is a nice compact size with excellent image quality. Little time is needed to study the manual and operate it. This is indeed the best device to test one's understanding of capacity and application.
View On Amazon View On Flipkart View On TataCLiQ
8. Canon EOS 200D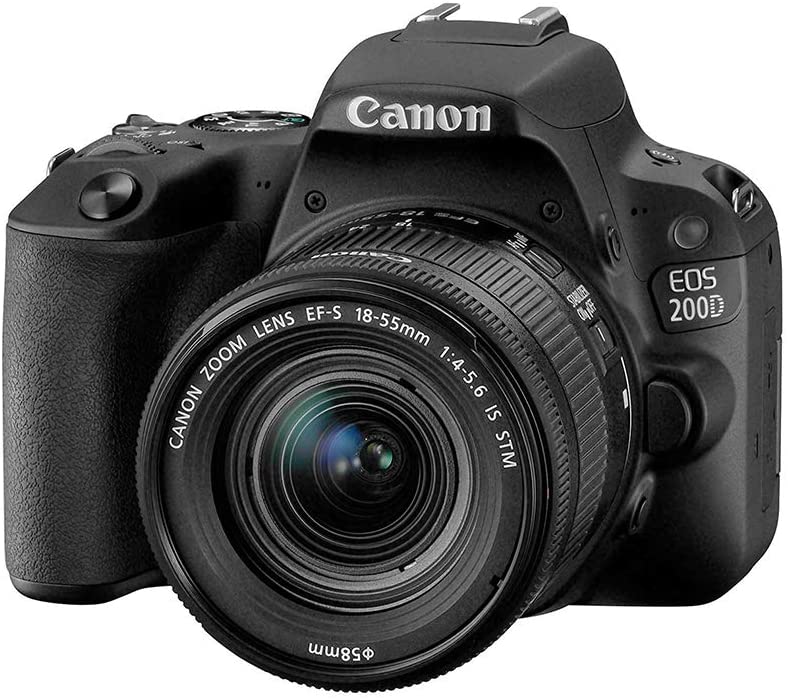 Value For Money
24.2MP CMOS (APS-C) Sensor
Dual Pixel CMOS AF
30 inch LCD (Touch Screen)
Pros
Wi-Fi and Bluetooth connectivity
Easy to operate
Articulating touchscreen
Compact size
Cons
Small viewfinder
Low battery life
This is among India's best DSLR cameras due to its portability and unique features for great results. When thinking of quality images, speed, and quick sharing of photos, the Canon EOS 200D SL2 is a DSLR camera that cannot be ignored. It is a unique camera that is packaged in either black or white color.
The Canon EOS 200D SL2 camera has a generous 24.2 Megapixel CMOS sensor that captures excellent quality images in various lighting conditions. After taking fine-detailed photos and videos, one can confidently share on social media, and the results will be amazing.
It is easier to share videos and images from compatible gadgets through the in-built Wi-Fi technology in the Canon EOS 200D SL2. By simply touching the NFC icon on the camera, it connects directly to compatible devices. The small and lightweight body makes it portable and contains a rounded grip that eases handling. This helps one to utilize all the opportunities and make reference to high image quality.
In the case of shooting in bright light, the Canon EOS 200D SL2 is featured with an optical viewfinder. This is meant to achieve a sharp focus in an instant. Therefore this feature enables the camera to capture a specific action, irrespective of the object movement.
Key Features
Verdict
The camera features a unique screen, and even a selfie mode, which is useful for beginners, controls the amount of background light without necessarily operating the aperture. The grip is of the right size and can be handled by different people. This device clears the uncertainties in the field of photography. It is easier to operate, best suits other groups of users. The cost is affordable, and there are special offers for used cameras.
View On Amazon View On TataCLiQ
9. Panasonic Lumix G7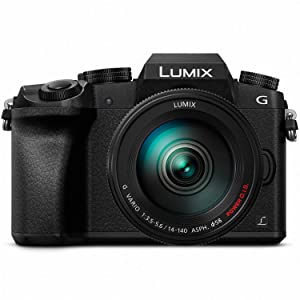 Value For Money
4K Video Recording & Photo
Three 4K Photo Modes
ISO 25600
Pros
Great image quality
High-speed focus and shutter response
4k video recording
Great external controls
High-quality lenses
Cons
Large in size
Build Quality
This top DSLR camera is the latest from Panasonic and comprises 16 buttons, 4 dials, and two stitches, enabling more manual control and much scope to customize operation. It is the best DSLR camera to choose from whenever you are going for a vacation, as it is the best family camera for shooting and recording documentaries.
The screen is a 3-inch display suited for both video shooting and selfies. The camera has a touchscreen that can be used to set the focus position while the camera's electronic viewfinder is held up to the eye. It also supports gestures like pinch-to-zoom, communicating similar language to the phone.
The connectivity in Panasonic Lumix G7 provides greater performance. However, it does not pack in everything as required. Wi-Fi is used to pair wireless devices, automatically making it easier to transfer photos, share them online, and control the shutter and AF for remote shooting.
In design matters, the camera has a more angular shape and weighs 410g with a battery and memory card. In terms of features, the camera has a front and rear control dial. The rear control dial comprises a middle button that can set both the rear and the front control dial to change ISO and WB. For easier handling, the camera has a rubberized handgrip and also a rubberized thumb grip at the back.
With the Panasonic Lumix G7 DSLR camera, you can save 4k photos directly from the camera, not necessarily processing the computer's video files. A Lightroom can be applied in the selection of frames from the video. The advantages of 4k video are that it can create a 1080p video, crop for a 200% view, or digitally stabilize.
Key Features
Verdict
The camera has an automatic panoramic mode (120/360 degrees); hence you can easily press the shutter release button and change it from one side to the other. Video quality is great as the lens-based optical image stabilization aids in keeping the video flowing.
Being the latest Panasonic mirrorless DSLR camera, it offers unique features and is user-friendly. This is the camera you will never miss when planning a vacation.
View On Amazon View On TataCLiQ
10. Sony A7R III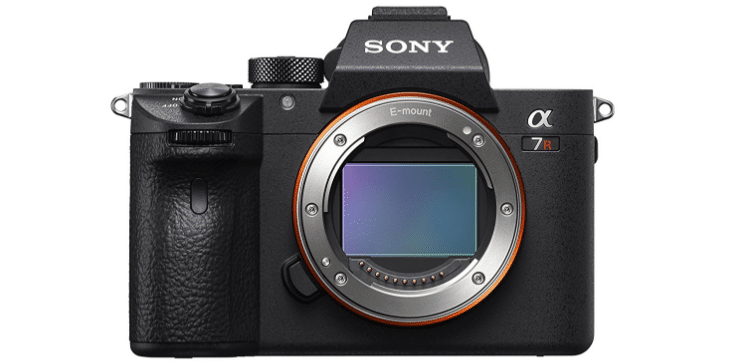 Value For Money
Exmor R CMOS Sensor
4K Recording Support
Image Stabilization
Pros
Weather Sealing
Ultra-Wide Angle Lens
Fast shooting capabilities
Prolonged battery life
Touchscreen
Cons
The absence of wireless flash capabilities
Lack of play memory apps
This is the latest company mirrorless product in the DSLR market. It is an excellent update from Alpha A7R II, which by then captured a lot of attention from buyers. The significant improvement in performance, easy handling, and a guaranteed deal of five years leave no other products on the shelves. It is incredible how it combines resolution with high speed and quick autofocus capabilities to a great extent. It contains unique features like a 42.2MP back-illuminated full-frame Exmor R CMOS sensor.
Sony A7R III DSLR camera features a recent front-end LSI that multiplies the readout sensor speed. It applies the current BIONZ X image processing engine, which delivers a boost of up to 1.8x in processing speeds. The new processing engine handles image noise better than A7R II.
This camera also offers 4K video capture, with an alternative to use either the full width of the sensor or super 35mm format mode. Again the camera features a new Hybrid Log-Gamma, that supports an immediate HDR workflow, thereby enabling HDR-compatible televisions to playback 4K HDR footage.
Key Features
Verdict
Sony A7R III has a new feature, Pixel Shift Multi Shooting, that captures four pixel-shifted images consisting of 169.6 data pixels, to form an image with fantastic resolution fidelity and texture reproduction.
The camera has an improved battery to two times its predecessor's capacity, a second memory card slot, and the right size. Relay recording is added out of the box. One can access the menus while images are copied to the card.
FAQ (Frequently Asked Question)
When it comes down to the DSLR camera, people get confused about which features to look for. Every brand of DSLR camera has its unique features to offer. With so many brands in the market, you can quickly get confused. This confusion creates many questions among our fellow readers. Here are some of the questions that are asked by our readers.
1. How much does a DSLR cost in India?
If you are talking about a DSLR, you might be surprised that the market of the DSR in India is massive. Since the last decade, people have shown their interest in the DSLR and SLR. This has made several companies come with all eagles of SLR and DSLR cameras in the market. The price may vary on their features. The price of the DSLR camera starts at 50,000 and can go as high as 6 lakhs.
2. Which is the best DSLR camera at a low price?
If you are looking for a DSLR camera that can perfectly fit in your low budget, then there is a chance that you are looking for brands like Panasonic, Sony, and Canon. Yes, these brands are some of the premium brands that cater to some of the premium DSLR cameras. However, they have understood that an Indian market is a price-sensitive place, which has made them launch some of the budget-friendly DSLR cameras in India.
3. Which is the better SLR or DSLR?
If you are asking which is better. Then the answer is a DSLR camera. Comparing these two means comparing a shooting film with a digital film. SLR is the predecessor of the DSLR camera. Where, on the other hand, DSLR cameras come with advanced preloaded image taking technology that helps you take more mesmerizing photos efficiently.
4. Which company is the best DSLR?
There is no particular company that can be considered the best among the DSLR cameras. Every brand brings its uniqueness to its products. So you have to choose the brands that suit your needs.
As of now, the current leader of the camera industry are:
Canon.
Nikon
Sony.
Panasonic.
Bottom line

Customers mainly buy products either from experience, attractiveness, or trusting the brand's company. This may, however, work for or against your expectations. It is therefore important to clearly study the product features before buying. Reviews from reliable consumers play a key highly determined by the improvement from previous models and any recent brand guarantees better results. Therefore when budgeting for a DSLR camera, we highly recommend that you consider the year of manufacture and the technology associated with the camera of choice. Welcome to the amazing world of photography and spread this fun.

Canon and Nikon seem to be very competitive in the DSLR market. They are therefore both suited to customers' specific needs.  When considering the pricing, the Canon models are relatively cheaper compared to the Nikon, especially for beginners. Generally, the difference between Canon and Nikon is little. However, our pick would be Nikon D3400. It is easy to operate especially for beginners, produces quality results.

[supsystic-tables id=1]
---