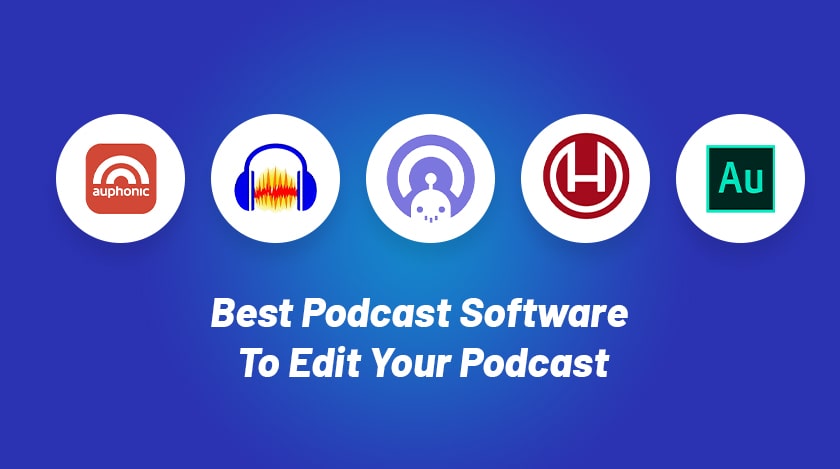 Are you planning to start your own podcast? Are you searching for the best podcast software? 
A study says that around 16 million people only in the United States of America describe themselves as "avid podcast fans." Approximately 1.5 million podcasts are available with over 34 million episodes. 
In this modern world, podcasting has become a big business that can give you handsome earning options through ad sales. You also can generate leads along with driving direct sales of your company's services or podcasts. 
But you need to make sure that your podcasts are enough polished and professional. So, in order to start, you need the right podcast software. And I am to suggest to you the manes of best podcast software. 
Top 5 Best Podcast Software To Edit Your Podcast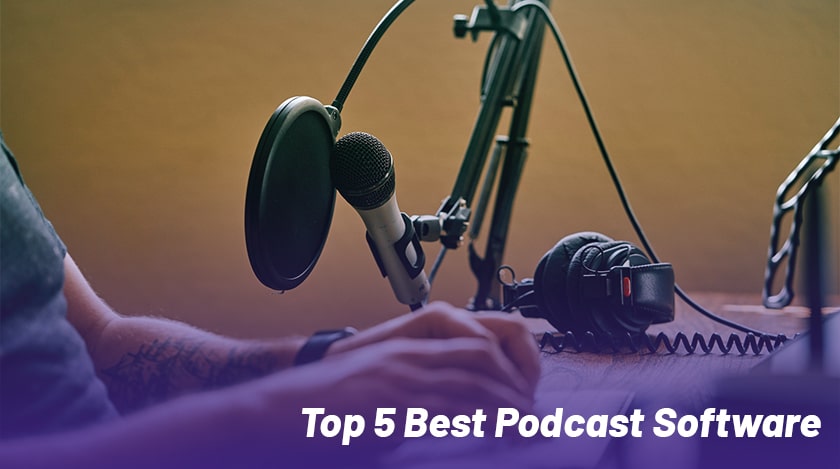 Here is the list of the best podcast software that you can use. You can choose anyone best podcast software from this list and start your journey as a podcaster. 
1. Auphonic
At the same time, Auphonis is totally accessible for newbies and also stuffed with automated audio enhancement features, which an experienced podcaster will like. You can get all of these at an affordable rate, which makes it the best podcast software on the market. 
The wide range of embedded features will save a lot of your editing time. This software is compatible with both Mac and Windows users. 
You can avail of the free version that offers two hours of audio on a monthly basis. After that, you need to pay $12 for five hours of audio and up to $150 for 100 hours of audio each month. 
Advantages
Free upload hours on a monthly basis.

Web-based software.

Also has a free option, though the rates are quite affordable.

User-friendly.
Disadvantages
The files do not offer full control to the users.

You need to purchase advanced features additionally. 

All the features are not available on the

desktop version

.
2. Audacity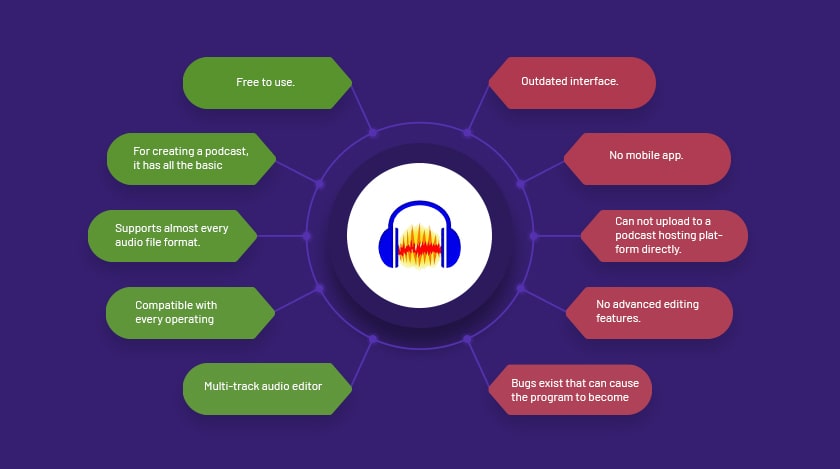 Without any hesitation, I can say that Audacity is the best podcast software on the basis of popularity. With the amazing features and basic editing options, podcasters have been using this software for years. 
Do not go with the outdated look of the interface because it has all the features that you can ask as a podcaster. From recording audio to editing it, this software will allow you to do both. Audacity is compatible with Mac, Linux, and Windows.
On the basis of the updated operating systems, Audacity also updates this software in order to offer its users uninterrupted service. 
Advantages
Free to use.

For creating a podcast, it has all the basic effects.

Supports almost every audio file format. 

Compatible with every operating system. 
Disadvantages
Outdated interface.

No mobile app.

Can not upload to a podcast hosting platform directly. 

No advanced editing features. 
Also Read: Top 8 Alternatives Of Adobe Screen Recorder
3. Alitu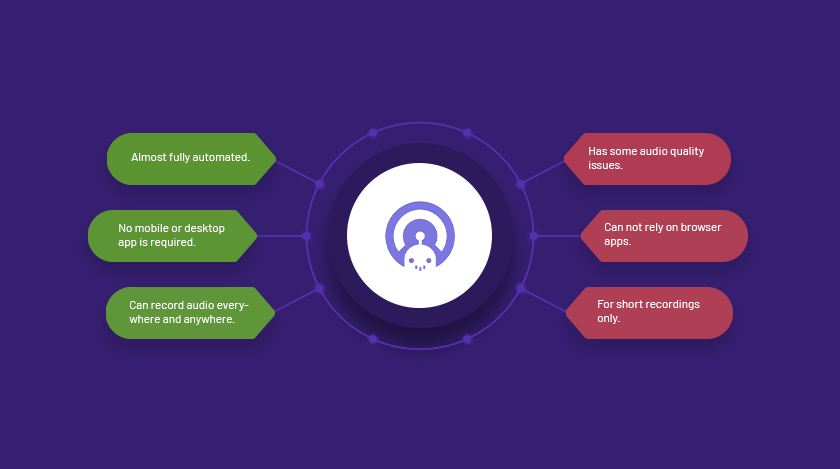 Are you a newbie in this podcasting world? Then it is obvious that you will not have any technical experience. Alitu is the best podcast software for you. You do not need to put a lot of effort or almost no effort, as this software does most of the jobs on its own. 
You just need to upload the audio file, and Alitu will do everything for you. From leveling the volume to cleaning up the recording, it can do everything for its users. It is supported with any operating system, as it is web-based podcast recording software. 
You can either take the monthly plan at $28 for each month or the annual plan for $280. 
Advantages
Almost fully automated.

No mobile or desktop app is required. 

Can record audio everywhere and anywhere.
Disadvantages
Has some audio quality issues.

Can not rely on browser apps.

For short recordings only.
4. Hindenburg Journalist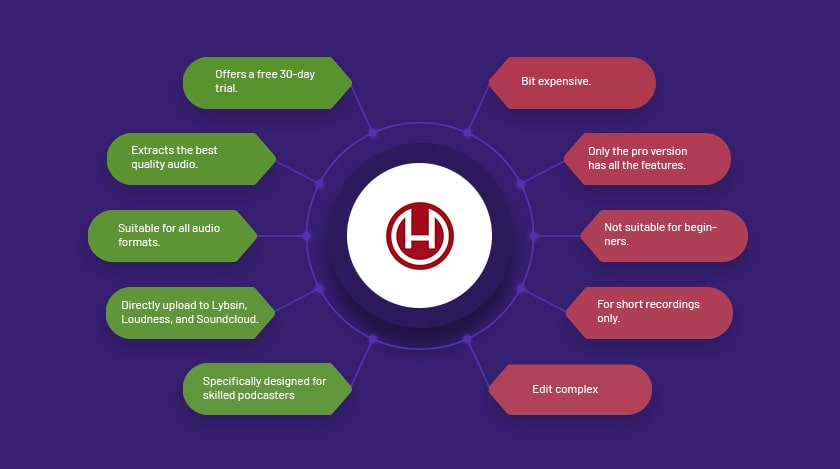 Yes, it is true that Hinderburg Journalist is pretty expensive than most of the other podcast software. But it is specifically designed for skilled podcasters. Thus, it allows you to do almost anything to your conversations, interviews, and audio recordings. 
Apart from all these, there are a lot of reasons why this is the best podcast software to date. All the radio journalists and podcasters now can focus on storytelling by controlling the sound quality and recording to deliver polished content.
After the 30-day free trial, you can choose a plan starting from $95 per month up to $500. 
Advantages
Offers a free 30-day trial.

Extracts the best quality audio.

Suitable for all audio formats.

Directly upload to Lybsin, Loudness, and Soundcloud. 
Disadvantages
Bit expensive.

Only the pro version has all the features.

Not suitable for beginners. 
5. Adobe Audition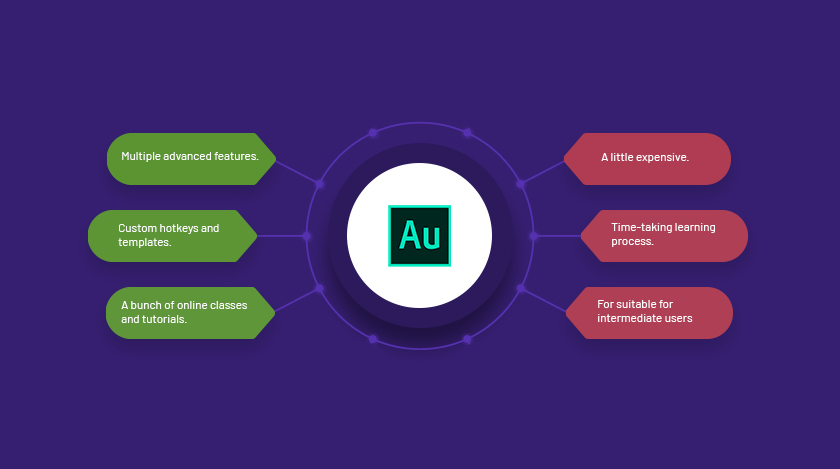 To all professional podcasters, Adobe Audition offers complete control and flexibility over their projects. However, the beginners and intermediate users can use this best podcast software, but it will take much time to learn. This is the best suit for professional ones. 
You can purchase the monthly subscription for $29.99 or choose the yearly plan at $239.88 or $19.99/ month. Adobe also provides an "All Apps" packages, which costs $74.99 on a monthly basis, or $599.88 on a yearly basis.
Along with the Adobe Audition free, you will also get Adobe Illustrator and Adobe Photoshop in this package. 
Advantages
Multiple advanced features.

Custom hotkeys and templates.

A bunch of online classes and tutorials. 
Disadvantages
A little expensive.

Time-taking learning process.

For suitable for intermediate users and beginners.
Some More Options
I understand when you are choosing software, no number will be sufficient for you. So, here are some more options for the best podcast software for you.
Logic Pro X.

Reaper.

Buzzsprout.

Iris.

Scribie.

Garageband.

SquadCast.

Wavve.

Music Radio Creative. 
Final Verdict
As now you have plenty of options for the best podcast software, you can choose any one of them. In case you are a beginner you can go for Alitu, or in case you are an expert, you can choose the podcast software that is packed with comprehensive features.
Read Also: