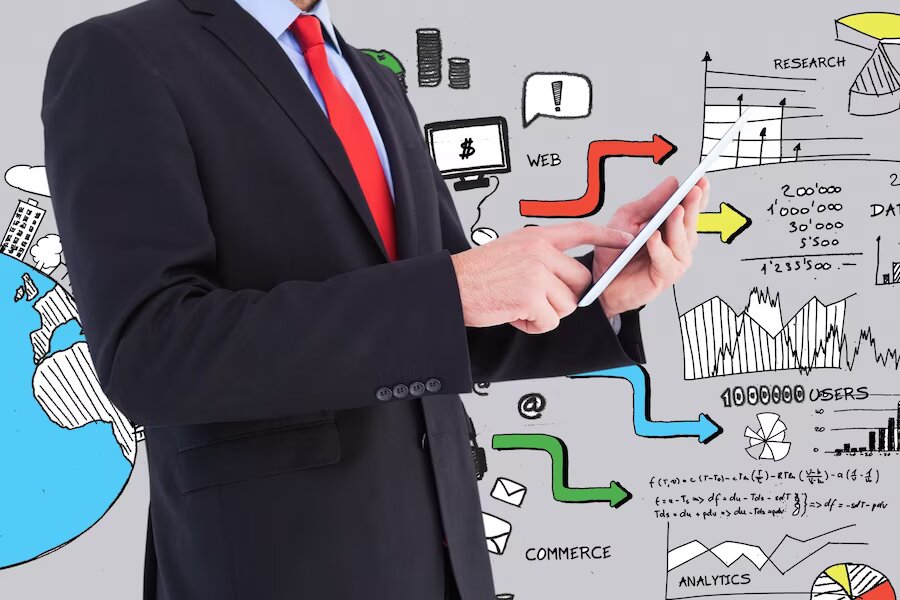 Every entrepreneur knows that staying organized and productive is essential for success. Business mobile apps can be a great tool to help entrepreneurs stay on track as they strive to achieve their goals. Whether an independent contractor or a large enterprise, the best apps for entrepreneurs can help you get the best out of your business.
With the help of mobile business apps, entrepreneurs can easily manage their daily tasks, keep track of contacts, store and share documents, and collaborate with colleagues–all from a mobile device. They are easy to use and provide valuable insights to help you make better decisions and stay on top of essential tasks.
Best Productivity Apps For Entrepreneurs
Mobile apps are a must-have for entrepreneurs, allowing them to access their businesses and stay productive wherever they are. Here are some of the most popular and useful productivity apps for business:
1. Trello
With its intuitive interface and easy-to-understand organization, Trello allows users to organize their tasks by boards, lists, cards, labels, due dates, comments, and attachments. Trello also lets users collaborate with their teammates in real-time, allowing them to assign tasks to each other and discuss projects. Additionally, Trello offers efficient notifications that allow users to stay up-to-date on changes made by others.
2. Slack
Slack is one of the best apps for entrepreneurs looking to stay productive and organized. It is an instant messaging app designed specifically for business communication. It allows users to keep their teams in sync, easily share files, and easily track projects. With Slack, you can quickly create channels for different topics so your team can discuss tasks without getting distracted by other conversations. It has a built-in search feature to quickly find the necessary information without going through dozens of conversations.
3. PDF Scanner App
Do you want access to the best pdf scanner app to convert your PDF files to docs or other formats quickly? Look no further than the PDF Scanner App. This scanner app gives users powerful features to scan docs and IDs quickly and accurately. You can securely store all your scanned documents in the cloud, share them with colleagues or customers, sign documents electronically, add notes, and more.
The best part is that it is free to download from App Store. It's an intuitive doc scanner that easily scans any document in seconds. Its wide range of features makes it the perfect app for entrepreneurs who need to stay productive and organized.
4. Todoist

Todoist is a great mobile app for entrepreneurs that helps them stay productive and organized. It allows users to create tasks and to-do lists, set reminders, and track their progress over time. With its easy-to-use interface and powerful features, Todoist is a must-have app for every entrepreneur.
5. Evernote
Evernote is one of the best apps for entrepreneurs who want to stay productive and organized. It's a powerful tool that helps you store images, audio recordings, webpages, or any other type of information that you need to remember.
With Evernote, you can access your data from anywhere on any device—from your laptop to your smartphone. You can also share notes with colleagues or clients and work together in real-time. Evernote syncs across all your devices, so you never lose track of projects.
6. Expensify
Expensify is a productivity app for businesses that helps entrepreneurs and small businesses stay organized, save time, and increase productivity. It offers tools for streamlining expense tracking, automating payments, and other financial management tasks.
With Expensify's easy-to-use interface, users can quickly access their accounts to see where their money is being spent. It also offers task tracking, document sharing, and project management. With Expensify, business owners can save time and money by quickly handling their finances confidently.
7. Pocket
Pocket is an app that provides various tools for entrepreneurs, from tracking tasks and notes to planning their work schedules. The app allows them to create projects, assign tasks, set goals and deadlines, and keep track of their progress.
It also has a search function so users can quickly find what they need. Plus, it syncs with other apps, such as Google Calendar, Evernote, and Dropbox, so entrepreneurs can easily access their data across multiple devices. Pocket is an essential productivity app for businesses to stay organized.
 8. Dropbox
Dropbox Business Apps are designed to make business easier and more efficient. With the help of Dropbox, entrepreneurs can quickly access files and documents they need anytime and anywhere. It enables them to easily store, share, sync, and collaborate on their work. Dropbox also helps entrepreneurs manage projects and collaborate with colleagues, customers, and partners.
9. Zoom
Zoom is one of the best apps for entrepreneurs. With its all-in-one, cloud-based call, video, and chat experience, it has been designed to make communication between teams easier than ever.
The app allows you to share your screen to show presentations or videos in real-time and stay connected with your team no matter where you are. You can use it to schedule meetings, record, and share calls, or host webinars. You'll also be able to join other people's video conferences with just one click.
10. LastPass
With LastPass, entrepreneurs can save passwords, store and share files, generate secure passwords for every account, and securely access websites from any device. LastPass offers a variety of features to make managing passwords and data easier than ever, such as automatic sync for multiple devices, one-click password generation, and two-factor authentication.
Final Words
If you are searching for how to be productive in business? These productivity apps for business can help entrepreneurs stay organized, productive, and connected to their teams. By taking advantage of the features offered by these apps, entrepreneurs can be sure to get the most out of their workdays.
Additionals: