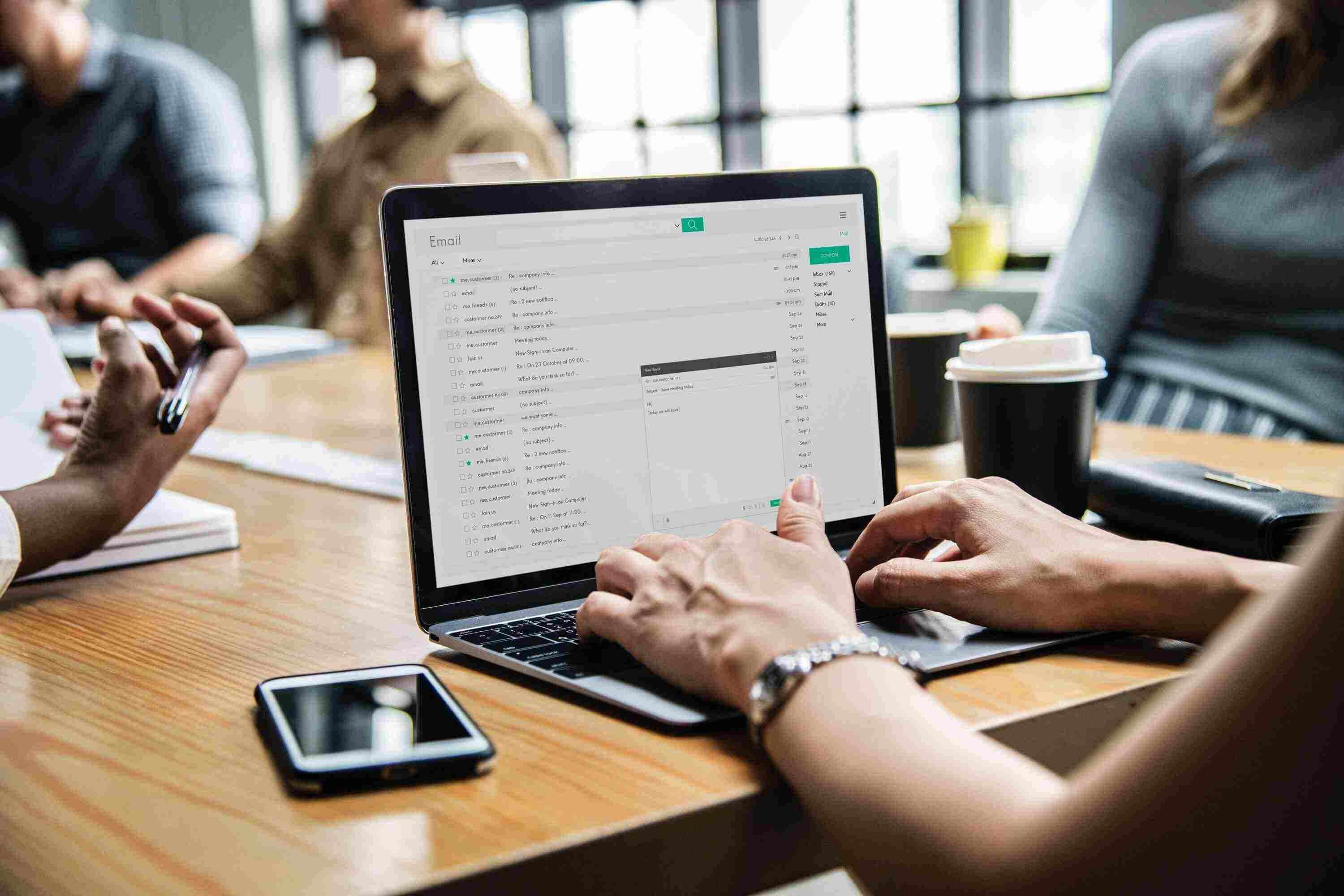 Call us old-fashioned, but we still believe that email marketing is a productive and profitable way to develop your business. The question then is, how does email marketing work? For starters, email marketing requires and relies on email databases that your team and you have collected over some time. Supposing that your company has launched a new and record-breaking product, one that is sure to be a big hit and they want you to reach out to the right people. How are you going to do it?
The first thing that you would want to do is execute a proper email marketing strategy, and ensure that the emails in your database are all real ones. Meaning, that all the emails in the database need to be checked, verified and validated. To ease your manual work or sorting and verifying every one of them, there are certain supportive tools on the market. Today we discuss one of the best email verifier tools of 2019, Snovio.
Is Snovio the Best Email Verifier Tool in the market?
The question is: is Snovio another 'all talk no action' kind of a verification tool? Fortunately, it is not! Snovio thankfully is not yet just another email checker, it is much more than that. In addition to delivering on the above-stated features immaculately, Snovio also helps find email addresses, organize drip campaigns, email tracking, and check technologies used by any company on the web.
However, the subject matter of this article or review, whatever you want to call it, is to analyze Snovio as an email verifier and to list some relevant points that differentiate it from its competitors. We huddled some of our best tech nerds in the office and asked them to use Snovio for some time. However, I had quite an innovative idea and I was determined to use it. What if I ask someone quite junior in the HR team to source a list of people for the position of a Graphic Designer? How would he (a fresher) be able to use Snovio, whether it will confuse him, or will he get the best  of it?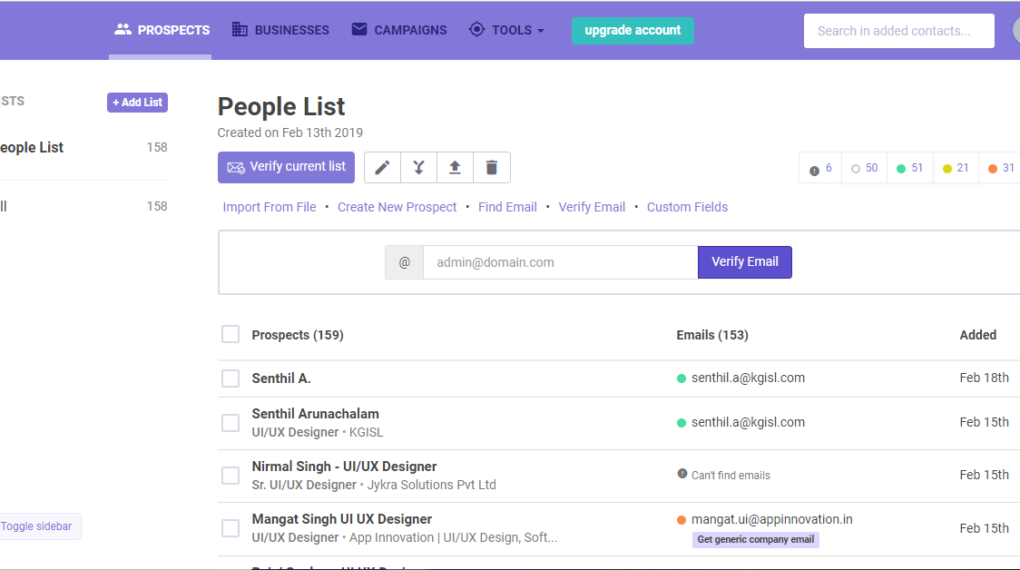 Powerful, Efficient, and Easy-to-use:
With my experiment in place, I asked the junior executive to use Snovio and find a list of Graphic Designers. It took him all of 45 minutes to read about Snovio, figure out how it works, create a list of Graphic Designers from LinkedIn (yes, in addition to Google, Snovio works flawlessly on LinkedIn as well), sort, and verify the list of about 100 people. I was not only shocked but also astonished considering how these tools are so easy-to-use. Here was a fresher, just inducted into the HR team, and he gave me a list of credible prospects within minutes.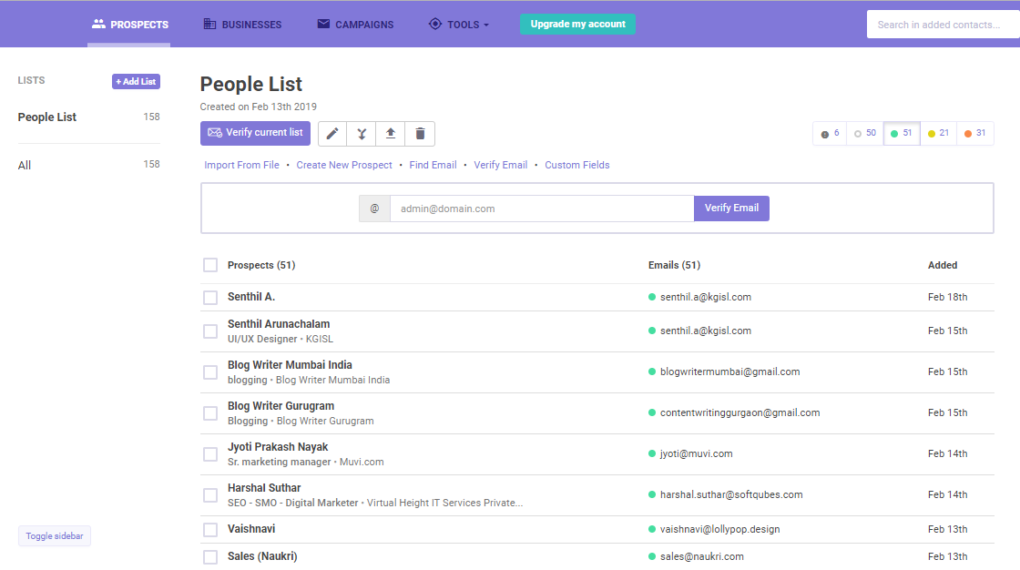 In the past, we have worked with several automated tools of outreach. However, we continued to feel that all the products fail to deliver on some front or the other. If the email checker feature is good, campaign planning is more complicated than sending a space ship to Mars. If Campaign Planning is easy, the cost of the software is comparable to the price of a small house, and things like that.
Almost everyone that has been using the tool felt that the ease of working with Snovio. The number of inbuilt features, a knowledgeable 24/7 support team, and the pricing gave Snovio almost an enviable position. Snovio works not only as an email checker, but also as a Campaign Planner, Company Information Checker, Blogger Outreach Tool, and for people who will not believe it, Snovio also helps you build lists using Twitter as well (note that a few people leave their email addresses on Twitter)!
An Indispensable Tool for Marketing, Sales, or Recruiting Strategy:
A good marketing strategy has at its foundation, a credible, verifiable, and structured database. Whatever you do, whether it be reaching out to new clients, connecting with subscribers for newsletters, prospecting or even recruiting, Snovio as an all-in-one tool for outreach fascinating product to have at your disposal. With the feature like bulk email verification, you will be able to clean the email lists from invalid emails, thus, reduce bounce rates (making your ranking more authentic and credible).
Most professionals swear by an email-marketing program as part of their core strategy. However, the problem of manually checking and verifying emails or resorting to an email checker that puts the Finance Team in a bad mood is usually the problem. The issue of downloading a software that eats up your system's RAM capabilities or poses a security threat are also difficulties which haunt many marketers. Snovio works seamlessly well as a Google Extension that helps search on Google, LinkedIn, company webpage, and even Twitter. Professionals also try to update their databases regularly. With Snovio, the ease of segmenting between real and invalid emails becomes a real possibility.
The Ultimate Analysis:
Many products are going to offer you similar usability and functions. If you want us to say that Snovio is the best amongst them, we would tell you that for a product like Snovio, we do not mind sticking our neck out and saying the same. It is after quite a long time, that an email verifier has hit all the right notes in terms of its features, ease of usage, and pricing.
If we still have not been able to get your attention, the following statement definitely will: Snovio is free! Yes, you heard it right, Snovio offers users a Freemium account that offers 100 credits (yes, we are calling out some competitors). With these credits that can be distributed to your liking (I mean to any tool you need for any purpose), Snovio's deal as an all-in-one tool became even sweeter. The paid plans are quite moderate starting   $29. In the ultimate analysis, even if you do not want to go for paid versions, we would definitely encourage you to try out the Freemium options, who knows, just like us, Snovio might be able to convert you as well.
Read Also: