Forgetting the iPhone passcode or losing access to the iPhone passcode is pretty common, and many users often complain about it. Hence, many of you would like to unlock your iPhone passcode.
The good news is that TunesKit iPhone Unlocker arrives to unlock your iPhone without a passcode. It is the tremendous best iPhone unlock software that allows you to access your password with minimal effort.
We'll review TunesKit iPhone Unlocker in this post and will you about this tool in detail.
Why should you use TunesKit iPhone Unlocker?
It is flawless software that helps you unlock your Apple ID without a password. Suppose you've got an iPhone that has been locked, and you're not looking to unlock the tool as you remember the password anymore. Using TunesKit iPhone Unlocker, you'll be able to unlock the iPhone passcode pretty quickly.
Is it safe to use?
Yes, you won't find any issue using this tool. It is a fantastic tool that comes with 100% reliability, meaning you won't find an issue with the security of this tool. Moreover, this tool comes with a pretty smooth user interface that doesn't create problems for your PC.
What can this iPhone Unlocker do?
TunesKit iPhone Unlocker has helped many people to access their iPhone devices after unblocking the password.
Let's talk about the possible situations in which this tool helps you.
If your screen has been damaged and you end up changing your iPhone's password, this tool helps you unlock your device.
It helps you unlock the iPad or iPhone's password.
If your Face ID doesn't work, it helps you unlock it.
If you made several incorrect attempts to unlock your iPhone but got locked due to repeated attempts, TunesKit iPhone Unlocker helps you unlock the device.
What is the price of the TunesKit iPhone Unlocker?
The premium package of this tool is available at affordable rates.
If you're looking to acquire the services of this tool for one month, you'll only need to pay around $19.95. This package comes with the leverage of a 5-day return money guarantee.
You can opt for the yearly plan by only paying $29.95, and you'll be able to get back your money within 30 days if you don't like the services.
A lifetime package of TunesKit iPhone Unlocker costs you around $39.95.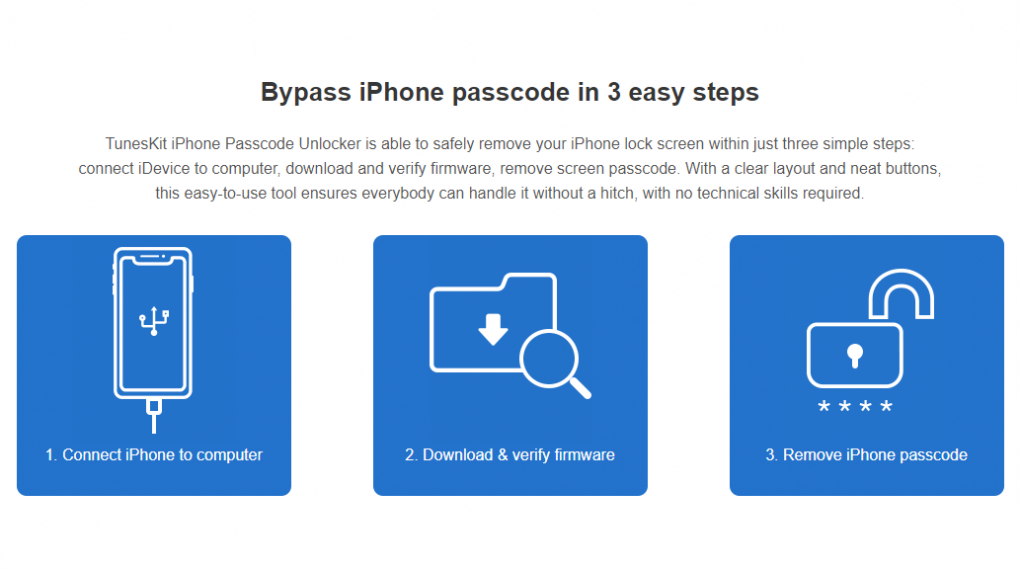 Features
You can use this tool for Face ID and Touch ID.
It doesn't ask you to enter the password as it unlocks the iPhone without a passcode.
It helps you reset 4 to 6-digit passwords on your device.
You can create your code after unlocking the iPhone in this tool.
It is compatible with every iPhone device.
You can bypass your iOS device password within a few simple steps.
It comes with a 100% success rate.
How to unlock iPhone via TunesKit iPhone Unlocker?
Unlocking iPhone through TunesKit iPhone Unlocker doesn't take extra effort as you can perform this activity pretty swiftly. However, the issue is that it causes data loss, meaning you'll lose the data while unlocking your iPhone.
Hence, you must be prepared to back up the data as anything can happen to your device, and you might lose your essential data.
Here's the step-by-step guide to unlocking iPhone:
Step 1: Install the software
To begin with, you'll only need to install TunesKit iPhone Unlocker on your PC and then launch it afterward. Next, you'll need to connect your iPhone to your PC to proceed ahead.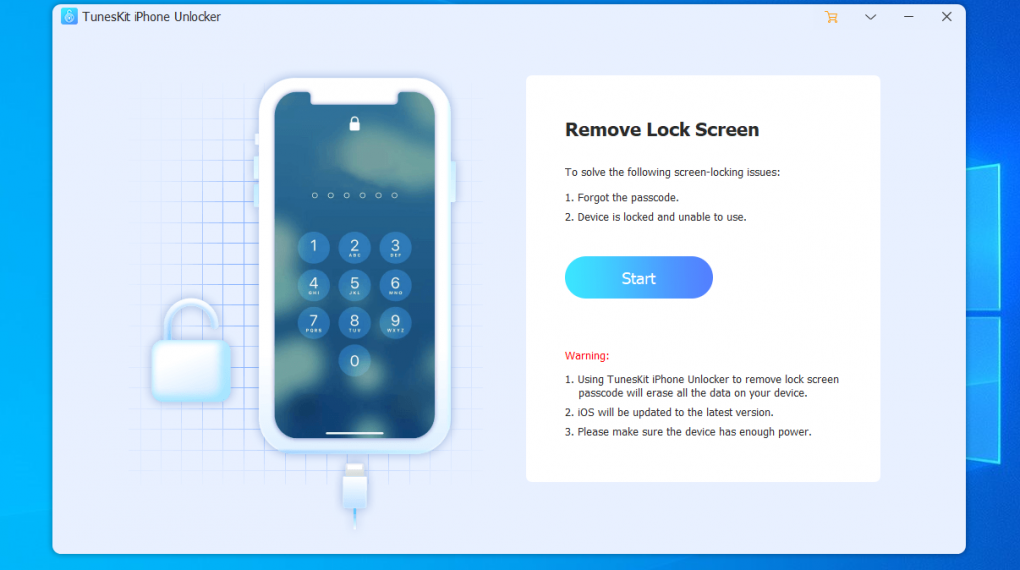 Step 2: Put the device into DFU mode
After hitting the Start icon, you'll need to read the instructions below to put iPhone into DFU or Recovery Mode.
It would help if you looked to put iPhone into recovery mode in the first place. However, if you find it hard to put your iOS device to Recovery, you must consider putting it in DFU mode.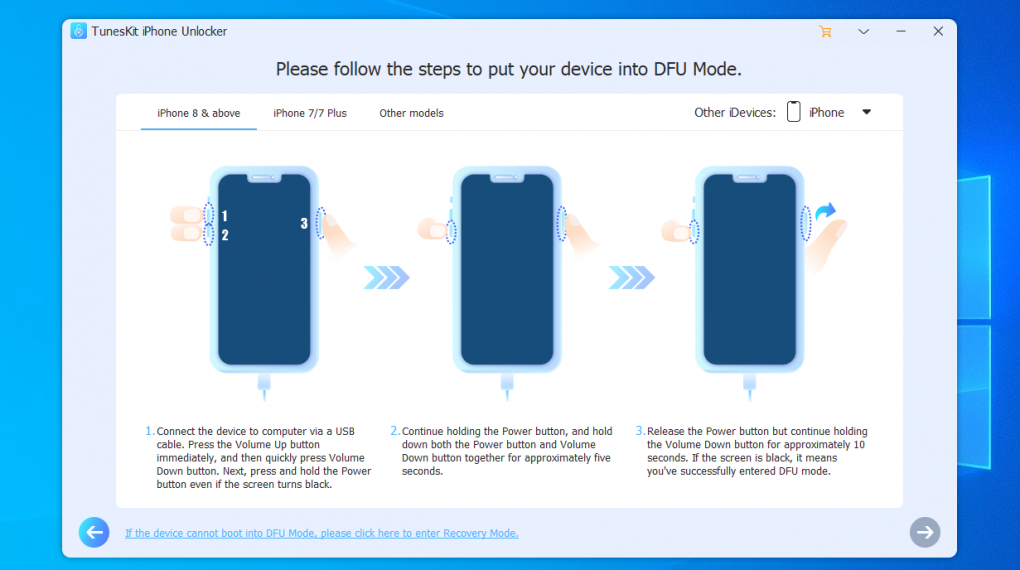 Step 3: Download Firmware
In this phase, you'll need to download the firmware package by hitting the "Download" icon.
You shouldn't download the firmware package before ensuring that the information you're downloading is related to your iOS device.
Step 4: Hit Unlock
Now, all you need to do is tap " Unlock" to start unlocking your iPhone device. The process will only take a few moments before getting your job done.
Once the process gets completed, you'll be able to access your iPhone. Since the lock has been unlocked, you'll need to set a new password and, if possible, write down the password in a diary to ensure you don't forget the password this time.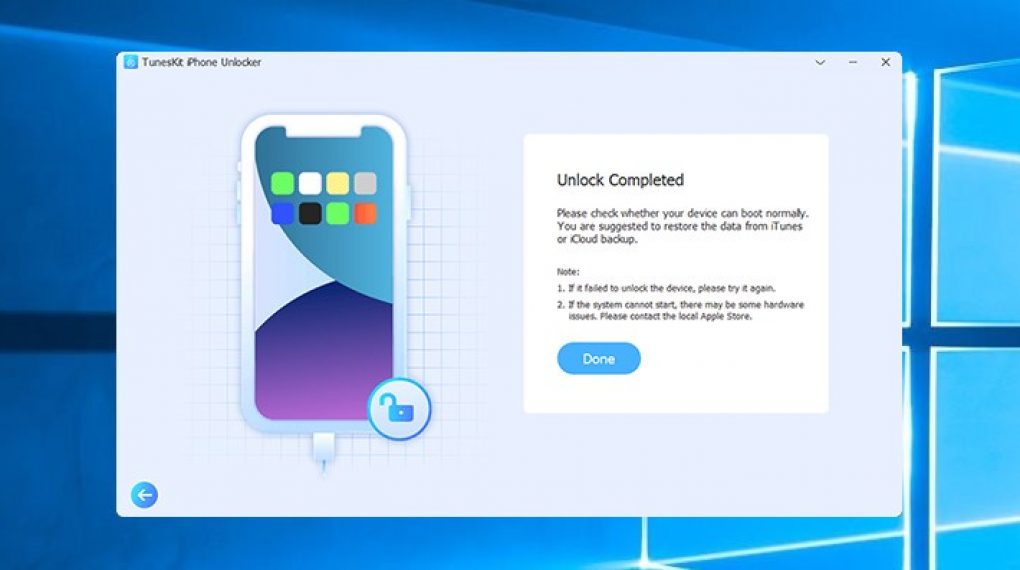 Conclusion
TunesKit iPhone Unlocker is a prestigious iPhone unlock the software with unbelievable skills to unlock your device. Using this tool, you don't need to do much to access your locked iPhone. Instead, you can open your iPhone within a couple of simple steps. We highly recommend this tool after having tried this flawless iPhone Unlocker.
Read Also: