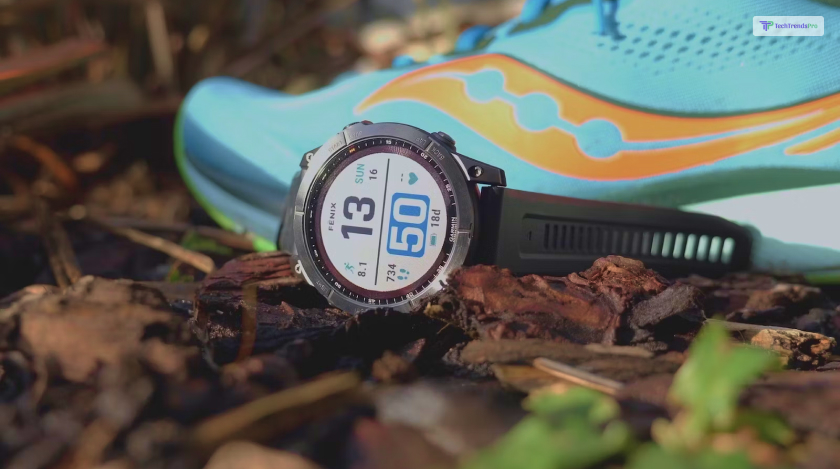 If you're a fitness enthusiast who craves precision and style in your training gear, the Garmin Fenix 7 is here to blow your mind. The Fenix series from Garmin has long been synonymous with excellence in fitness wearables, and the Fenix 7 takes things to a whole new level.
In this article, I will dive deep into what makes the Garmin Fenix 7 a game-changer for fitness enthusiasts and why you should consider strapping it on your wrist. So, keep on reading this blog till the end to learn more…
Garmin Fenix 7: Specifications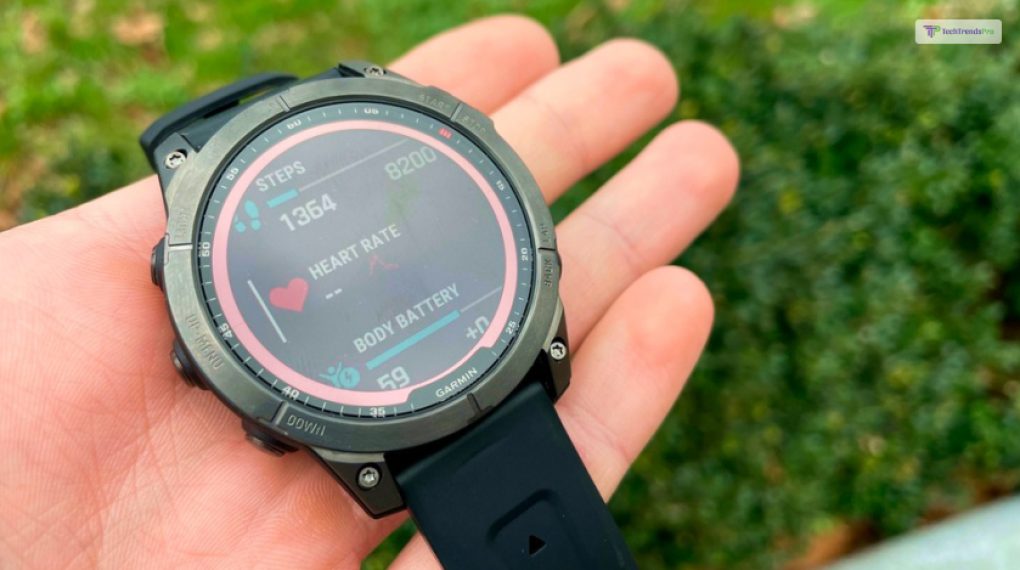 | | |
| --- | --- |
| Model | Garmin Fenix 7 |
| Case size | 42, 47, or 51mm |
| Case thickness | 14.1 to 14.9mm |
| Screen | 1.2, 1.3, or 1.4in transflective MIP LCD |
| Band size | 20 mm, 22 mm, 26 mm |
| Weight | 42 to 68g (without case) |
| Storage | 16 or 32GB |
| Water resistance | 10 ATM (100 meters) |
| Sensors | GNSSHeart rateCompassThermometerPulse Ox |
| Connectivity | Wi-FiBluetoothANT+ |
| Display Resolution | 260 x 260 pixels |
| Battery Life | Smartwatch: Up to 18 days/22 days with solar GPS Only: Up to 57 hours/73 hours with solarAll Satellite Systems: Up to 40 hours/48 hours with solar watch Mode Battery Saver: Up to 57 days/173 days with solarAll Satellite Systems + Multi-band: Up to 23 hours/26 hours with solar battery GPS (Max): Up to 136 hours/289 hours with solarAll Satellite Systems + Music: Up to 10 hours expedition GPS: Up to 40 days/74 days with solar |
Everything You Need To Know About Garmin Fenix 7!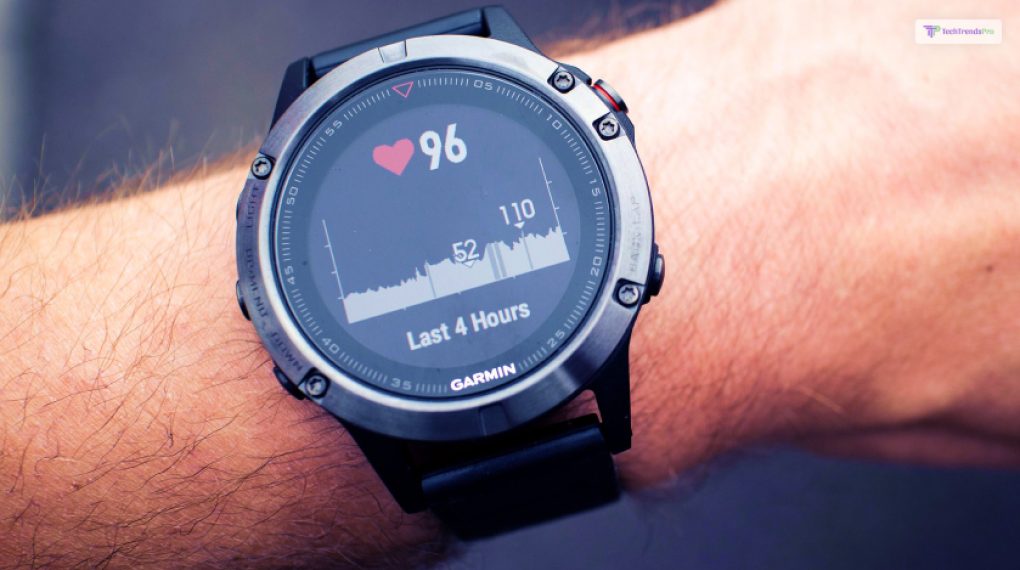 Introducing the Garmin Fenix 7, your ultimate fitness companion for those who thrive on competition and aspire to reach new heights in their fitness journey. Whether you're into cycling sports, half marathons, Ironman challenges, or the intense sweat of a CrossFit competition, the Fenix 7 has your back.
This smartwatch doesn't assume you're a fitness guru with a perfectly planned training regimen. It's designed to empower you with tools that help you assess your current fitness level, set achievable goals, and train effectively to reach them.
Building upon the success of the Garmin Fenix 6 in 2019, the Fenix 7 continues to offer advanced workout tracking and training features. But what sets it apart is the introduction of a touchscreen. While it retains the familiar physical buttons, the touchscreen is a game-changer, especially for smoothly navigating maps during workouts.
Rest assured, Garmin has taken care to ensure a hassle-free experience. The touchscreen is locked by default during workouts to prevent accidental button presses. And for the Fenix purists, you can turn off touch functionality entirely if that's your preference. It's your fitness journey, your way.
Let's get to know about the Garmin Fenix smartwatch a little better…
Sleek Design That Screams Durability
When you look at the Garmin Fenix 7, you'll be struck by its sleek and rugged design. This watch isn't just a fitness tracker; it's a statement piece. The robust stainless steel bezel and sapphire crystal display are not just for show; they're built to withstand the most challenging outdoor adventures. Whether you're climbing mountains, swimming in open waters, or running in unpredictable weather, the Fenix 7 is your dependable companion.
Performance Metrics Like Never Before
One of the standout features of the Fenix 7 is its ability to track an extensive array of performance metrics. This watch isn't just about counting steps and measuring heart rate (although it does that exceptionally well). It goes beyond the basics to offer advanced performance metrics, including respiration rate, body battery, hydration tracking, and Pulse Ox blood oxygen saturation. This wealth of data empowers you to fine-tune your training regimen.
Mapping And Navigation At Your Fingertips
For outdoor enthusiasts, the Garmin Fenix 7 is a game changer. Its built-in maps and navigation features are a godsend for hikers, cyclists, and trail runners. Whether exploring a new hiking trail or simply trying to find your way back to your starting point, the Fenix 7's mapping and navigation capabilities make it easy. With turn-by-turn directions and the ability to download topographic maps, you'll never get lost again.
Advanced Training Tools For Athletes
If you're an athlete aiming to take your performance to the next level, the Fenix 7 has your back. This smartwatch has advanced training tools that can help you push your limits. It offers animated workouts training load analysis, and even tracks your recovery time, so you know exactly when to go all out and when to take it easy. It's like having a personal coach on your wrist.
In-Depth Sleep Tracking For Recovery
Fitness isn't just about what you do during your waking hours; it's also about the quality of your rest. The Garmin Fenix 7 excels in tracking your sleep patterns. It provides insights into your sleep stages, including deep, light, and REM sleep. With this information, you can adjust your daily routine to ensure you get the rest you need for optimal recovery.
Smart Features That Keep You Connected
The Fenix 7 is more than just a fitness watch; it's a smartwatch, too. It seamlessly connects with your smartphone to deliver notifications for calls, messages, emails, and app alerts. You can control your music, make contactless payments, and even sync your data to the Garmin Connect app for in-depth analysis. It's a true all-in-one device that keeps you connected while you stay active.
Long Battery Life For Endurance
When you're out on a long trail run or an extended hiking adventure, the last thing you want is for your watch to run out of battery. The Garmin Fenix 7 shines in this department with an impressive battery life that can last up to two weeks in smartwatch mode. For those in need of even more juice, there's an UltraMax mode that can extend battery life further. Say goodbye to worrying about charging your watch every day.
Customization To Match Your Style
Garmin understands that personal style matters. The Fenix 7 offers an array of watch faces and bands, allowing you to customize it to your liking. Whether you want a sleek and professional look or a sporty and colorful style, there's an option for you. It's a watch that adapts to your personality and lifestyle.
Garmin Fenix 7 Vs. Garmin Fenix 7 Pro: Which One Should You Get?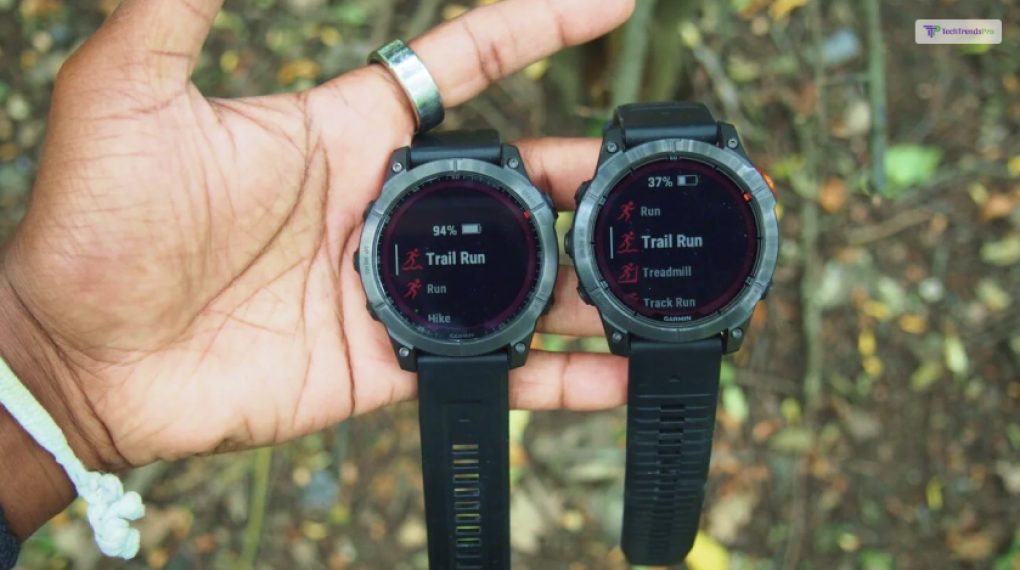 Regarding rugged and robust wearables, both the Garmin Fenix 7 and Fenix 7 Pro step up to the challenge, but let's dive into the details and see how they stack up, keeping it casual and interactive for you!
1. Build and Durability
The Fenix 7 Pro, just like the standard Fenix 7, is all about toughness. These watches are designed for rough adventures. Unlike Garmin's Forerunner line, like the Forerunner 265, they sport a thicker case, tougher metal, and superior water resistance.
2. Variety of Sizes
Both the Fenix 7 and Fenix 7 Pro come in three case sizes. I went for the 47mm version, similar to the standard Fenix 7 in wearability, weight, and wrist space.
3. Materials
The case of these watches is a mix of polymer and steel, giving them a solid yet lightweight feel. The bezel is made from stainless steel. The Fenix 7 Pro weighs in at 79g, which is manageable, and you can easily swap out the 22mm QuickFit straps with just a button press. Plus, it's waterproof up to 100 meters, perfect for pool and open water activities.
4. Display
The Fenix 7 Pro features a 1.3-inch, 260 x 260 resolution transflective memory-in-pixel display. Garmin claims it's an improved version compared to the non-Pro Fenix 7. It's slightly clearer, but it's not a huge leap. However, it offers excellent visibility indoors and outdoors. The touchscreen is impressively responsive, a must for a sports watch. While it might not match the brightness of an Epix series AMOLED display, it does a fantastic job conserving battery.
So, whether you opt for the Fenix 7 or its Pro sibling, you're getting a rugged, reliable watch designed to handle the outdoors with finesse. These watches are your perfect adventure companions!
Wrapping It Up
Garmin Fenix 7 and Fenix 7 Pro are statement pieces that scream durability and reliability. It's a performance powerhouse that empowers you with a wealth of data to fine-tune your training regimen.
It's a navigation guru that keeps you on track during outdoor adventures. Also, it's a coach that helps you push your limits and recover smartly. It's a sleep tracker that ensures you get the rest you need. It's a smartwatch that keeps you connected and a style statement that matches your personality.
If you were searching for a review of Garmin Fenix 7, this blog has been of help to you. If there are any other queries related to the same, please let me know. All you need to do is scroll down until you reach the page's bottom. Then, leave your comments and suggestions in the box below. And I will be there to answer them all for you!
Read Also: