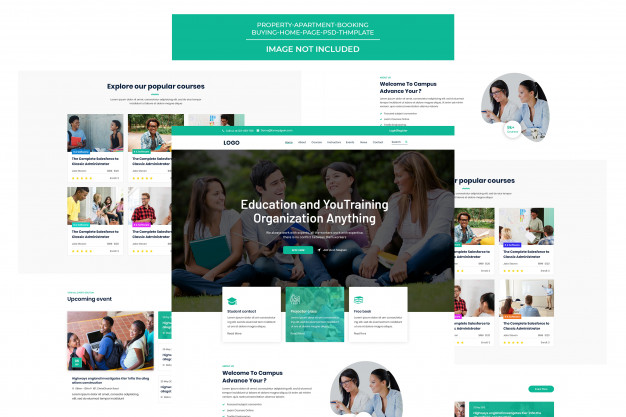 In the past several years, e-learning platforms have been on the rise. No wonder: according to a 2017 survey by Coursera, online courses provide more practical knowledge and develop day-to-day skills about a subject more effectively than traditional education.
If you want to build an efficient training platform, WordPress is the place to do it.
It can become your one-stop spot for all your training needs with its many ways to implement powerful e-learning tools such as a Learning Management System (LMS) and Business Intelligence Training.
Here is how you can do it.
Why employee training is important
Employee training has a lot of benefits for the company as well as for the employees themselves. New employees benefit by learning how to fit into the company structure, while experienced employees gain further insight into the company they are representing.
A company may have specific ways it wants things done or may wish its product to look or feel a certain way, and training can help a new employee reach those desired results. Employee training for experienced employees is a means of steadily improving the overall product.
Another benefit is that once employees are well trained in company procedures, they will need less supervision and guidance. Workers can then do their job more independently, and managers can then pay more attention to the bigger picture of the company's success.
Why choose WordPress?
According to the latest w3techs usage data, WordPress is behind 34.7% of all sites on the Internet. Out of all the sites that use a Content Management System (CMS), 61.5% of all the websites rely on WordPress.
This is because WordPress makes it easy to set up an online course to share your knowledge and expertise with the world. There are various themes and plugins available that are designed to provide users with the ability to create and deliver courses on their WordPress website. With WordPress, you can easily create an online course system using a learning management system plugin.
What is an LMS?
WordPress is what's called a Content Management System (CMS). In other words, it's software designed to help you publish and manage large libraries of content, with a focus on blog posts and articles.
An LMS, or a Learning Management System, is designed to help you create online lessons and manage both them and your students. A quality LMS will:
Provide you with the tools needed to publish lessons that support multiple types of content.
Enable students or employees to sign up for specific courses or classes.
Let you easily track their progress and perform evaluations.
With an LMS in place, you can easily create secure and efficient online courses and then sell access to them to begin building your E-training platform.
The planning stage
Before you choose a plugin or theme to help you set up your online course, you need to know what kind, of course, you want to create. Here are some of the essential considerations to determine the best approach.
Course outline – perhaps the most critical step of planning your course. If you don't know how you want to structure the material for your training system (sections and lessons, subtopics, etc.), it will be challenging to correctly get the course set up.
Content-type – Next, you need to think through the kinds of content you want your course to include (e.g., text, video, or quizzes).
Restrictions – You need to determine how you want your course to be set up and which content will be available to which audiences.
Content distribution – Having all your course content available right at sign-up may be more convenient, but you may prefer to make materials available on a schedule. This way, things will be better structured, and the trainees won't be overwhelmed.
LMS features you need
A Learning Management System has several different features for online training. Depending on what you want to do, the features you need might differ, but here are some that are essential.
Course creation – Your main priority should be the ability to create courses that meet your organization's goals. Look for the ability to create categories of different classes, design lessons, quizzes, topics, and assignments for your learners.
Reporting – A well-built LMS platform should provide you with the ability to track a learner's progress. This should include how long that participant spent taking individual quizzes or assignments. It should also enable you to retrieve a comprehensive report that gives you an instant insight into how well your students/employees perform.
Administrative tools – having adequate tools to manage the training process is essential. Look for features like user profiles, a robust email notification process for learner engagement, group management, test expiration, clearing data, assigning grades, and rewards.
Content management – as we mentioned above, you should have an option to schedule lessons over time and create a guided learning experience with opportunities to schedule them.
Some additional ways to engage your trainees
While WordPress is a serious tool, it can also be used to make learning more fun and engaging for your employees.
Consider allowing users to create full personal profiles, communicate with other learners in the program, and maintain an engaging activity feed and leaderboards, which display achievements of others who are also partaking in the courses and lessons. Leaderboards can tap into our competitive spirit, prompting us to keep moving forward.
If you want to give the training process a bit of a gaming spin, consider adding badges and achievements. By giving learners a visual reward that they can display on their user profile or share on their social media profiles, you can provide a fun way to communicate progress towards their goals.
Conclusion
Creating an online course in WordPress isn't hard and can be done quickly using a theme or plugin. You will have to do the hard work of planning the course and creating the material, but with WordPress, you can get the course itself online and available to your employees in no time.