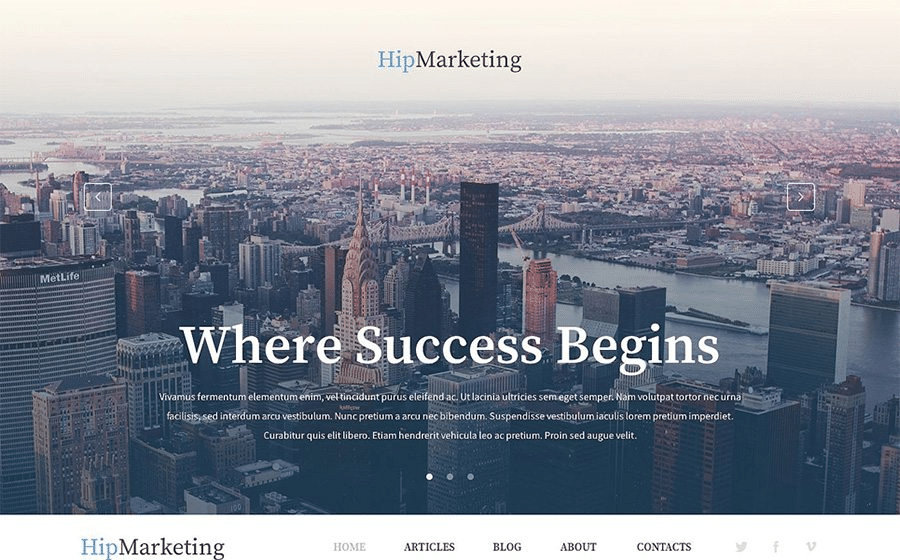 Bloggers and individual website owners can earn from their websites through affiliate marketing. Affiliate marketing is an arrangement in which website owners partner with businesses and direct their readers or site's visitors to the business products or services in exchange for a commission. As a blogger/site owner, you may do affiliate marketing either by creating outright articles that are about the businesses with whom you are affiliated or by cleverly including the item into an unrelated article. The blogger places a link, button, or banner on posts on their sites that, when clicked, direct the reader to the product.
Requirements for a good affiliate marketing site:
For effective affiliate marketing, the website must have high traffic, and you can achieve this through practicing SEO on the site to attract high-quality visitors, having fantastic content on the site, and paying for the traffic through Google and Facebook ads. It is also essential to have a good-looking and user-friendly website to be able to convert visitors into potential customers by directing them to affiliated businesses. One thing that makes a website beautiful and easy to use is its theme. As such, affiliate marketing sites need to have the best affiliate marketing themes.
Website themes:
A website theme determines the appearance and the style of your site, and it is made up of several things, like the kind and size of the font, the color scheme, and other things that influence the visual appeal of the site. Besides enhancing the customer experience on your site, it helps to give some idea of your site's identity. WordPress themes alter not only the design of your website but also the layout. Your site owes its front-end appearance (the things that a visitor sees when they browse to the site) to the theme, so changing the theme changes the appearance.
Affiliate marketing themes:
Themes are also crucial in customizing a website to perform a specific function, say for e-commerce, for medical field stuff, and so on. As such, there are themes for affiliate marketing. Here are some WordPress themes for affiliate marketing that you can get from TemplateMonster, the leading company in web templates:
Laraway: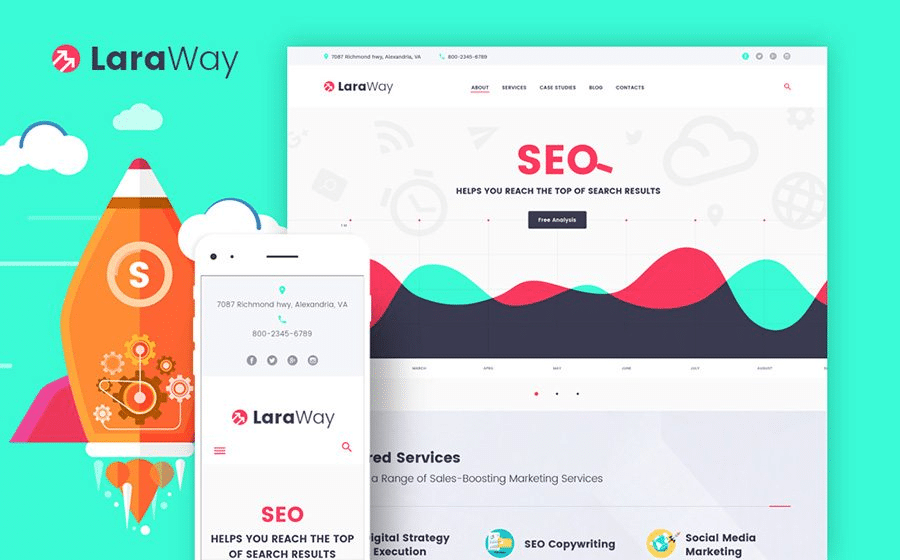 To give your money-making website a beautiful new look, get the Laraway Affiliate Marketing WordPress Theme. You will be able to manage your site according to your needs with this fully customizable theme. It comes with all the necessary tools, and you can quickly set everything without any hassle. The theme enables you to fill the essential content modules, like the contact forms, your projects, the search box, and more. Also, it comes with a live customizer that is exceptionally easy to manage, widgets, sidebars, and built-in SEO. Both newbies and pros will find it quite easy to work with thanks to its clean code.
Ascendio: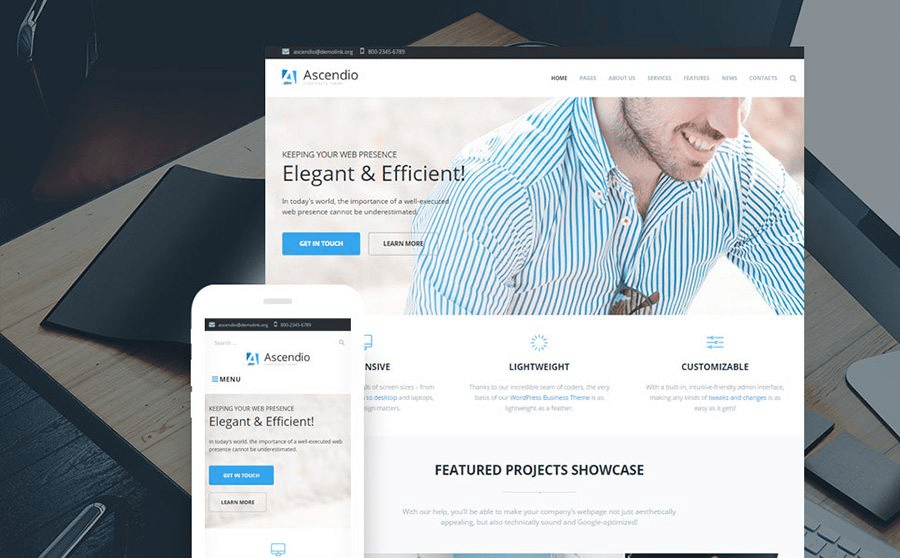 The Ascendio WP Theme for Corporate and Affiliate Business comes with a neat and professional design that renders it so suitable for an affiliate marketing site. TemplateMonster's best minds in development created this theme and ensured it would be working quite rapidly and without a hitch. Its drag-and-drop page builder comes in handy when you are building pages and filling them with your material. Any affiliate business will find this theme to be a great asset, as it allows you to easily share your offerings and attract additional clients.
BinarySales: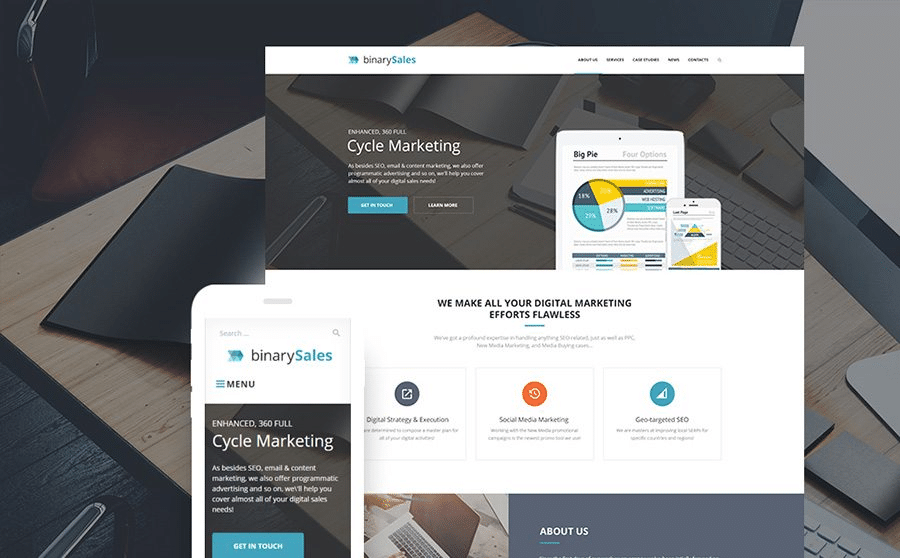 The BinarySales theme is unrivaled when it comes to professional website launching for SEO and affiliate marketing companies. Its greatest winning point is that it comes with all the fantastic and necessary features and tools that even newbies can work with. Besides, the theme has quite detailed instructions on utilizing all its features and functions.
Advisto: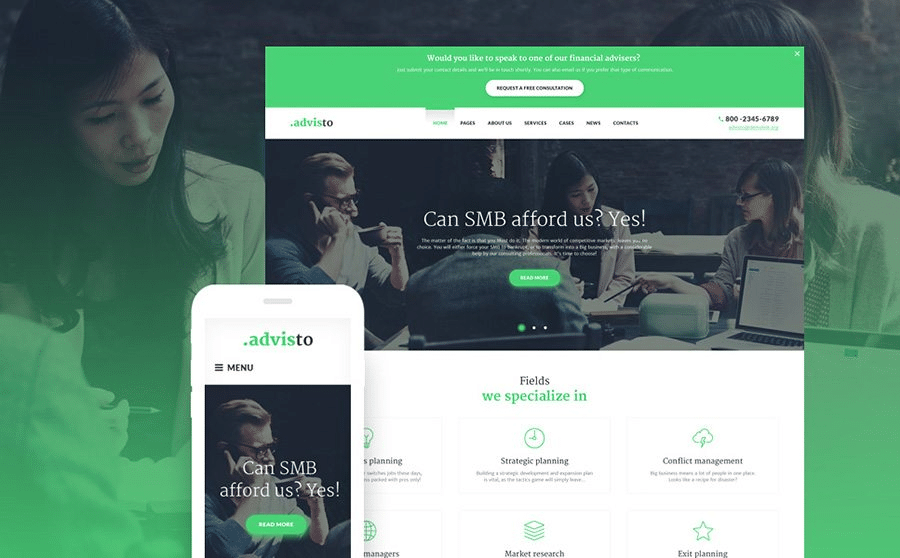 Do you want your site to have an elegant appearance on all devices? You don't have to look any further than Advisto WP theme, which is fully responsive, hence having a great look on all devices. As an affiliate marketing theme, it has an advantage in that it is SEO-friendly and thus enhances your site's search results ranking. With this theme, you do not have to create a page from the first step; rather, you only need to select your preferred layout from the several layout options integrated with the theme.
ExtraLink: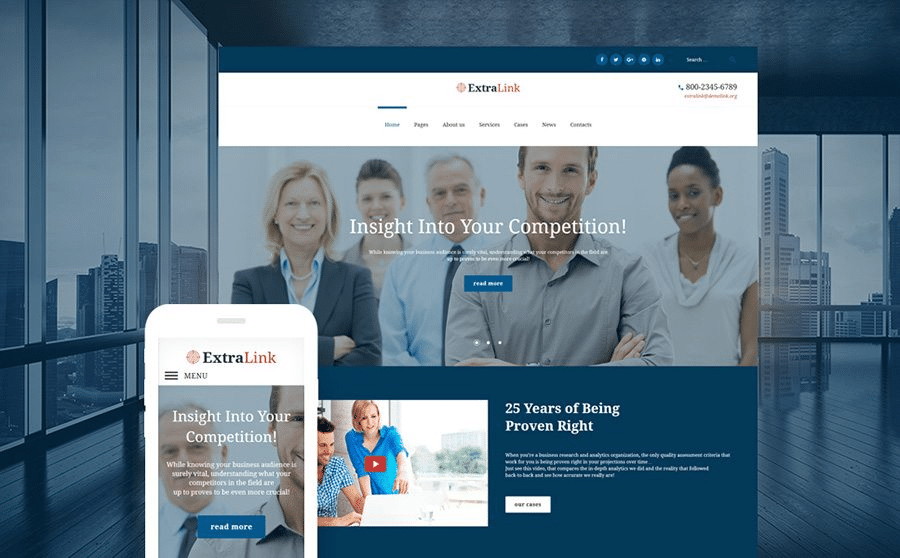 A stunning and professional website is an excellent asset in affiliate marketing to create a great first impression. The ExtraLink theme offers you this benefit of making an impressive first impression on your clients. Everything in this theme is set to give you fantastic convenience while working with it. All you have to do is select your preferred layout, load your content, and have the site up and running. Should you need to make any adjustments, the drag-and-drop builder is there for easy use. Additionally, due to the detailed instructions, you will not find yourself scratching your head.
Adv: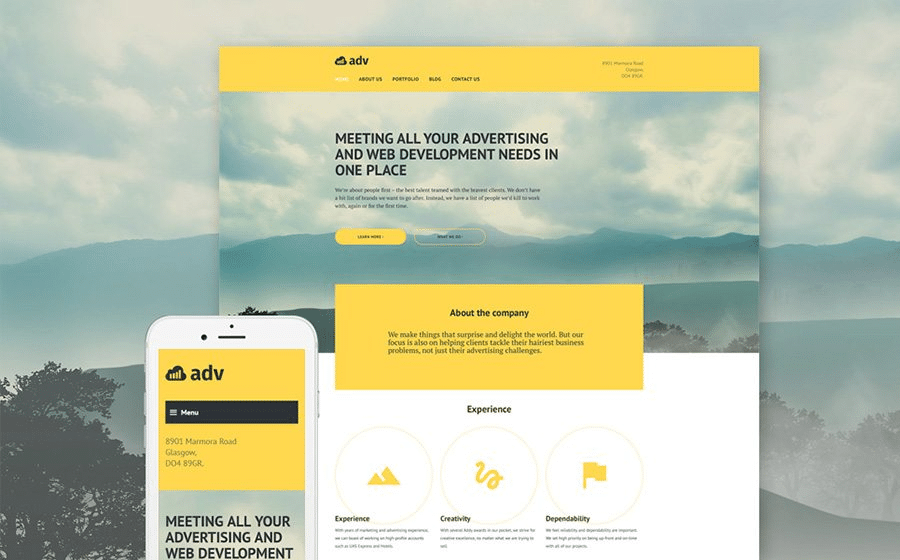 Adv Affiliate Partnership WP theme will allow you to get your dream site and is perfect for affiliate marketing in addition to being suitable for business projects. Setting it up is so easy, as it has infinite page layout designs, needs no coding skills, and is very customer-friendly. A big plus for Adv is that it's fully responsive and retina-ready; thus, it looks terrific on any kind of screen, including those with high pixel density.
Credens: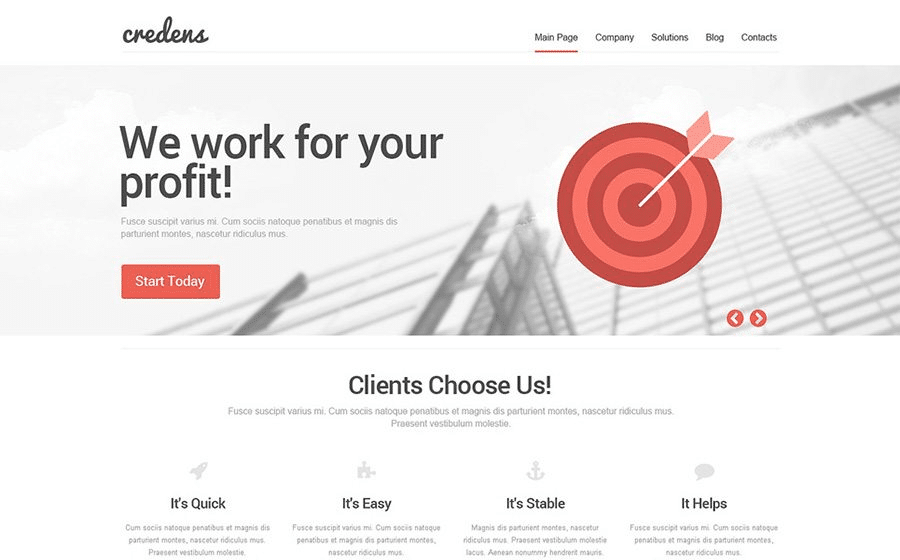 For any affiliate marketing online project, Credens will work perfectly, being affiliate-oriented web design. It comes with a 100% customizable theme, all the necessary plug-ins, and comprehensive instructions on the process of setting up the theme. Also, it has some styling options and settings to give you the chance to play around with color schemes and page appearance. Moreover, you can include awesome audio and video items thanks to the integration of both players.
Final thoughts:
Affiliate marketing involves a blog or a website directing its visitors or clients to the products/services offered by a business, thus allowing the owner of the blog to earn some commission. To achieve success, affiliate marketing sites must increase brand awareness, like through SEO, product distribution, and other vital things. You can achieve this by installing the best affiliate WordPress themes whose powerful capabilities, beautiful designs, and the numerous integrated tools, features, and comprehensive information result in first-class affiliate marketing websites.
Read Also: