Enjoy some incredible audio with logitech g430 gaming headset. Powered by Logitech Gaming Software, the G430 offers Dolby Headphone and DTS Headphone:X surround sound options (LGS).
Experience 360-degree audio that puts you in the thick of the action so you can hear attackers coming from all sides.
For more details on logitech g430 over the ear gaming headset, continue reading!
The Cost Of The Headset
At a reasonable cost of $79, the Logitech G430 gaming headset offers an enhanced immersive audio experience and efficient noise cancellation. Which is bound to improve your experience of gaming drastically.
Specifications
Headphone
It has a Driver of 40 mm (1.6 in)
Frequency response of 20Hz-20KHz
Its Impedance is: 32 Ohms
Its sensitivity is: 90dB SPL/mW
Microphone Pickup pattern: Cardioid (Unidirectional)
Type: It has a pressure gradient electret condenser
Its frequency response is of 50-20KHz
Its Sensitivity is of -40dBV/Pa re: 0dB = 1 Pa, 1KHz
Its test conditions are 3.0V, 2.2K Ohm
Product Specifications
It has on-cable controls
It comes with Dolby 7.1 surround sound
Ear Cup – Lay FlatIt has washable ear pad covers
It has noise-canceling microphones
It has a full-speed, digital USB
Supported Systems
Windows® 7, or Windows 8, Windows Vista®
USB port
System Requirements
Surround sound (7.1) requires installation of software
Package Contents
Headset
User documentation
USB adapter
Warranty
3 Yrs
*It is to be noted that logitech g430 over the ear gaming headset black is not even an option. It only comes in one color, and that is blue.
Features
Some of the features of the logitech g430 gaming headset are:
It Is A Surround-Sound Gaming Headset
The sound that accompanies with this headset completes the image.
In addition to the low-frequency effects (LFE) channel, you can hear up to seven separate audio channels. To improve the game, it also contains Dolby 7.1 surround sound.
It Has On-Cable Controls
The sound control that the logitech g430 gaming headset provides will be accessible to you.
In a matter of seconds, the volume can be changed or muted. The 2.3-meter wire contains the audio controls, which are always accessible.
Comes With Surround Sound Audio
The game sounds exactly like the creator intended. Dolby and DTS Headphone: X surround sound options are now available on the G430.
This basically means that, unlike before, you can now perceive sounds with lifelike unique awareness.
However, it should be noted that "Surround sound" requires the most recent version of the logitech – g430 over-the-ear gaming headset's Gaming Software.
It Has Rotating Ear Cups
The ear cups for the logitech g430 gaming headset have multiple positions, and may pivot for a custom fit or spin 90 degrees to lay flat.
They are simpler to pack and more pleasant to rest around the neck thanks to their lay-flat construction.
Comes With Sports-Performance Ear Pads
Even after prolonged use, the G430's ear pads are wrapped in soft-touch sports performance material. 
To keep the headset in peak condition, simply remove the fabric cover and wash it.
It Has A Very Lightweight Design
The logitech g430 gaming headset is designed in a way so that your attention is always on the game and not the headset. The ear cups for the G430 are made to be lighter and smaller without sacrificing audio quality. In fact, you might even forget to wear them.
It Even Comes With Noise – Cancelling Microphone
It reduces background noise so that you can now be heard clearly without being distracted by it.
Even better, you can set the microphone to exclusively pick up your voice.
Read more: 15 Best Spy Video Games of All Time
User Reviews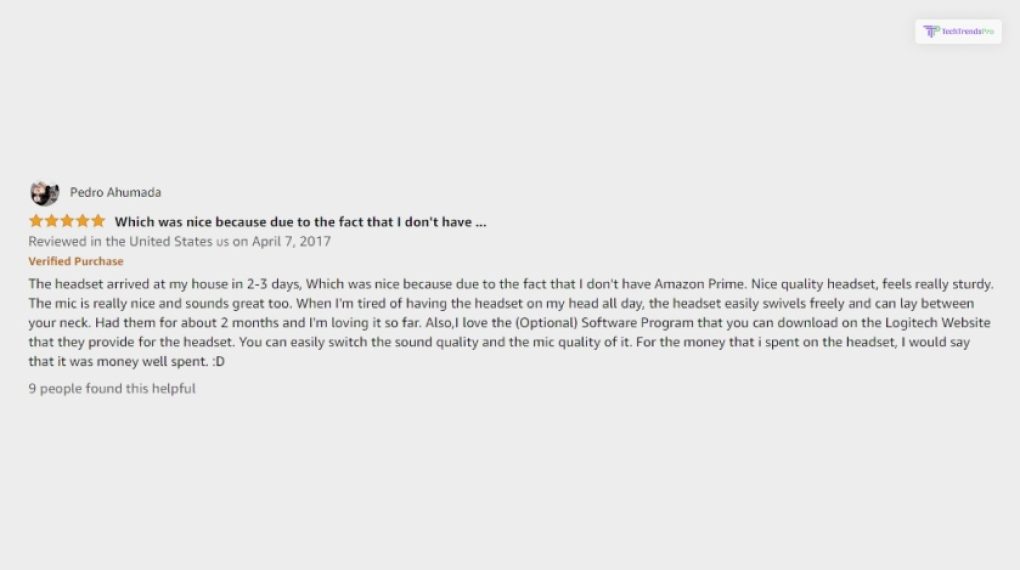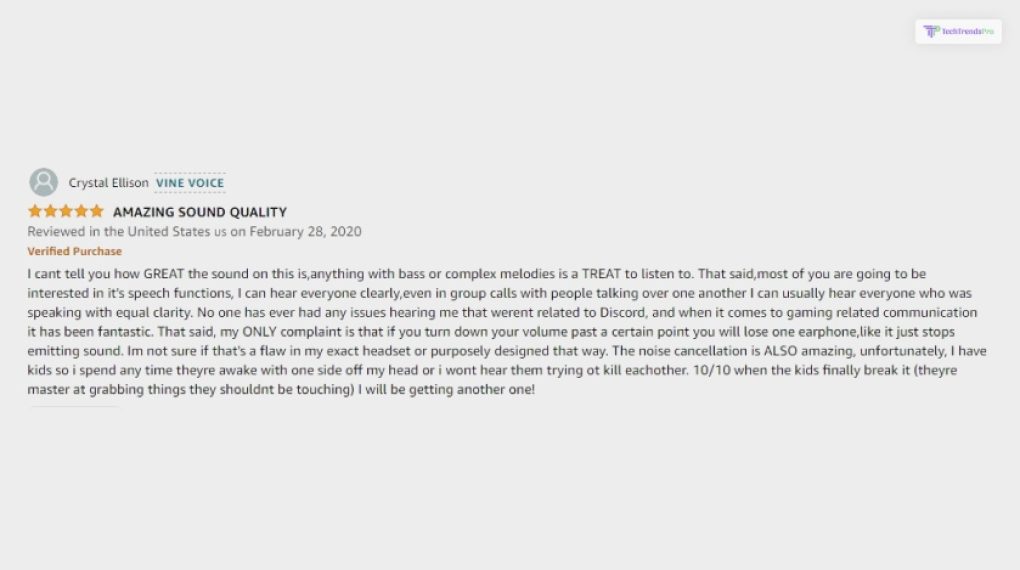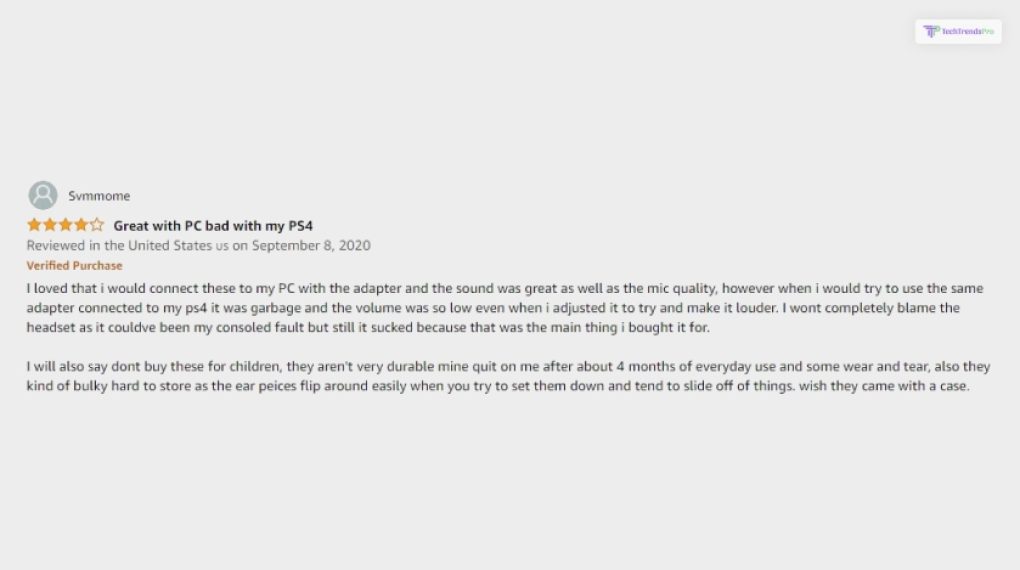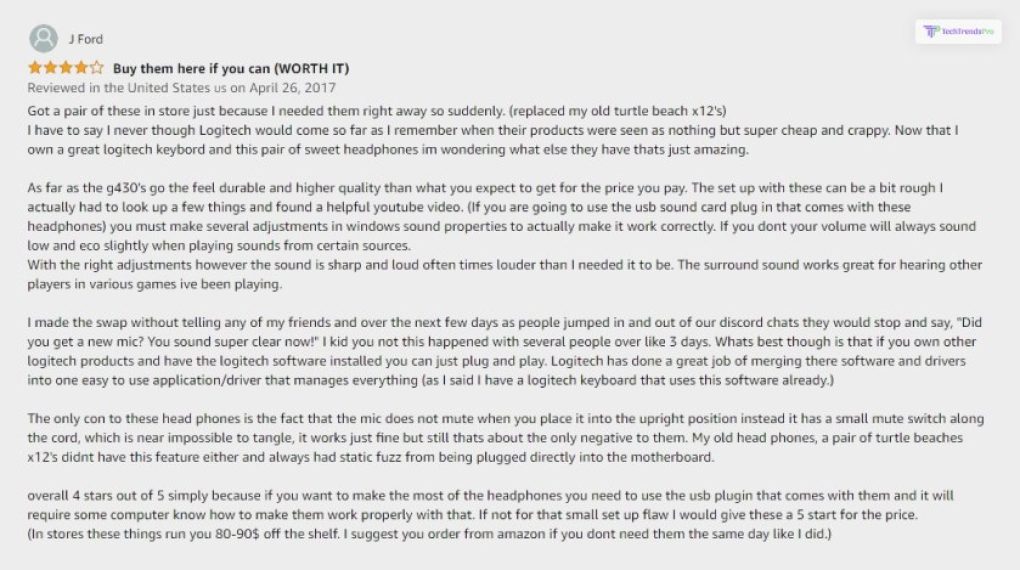 Bonus: What to really look for while buying a gaming headset?
In this article, we talked about the specifications and features of logitech g430 gaming headset.
Now let us discuss about the pointers to consider before buying any gaming headset in general.
The major deciding factors to consider before choosing a particular Gaming Headset are –
1. Determine Your Platform
When buying a gaming headset, the first question you need to ask yourself is which gaming platform you use. Like if you are buying the Logitech g430 gaming headset then you must consider the platform that it is most suitable for.
Almost all consoles on your PC are compatible with headsets with a 3.5mm plug. Remember that because consoles rely on software, not all features are always supported.
One of these is virtual surround sound, which is quite prevalent.
2. Determine The Type Of Connection You Want: Wired / Wireless
Wired: A wired headset has a connector, as you would have guessed. The connector for your microphone and headset is typically a USB or 3.5mm port.
Example: You connect the headset when you are ready to play.
Wireless: Normally, a wireless headset connects to a station for charging. Your computer or gaming console is connected to this base station.
Typically, the link operates over Bluetooth or the 2.5 GHz frequency.
Example: You can take a quick tour of the house while still talking to your mates.
3. Choose One That's Comfy
The headset must be extremely comfortable to wear for an hour as well as for longer periods of time.
There are a few factors to take into account when choosing.
When it comes to the comfort of your gaming headset, the material also matters. Frequently, textiles or (fake) leather materials are used to cover the ear cups. 
Fabric ear cups have the advantage of being more breathable, but leather materials offer superior isolation and last longer.
In general, a higher-quality, lighter model costs much more. Consider the investment if you plan to wear a headset for an extended amount of time.
5. Sound Reproduction
The sound reproduction makes the gaming experience more immersive. Like while playing the Uncharted Games you would want the best quality sound to enhance your gaming experience.
The different types of headsets offer different types of sound reproduction:
As it only uses 2 audio channels, a stereo headset is rather straightforward.
Stereo headsets often have a straightforward 3.5mm connector. A stereo headset can be tuned to almost all games and multimedia.
A gaming headset with 7.1 virtual surround sound simulates 7 sound channels using software and algorithms.
As a result, you can considerably more precisely determine the direction of sounds.
The Logitech g430 gaming headset discussed in this article came with this feature.
Dimensional sound is a new form of audio that is evolving alongside stereo and virtual surround sound.
Volume and frequency are used in methods like Dolby Atmos, which costs money, and Windows Sonic, which is free for Windows and Xbox. As a result, it is simpler to tell if someone is above or below you.
Read more: A Full Guide To PACMAN 30th Anniversary
Frequently Asked Questions (FAQs)!
Q1. How long is the cable?
A: 2.3-meter cable.
Q2. Is this a USB headset?
A: Yes and no. It has a mic which is standard and Headset Plugs, but it also does come with a USB Dongle that those can plug into.
The USB Dongle is necessary if you want to take advantage of the Logitech software that offers the 7.1 surround.
Q3. How do the ear cups feel? Are they warm?
A: The ear cups are a very nice mesh that maintains air going to your ears for a feeling of coolness. They are warm after wearing them for a few minutes.
To Wrap It Up!
In order to hear sounds and converse clearly, players who frequently play online games will require both microphone and headphones.
With the Logitech g430 gaming headset, you can stay focused on the game, not your headset!
Thank you for reading up till here! I hope you found the information provided in this article helpful.
Read Also: