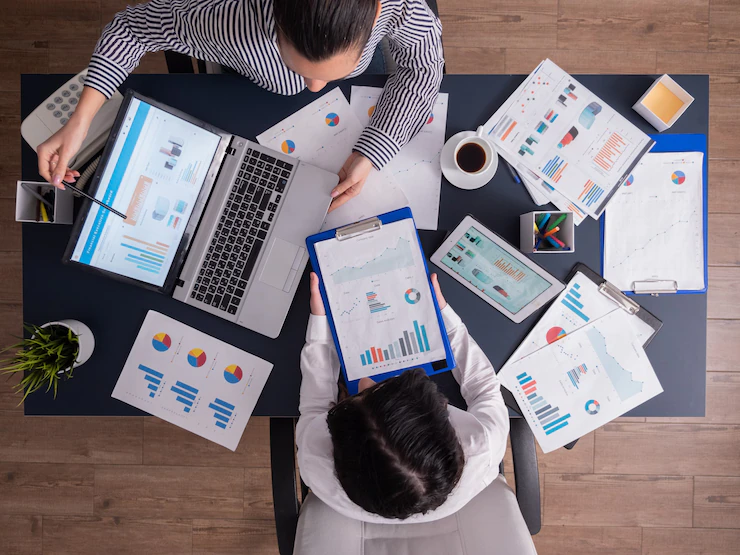 In the past, employees spend a lot of time searching for documents or people with specific information. If you are an organization focused on improving productivity and team collaboration, SharePoint comes to great use.
It is a Microsoft Office product that has become a standard solution for organizing and sharing information across the establishment. With the help of this platform, you will be able to collaborate, communicate and increase business productivity.
SharePoint allows you to manage mission-critical enterprise content and applications with ease. It is one effective tool for organizations looking for solutions like portals, intranets, and content management systems.
In essence, you could say that SharePoint is an excellent solution that empowers your employees and helps manage various IT resources efficiently within your organization.
Automated Workflow
Once you create the workflow, SharePoint automatically manages it. It implies that you would not have to worry about keeping track of project tasks or steps since SharePoint will handle it. Also, when a user finishes a task, they can assign it to another user, which will help in streamlining the process.
Workflows in SharePoint do not require any code. You may customize one of Microsoft's pre-built processes to match your specific requirements. If necessary, you may even develop bespoke processes. Workflows in SharePoint prepared for a project, list, and library. They have the option of starting it manually or automatically.
Document Sharing
SharePoint's document sharing feature allows you to store essential documents safely. Because only individuals with suitable rights may view these documents, you can be sure that your data is safe. This feature also allows you to prevent users from editing crucial files, which means that your documents remain in the correct state.
You can also add a document library in SharePoint as a whole. Additionally, this platform gives you the ability to control who has access to specific files and how they interact. For example, if you do not want one of your employees downloading something because it is not ready for general release, SharePoint lets you disable downloads for people or everyone.
Similarly, if an employee is not supposed to see something but needs certain information from it, SharePoint gives you the option to allow them to view the file, not print it. This feature makes it easy for your team members to have quick access to any documents they need while ensuring that confidential information stays secure and unedited when necessary.
Related Guide: Project Data Security: How to Be on the Safe Side with Jira
Centralized Location for Team Members
It is best to have a centralized location for the team members to access documents and files. Sharepoint has introduced document libraries, where all the team members can store and share their files. Giving various team members read and write access allows these documents to be shared. Once you start using Sharepoint as a project management tool, you will never lose any document/file again.
SharePoint also provides version control on your documents. Whenever any member updates a file, saves it and checks it in, a new version of that file is produced. Then it is stored in the library along with all other previous versions. This feature helps when you want to retrieve an old version if there is a need to understand how many are made for a particular document.
You can set up your custom versioning options for each library by just choosing Settings -> Document Library Settings -> Versioning settings option from Ribbon Menu Option.
Set Tasks and Timesheets
As you begin setting tasks, it is vital to consider how you want to track your progress. For projects with a more granular level of detail and individual work tasks, Microsoft Project and Project Online are probably your best choice for projects with a higher degree of complexity and separate work assignments.
If you are looking for a way to create and manage project documents and files in one central location, then creating a project site may be the way to lead.
There are several out-of-the-box options for tracking tasks in SharePoint, including using a SharePoint task list or adding a web part from Project Online, with the ability to easily create new projects and add them to your work schedule.
Using A SharePoint Calendar
The SharePoint calendar function is appropriate if you do not need the degree of information supplied by Microsoft Project or Project Online but still want a simple way to keep track of upcoming events and deadlines. You can add milestones and use them as a place to record key dates throughout the project lifecycle.
Customizability
It is also a valid point to consider how customizable your project management software is. Each need is unique, and a rigid piece of software that cannot be adapted will quickly become a hindrance. Microsoft SharePoint, for instance, offers incredible customizability features that allow you to tailor the platform to your specific business needs.
SharePoint provides several tools that make it easy to personalize the project management functionality. For example, if other users in your organization need different access and control over the projects they are working on, you can customize permissions accordingly. You do not inadvertently share sensitive information, locking them out of necessary documents or files.
You can also create a custom view and lists to sort and manage information details. It is easier for everyone to stay on the same page. Additionally, thousands of apps available through SharePoint offer even more versatility in customization possibilities.
If you want an app that lets people track their time and allows team members to collaborate on documents together in real-time, you can find something suitable in the SharePoint universe.
Manage Resources in an Effective Way
SharePoint possesses a valued set of features that makes resource management a breeze. You can use SharePoint to create a centralized location for storing and sharing all your resources.
Using SharePoint, you can easily track the availability of individual resources. Because SharePoint is cloud-based, any employee in your firm may update their availability information at any time, from any device. This data is then updated in real-time and allows anyone in the company to see at a glance which resources are available or not at any given moment.
You can also use SharePoint to assign work items to employees or other resources as per their availability. If you have multiple projects going on simultaneously with limited time resources, this feature will come in handy by helping you allocate resources more efficiently.
Integrate With Microsoft Office Applications
Office 365 and SharePoint are two sides of the same coin. They work together daily to guarantee that customers may access their data from any device.
You can connect SharePoint to Microsoft Word, Excel, or Outlook by clicking the "Open in Word" or "Open in Excel" buttons in the documents library ribbon. Or you can highlight a document and press "Open" – it will open directly into Word or Excel (depending on what type of document it is). If you need to get back to SharePoint, just hit the "Save & Close" button in the top right corner of your application.
Sharepoint Is a Good Way to Manage Projects
Microsoft SharePoint is a web-based tool that can help you manage projects and teams securely and collaboratively. It is built to do just that and is one of the reasons why so many people use SharePoint for managing their projects.
You might be familiar with how SharePoint is used as a shared document repository where your team can share files and collaborate on documents. It may also be used as a project management tool, allowing you to keep track of all parts of your project in one spot. It is not just for keeping track of files. But a resource to manage your overall project.
Read Also: