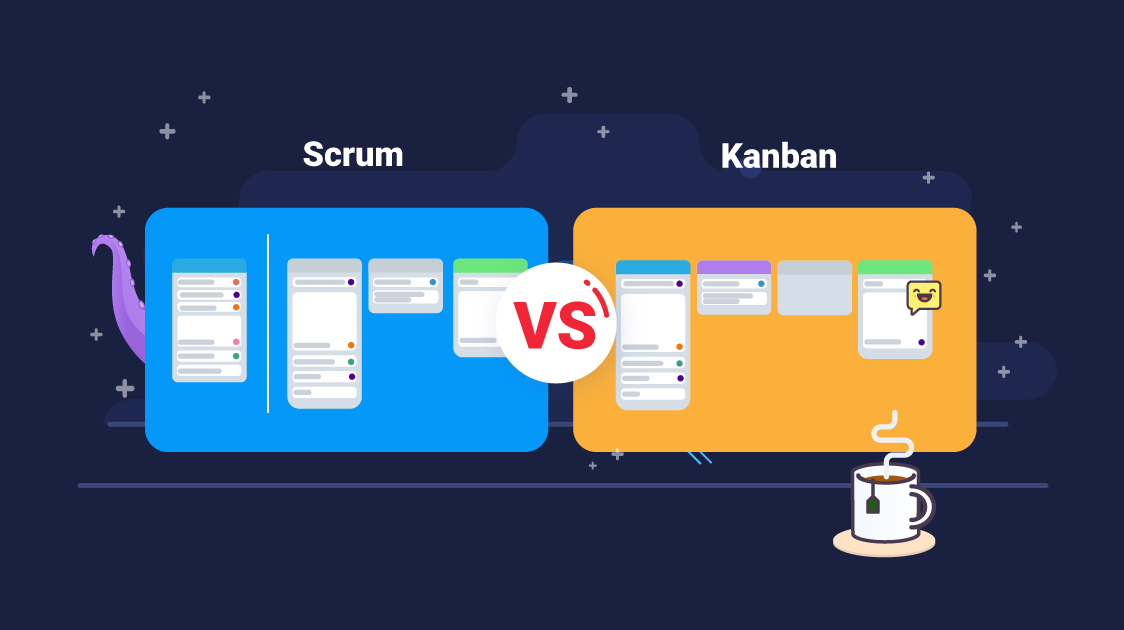 In recent years, project management has changed considerably, and several project management tools are now in place to promote such changes. However, anyone who tracks project management trends will know that technology is just half the debate. The conversation is driven by project management methodologies like Scrum and Kanban. We will explore these words in this article that will help aspirants to get into this field.
In Scrum and Kanban boards, agile methodologies have been used to monitor project status from creativity to project completion: precise targets, tasks delegation, and the plotting process.
Scrum Board – What is it?
A Scrum board displays the work to be done visually. Many Scrum teams use a Scrum board for isolating and arranging tasks, assigning team members with particular tasks, and tracking each task during their life-cycle. The board is then cleared of completed jobs and prepared for the subsequent Sprint.
Kanban board – What is it?
The Kanban board is a board that monitors the process flow and maintains the number of activities involved in the development process. The work-in-progress number is small enough to prevent unworthy tasks but high enough to minimize idle workers.
When to Use
Scrum: In a project where requirements change quickly, the Scrum method is used. It operates on a cross-functional, self-organizing team principle. The Scrum methodology typically tackles the fact that things may be changing fast or more frequently unknown at the start of the project. In Scrum, the low standards are decided only at the starting phase. This approach involves product improvements and enhancements, specifications, and processes.
Kanban: Kanban boards allow visual management of projects for software development. The team members will, therefore, see work going on. It also allows them to consider intricate details, such as time-consuming procedures and threats. If the team has a fine process but still requires some optimization, it should introduce the Kanban software development method.
Scrum: Each team member has a preset task, where the Scrum master decides timelines, the Product owner determines goals and targets, and the team members carry out the project.
Kanban: No predefined team positions are available. Although a project manager can still exist, the team is encouraged to cooperate and pitch when one individual is stressed.
Scrum: Columns are marked to indicate workflow time from the start to describe a team's achievement.
Kanban: Columns also reflect workflow conditions, but publish the maximum number of stories in the column at once.
Scrum: Scrum is based solely on the timeline. It is expected that you will remain focused and disciplined within your goals and deadlines. The team decides the allocation of points they need and then sticks to it.
Kanban: Since the project may develop and change over time, Kanban places a significant emphasis on prioritization. Kanban will help you build project schedules, procedures, tasks, allowances, and project restrictions. These variables can be easily handled and updated as the specifications of your project change.
Scrum: Because Scrum has short periods, complicated tasks are easier to manage. These tasks are broken into smaller stories that your team can deal with quickly. Each Sprint consists of sprint preparation, sprint analysis, and regular Scrum meetings.
Kanban: There exists a continuous flow. Working things on the Kanban board is on the cards. Every card flows smoothly into a new workflow level.
Scrum: Within a sprint or two-week cycle, the teams prioritize the work and devote themselves to specific tasks.
Kanban: Kanban is not confined to an iteration, or a sprint — continuous delivery is most likely to be endorsed. Teams continue to work on their projects.
Scrum: In the center of the Sprint, tasks cannot be inserted into the scrum board, but all jobs can be inserted simultaneously in the In-Progress column.
Kanban: The team agrees on how much work must be completed and how much tasks should be performed simultaneously. When tasks are over, members of the group take new jobs out from a queue.
Scrum: In SCRUM, all stickers are found at the end of the Sprint in the final Done section. Otherwise, Sprint will not work. All the stickers will be removed to clear the board for the next Sprint after the sprint retrospective. The resetting process will offer a good feeling of fulfillment and closure.
Kanban: KANBAN is a method that continues without timeframes not to be reset and restarted. The project life cycle continues, and the new products (stickers) are inserted as soon as possible.
Scrum: Prioritization is a necessity in SCRUM. Typically the product package for the current Sprint is sorted and groomed, goals are identified, and resources are measured during the regular Scrum meetings. It is essential to predict what is crucial for the NEXT (not the actual) Sprint during prioritization.
Kanban: KANBAN does not use a priority or estimate scheme but uses probabilistic forecasting to recognize project planning.
How to learn Agile methodologies of Scrum and Kanban?
The most sought after Fortune 500 giant companies, including Dell, IBM, HP, and other leading firms, look for Agile and Scrum professionals. Revolutionizing Project Management & Software Development, Agile has boosted demand for IT practitioners familiar with the framework and its fields such as Lean, Kanban, Scrum, and Scaled Agile for companies.
Agile training is a way to enhance project efficiency by educating an organization or team about applying Agile's core principles. Training can help define the underlying Agile principles and explain the inconsistencies between the different implementation methods. Agile certification validates the professionalism in Agile practices, values, resources, and technology of an employee. The certification demonstrates the candidate's ability to work through different resources and strategies of project management.
Scrum practitioners learn how to incorporate Kanban methods to their tasks. Participants learn flow theory and Kanban's concepts, play an integrated Kanban simulation, built Kanban boards for their Scrum teams, and learn patterns for infusing Kanban theory and practicing in Scrum events, roles, and things. The salaries of Agile & Scrum practitioners vary between $107,000 and $126,000, according to Payscale.
Read Also: