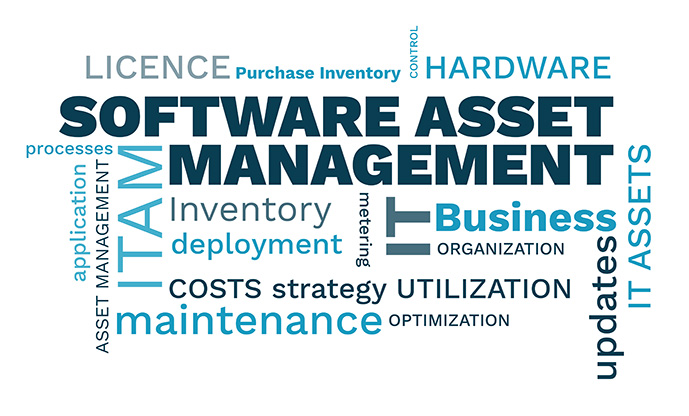 A detailed analysis of daily work operations is essential for any business to plan and prosper properly. As small and large companies are increasingly incorporating a growing number of software systems into their services, there is an immense need to keep all software systems in use organized. However, manual analysis and reporting is a conventional method that takes a tremendous amount of time and effort on the part of the business organization. To remedy this, software asset management (SAM) techniques are increasingly employed by businesses across the board.
An essential feature of a SAM is to produce reports of assets within the company's use. The report could be for inventory purposes or employee performance. Asset management reports are precious in running any business today.
What is Software Asset Management (SAM)?
Software asset management is similar to that of the IT management system. It helps to manage the practices of Purchases, Deployment, Maintenance, and utilization of the software application in a business. In addition, SAM is a software application that can be used to extract new revenues from clients.
SAMK helps to bring all the software processes and activities on one table and manages as a whole to boost the efficiency of the system as a whole. It also helps you to authenticate the software programs that are working in the business and highlight the flaws.
You will find that most of the enterprises have already adopted the use of SAM. However, you will see some minute difference with their implementation. It is because they have modified SAMM according to their businesses.
Importance of Asset Reports in Business Organizations
SAM is the best way for business organizations to get the maximum benefits from their software and hardware assets.
Using the reporting feature of a SAM, it becomes more comfortable and more efficient to provide comprehensive management reports and asset reports. These give businesses the essential information about all its assets. Also, having asset information helps with more efficient business operations, lowering the overall cost of running the business and noticeably increasing the productivity of employees.
Top 5 Factors of Reporting by Software Asset Management (SAM) Tools
Software Asset Management tool is vast and has jurisdiction over all kinds of software being used in the business. SAM caters to several features, whether it an automated function or a slight change in the practices. It keeps tabs on everything and notifies the user.
Here are the 5 top factors that a SAM tool helps analyze and create reports on:
1. Maintenance Report
Businesses that rely mainly on physical assets will find a maintenance program extremely useful in keeping their assets organized. An ideal maintenance plan doesn't just decrease unplanned downtime but also helps extract the most from your business assets.
A detailed maintenance report keeps you, as the business owner, completely aware of the usefulness of your assets. A maintenance report includes:
Dates of asset inspection
Schedule of maintenance activities
Progressing life cycle of an asset
These details are beneficial to plan and budget potential costs when the actual work is performed. These reports also help avoid unwanted costs from irregular and unnecessary maintenance of business assets.
2. Inventory Report
The inventory report provides one of the essential overviews of the company's assets and stock. More notably, inventory reports help ensure that all the company's goods, equipment, and shares are being fully used.
However, this information is highly valuable if the business deals with retailing, warehousing, manufacturing, and IT.
3. Workflow Report
Assets are interlinked with every business's workflow. hence, a detailed report on workflow will show how efficiently the company assets are being utilized. An improved and more efficient workflow asset management report increases employee productivity as well.
In addition, asset management reports and workflow management reports are symbiotic for business organizations.
4. Employee Report
Employees are also assets for a business organization. You can use reports to track employee performance. Details, such as training courses, current job profiles, responsibilities, and present work status, are included in employee asset reports. Also, employee asset reports link the use of physical assets by the employees.
5. Audit Report
Audit reports are the key to ideal asset management. An audit report contains typically detailed information on the assets' physical location, price on purchase, current status, as well as the current value.
You need to decide the types of asset reports that your business organization needs specifically for effective monitoring and management of company assets. This is a significant step to ensure prompt and perfect business operations daily.
Read Also: