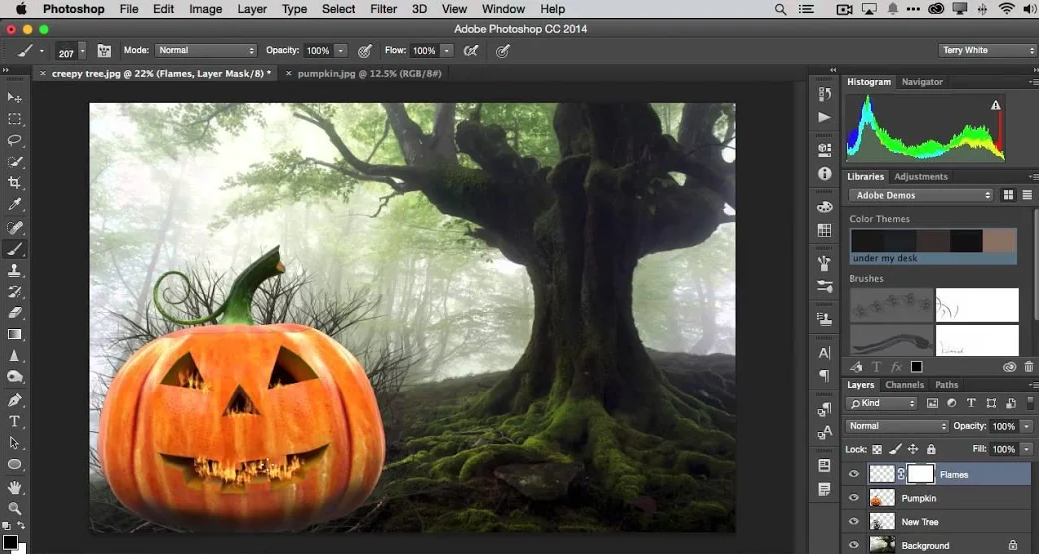 Let's take it one more, no man! This is so dull; this is what we do before posting our pictures on our social media profiles. Thanks to the powerful editing software namely Adobe Photoshop, that has revolutionized how we look and how others perceived our look in their respective screens; seriously before sharing online. But, a has our perceptual sensors, turning the phenomena into a fashion and dominate the photo skills industry. But this is not the end of the photo editing; there are so many best free photoshop alternatives for ordinary users like you and me, Find your perfect Photoshop tutor if you need an occasional photo retouch.
Today in the selfie-crazed world, more than 68% of adults perform some kind of editing before sharing their photos online. Two decades back, photo-editing was restricted to big animated movies; we hardly see ordinary people taking their scars, hairs, lines, zits, blemishes, etc. Today, Photoshop is the to-go choice among the world's renowned graphic designers, conjuring up almost anything as following their creative imaginations. Don't forget that this software has turned ordinary photo editors into profound professionals.
But, since every blessing has some cost attached to it, Adobe Photoshop, a synonymous with image creation is way expensive and has features that can only be used by Professionals. Nowadays, there are so many free alternatives to Adobe Photoshop that offer a massive array of widely-used picture-enhancing tools at your fingertips, to give your tinted image a new lease on life.
Now, you don't need to pay anything to lit-up your dark circles, not in your images. Our list offers the most competitive yet feature-rich photo editing programs freely available across your favorite screens. Below is has everything for everyone; from smart apps for quick edits and beginners to high-featured editing suites for an animator. Let's give it a look;
Here are 7 Best Free Photoshop Alternatives For 2020:
1. GIMP – The Most Popular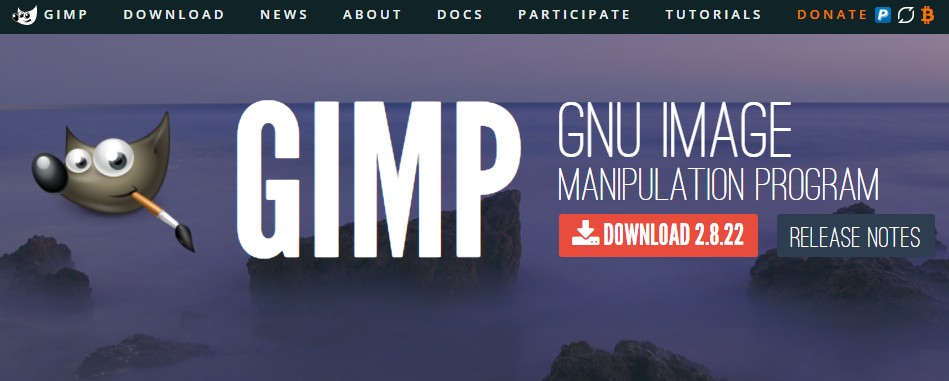 GIMP, one of the famous, adaptable, and robust Photoshop alternatives, offers advanced filters, layers, masks, color adjustment, transformations, and what not — all are customizable.
Being an open-source program GIMP's core is created, updated, and managed by developers using coding languages; this is what makes it gorgeous!
We can't overlook the greatest strength of GIMP is its huge user-created scripts and plugins. Some of them are just like Photoshop tools; Liquify, topped up with an abundance of animation tools to edit your photos with blending and morphing. Not enough? Add GIMP plugins to get the job done.
Still, sounds intimidating? Find real-time GIMP manuals with tutorials and troubleshooting guides and then risk your hard-captured content.
Talking about the MP latest version, it provides a new Photoshop-like interface comprising all of the menus, toolboxes, and palettes together. We recommend you to devote some time in experimenting and perusing the available documentation to get familiar with how to get the best results.
It's compatible with an array of OS and community; This is what makes GIMP, stand out the best alternative to Photoshop. Although it does not offer Photoshop features, capable enough to give your photos, professional touch in a breeze.
Supported File Formats
Supported Platforms
Pros
Cons

Windows,
Mac OS X,
Linux,
BSD,
Unix,
SkyOS

Expandable
supported masks and layers
customizable enough for professional and semi-professional users.
2- Pixlr Editor – A browser-based tool better than some desktop apps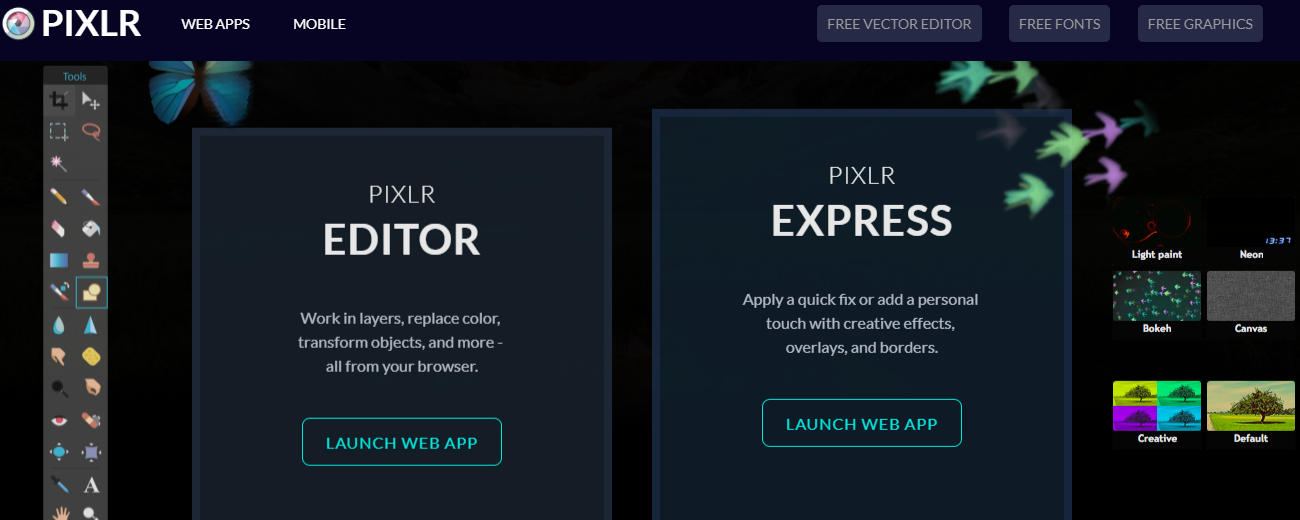 Pixlr Editor; don't count this an ordinary free Photoshop alternative. It's the product of AutoDesk – the big name in 3D modeling software and computer-aided design – and equally impressive as its pedigree.
Pixlr Editor has a toolbox for your specific customizations -similar to GIMP's- including healing and clone stamp tools, brushes, fills, selection and what not; adjust all the features via ribbon via a ribbon above the workspace. Pixlr supports both layers and masks, while cheerfully handling a handful of images at once in different tabs, rather than editing in batches.
For now, it's indeed an excellent Photoshop alternative – exclusively if you don't have the permission and time to download a desktop application.
The only drawback is the prominent ad on the right side, limiting the size of the working space, but not a bad deal with all the expected Photoshop-style tools like; sharpen/unsharp mask, noise, blur, levels, and curves, etc. Don't forget it has aesthetic filters topped with automatic optimization options, with no cost at all.
If you're a browser savvy and don't like closing your browser to edit a picture, then Pixlr is the best to give it a try. Just set your fingers on given keyboard shortcuts and features, and enter into an online iteration of the picture editing behemoth.
Additionally, Pixlr boasts more than 600 effects and overlays with an opportunity to crop and resize the boundaries. If you 're a Photoshop user, you will pick up Pixlr fast.
This Pixlr app is free is offered across compatible OS; their millions of users reflect their success story.
Supported File Formats
Supported Platforms
Pros
Cons

BMP
JPEG
GIF
TIFF
PNG
PSD, etc.

Windows
Mac OS X
Android
iOS
Chrome OS
Linux

Photoshop-like tools
Offers layers and masks

May not be available in the long run
3- Adobe Photoshop Express – Photoshop's best tools at your fingertips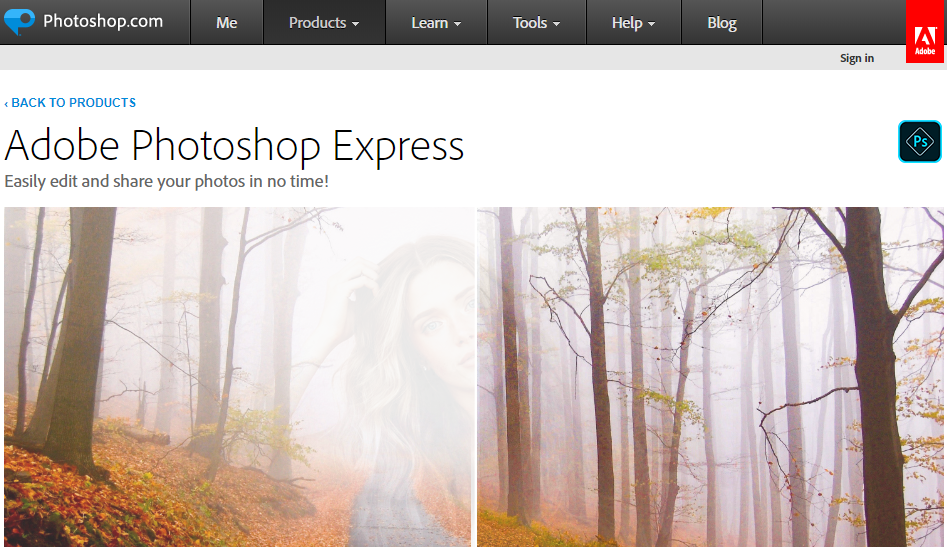 Adobe Photoshop Express; a lightweight version of the top-notch photo editor freely available for your browser; downloadable across Windows, iOS, and Android.
Being a subset of Adobe's expertise, means superior to other quick-fix software, with the simplest of the tools. With Adobe Photoshop Express, you will get the Photoshop's most useful picture-enhancing minimalist interface well suited for your touchscreens. Be it contrast, exposure, and white balance, adjust dynamically from the Sliders, or else select the automatic options for one-click adjustments. Satisfied with the results? Now either save the resulting photo or share it via Facebook.
The compelling point of Photoshop Express is its simplicity, but this is also its weakness; no more layers, plugins, or brush tools, and you can't even crop or resize your pictures.
Supported File Formats
Supported Platforms
Pros
Cons

JBM
GIF
JPEG
TIFF
PNG, etc.

·  Windows 10 Mobile

·  Windows 8.1 or higher (desktop or tablet)

·  Windows Phone 8.1 or higher

·  Mac

·  Android

·  iOS

single-touch adjustments
Excellent filters

·  No layers

·  No plugins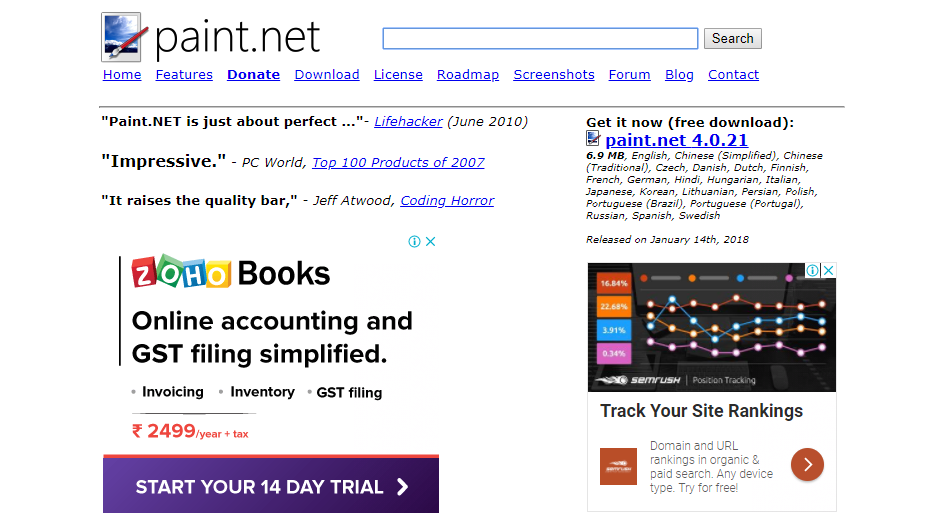 We all have used the built-in Windows paint tool, imagine Paint.NET is the extended version of MS Paint, that has revamped into powerful editing software. This free Photoshop alternative offers lesser options than GIMP, but easier to grasp.
Being in the race of automatic filters, Paint.NET also offers an exceptional choice of automatic filters along with manual editing tools for general adjustments; like GIMP and Photo Pos Pro does. To enjoy masks and layers, you need to install a plugin, whereas, default version offers batch editing and simple stamp for erasing your distractions and blemishes.
Paint.NET is considered to be the best free Photoshop alternatives as it works with several photos while its quick-access tabs represent each picture in a glance, using thumbnails.
This fast running software has no restrictions image size to be stored, and you have to have enough storage to adjust to its range of customizable tools. If you own Windows and looking for a program like Photoshop, we highly recommend you to give Paint.NET a go.
Supported File Formats
Supported Platforms
Pros
Cons
·  Windows PSc

·  Mac

·  Linux

Manual options
Supports plugins
One-click tools
faster

·  Limited customization
5- Krita – Your creative Freedom

Krita is the free alternative to photoshop based on open-source platforms like Unix and Linux. Krita has managed to won applauds for being one of the best image editing tools, which comes with the KOffice suite. This editing suite lacking some departments compared to Photoshop or GIMP but has an endless quantity of brush customizations to stabilized even the handout and a palette; just like Photoshop.
This free to download program utilizes OpenGL and allows you to author and control HDR images; along with other benefits. Krita also provides an active forum with differentiated sample artwork, created by the Krita user community.
Supported File Formats
Supported Platforms
Pros
Cons
·  Windows

·  Mac

·  BSD

·  Linux

Open-source platform
User-friendly GUI

·  Lacks advanced features
6- Photo Pos Pro – A well designed with few restrictions

Haven't heard of Photo Pos Pro? You're in for a treat. This best free Photoshop alternative has the best of both worlds,  adaptive interfaces for both novice and professional editors. For the beginners, there are one-click filters and automatic adjustments, while the rest somewhat resembles Photoshop; both are far better than the endless menus and lists offer by GIMP.
Just like Photoshop, Photo Pos Pro has both to offer; layers and layer masks topped up with healing brushes and superb clone. Don't worry! All the available color-refining tools work correctly. To save your time on routine tasks, this editing tool offers support for scripts and batch-editing; you can also import images directly from a camera and scanner.
Looking for plugins?  Photo Pos Pro has plugins in the form of extra templates and frames, and yes, you can also create and save your filters for the future.
Its only deal-breaking is the limit on the size of saved files (1,024 x 2,014 pixels), upgraded version requires your hard-earned bucks; around £17.67 (US$20, AU$30)
Supported File Formats
Supported Platforms
Pros
Cons

RAW formats

·  Windows XP, Vista, 7, 8, 10

Advanced interfaces
Supports layers and masks

·  Limited size of exported files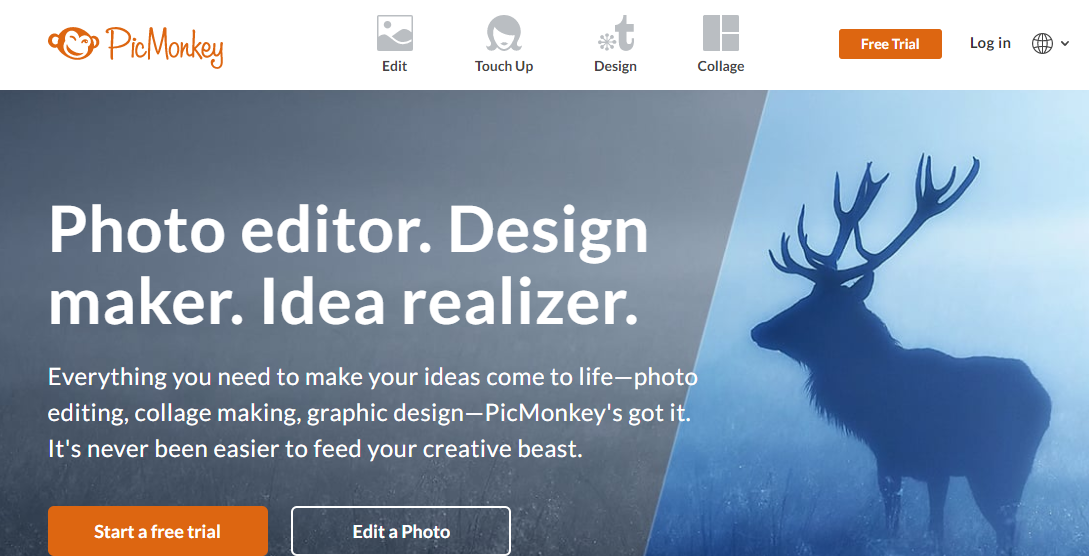 PicMonkey; another independent, web design and editing software with everything you expect from editing software, seemingly designed to keep the neophyte editor in mind but doesn't short of state-of-the-art features. As far as you have a browser with running Flash, PicMonkey is accessible on all the available platforms and allows you to start your editing project either from scratch or resume editing of an existing image file within a minute.
PicMonkey is not a replacement for Photoshop's advanced functions, and you're not lucky enough with PSD files, but it is the best alternative to Photoshop when it comes to working with filters and creating collages right off your browser. This software has two versions; free and paid. The free version offers limited features, while the paid version asks you to pony up some cash to enjoy exclusive effects, tools, fonts, and an ad-free experience. Continual of advanced functionality in the long-run requires a $7.99/month or $47.88/annum.
Still, confused?  Head up to their an oft-updated blog featuring tips and tutorials and figure out your suitability.
PicMonkey boasts some great Instagram-like filters and a bunch of some nifty tools to turn your ordinary picture into a million-impression click. You can play with your images using sticky overlays like funny mustaches and party hats.
Supported File Formats
Supported Platforms
Pros
Cons

Easy to use
Good for beginners
Final words
We have penned down the most suitable yet free Photoshop alternatives to deal with your photo editing needs; now it's your turn to share your preferences and experiences with us. We recommend you to try free software for your basic purposes and don't waste your hard-earned dollars, just for the sake of minimalist editing. We will be waiting for your experiences.
Read also: