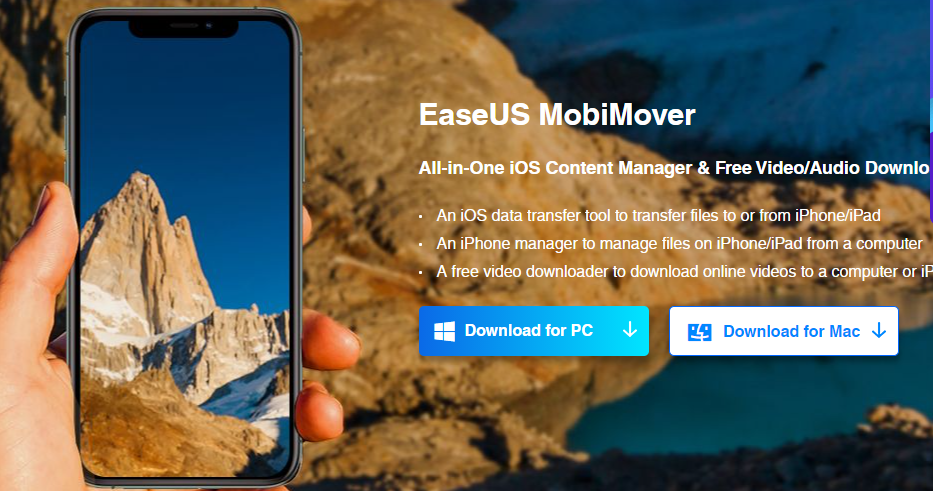 Introduction
Are you someone who is frustrated with using iTunes and all the restrictions Apple has placed on data sharing?
Do you want to know about some credible iTunes alternatives, which can help you share your music, video, and data freely?
Have you heard about EaseUS MobiMover and how it has emerged as one of the most highly-rated alternatives to iTunes globally?
There is no doubt that Apple makes some of the best products and software in the entire tech industry. Whether it is the user interface or the sheer quality and performance of the product, there are very few companies, which can match up to the brand's success.
iTunes is one of Apple's most stellar software. It has been created by the company to share your movies, music, downloading purposes as well as backing up data from your iPhone. However, there are some very annoying restrictions and shortfalls of iTunes. Apple refuses to acknowledge the same. This has led to many users looking elsewhere and trying to find out credible alternatives to iTunes.
In this article, we are going to discuss some of the major problems faced by users with iTunes. In addition, we are also going to examine how good a software EaseUS MobiMoverreally is and whether it can compete with Apple and satisfy users. We will also address the all-important question of how to transfer files from PC to iPhone without iTunes.
What are some Major Problems with iTunes?
If you really want to examine the problems inbuilt into iTunes, you need to first pay attention to the psychology of Apple, the company. This is also what separates Apple from a Microsoft or a Google, or even a Samsung.
Apple wants to create an ecosystem for its users and never leave. The aim is to aggressively encourage dependency on only its products and software. If you try to share your data between products with different operating systems, you cannot do the same.
At a time when technology's real intention is to create a single unified interdependent world, Apple has always gone beyond this philosophy. However, we cannot state that the same has resulted in any losses for the company as it continues to be one of the biggest in the world.
Let us now list down some of the problems associated with Apple's iTunes-
iTunes allows iPhone users to back up their data. However, it limits the user from viewing the backup files, or editing data, which the user does not require.
If a user wants to sync their Apple products (iPad or iPhone) with the iTunes Library, Apple will overwrite all the existing data, giving no option to the user to save anything.
Another irritating area is the fact that you can only use the sync function on One Computer. This means that iTunes will only sync from a single system.
If you are using a different computer for the iTunes library, all the data will be erased by Apple. You also do not have any avenue for retrieving the same from Apple
iTunes has also been criticized for being really expensive, even in its most basic third tier pricing strategy. If you go higher the prices increase phenomenally.
EaseUS MobiMover: A Brief Introduction
What happens when you shift from an old iPhone to a new iPhone? While this question might appear to be simplistic enough, iPhone users can attest to the fact that it isn't so.
In order to provide iOS users with a simple, powerful, and worthwhile alternative, the EaseUS MobiMover was born. In a very short span of time, the software has become a hit with millions of Apple users all over the world.
The success of the EaseUS MobiMover is because it helps in answering all the five points of criticisms we have leveled against iTunes in the previous paragraph.
With this new and revolutionary iOS data transfer and management software, you do not need complicated syncing, library use, or shifting through different computers all to share files or create your data backup.
If you are looking to transfer files between different Apple products like your iPad, iMac, iPhone, etc. the EaseUS MobiMover will allow you to do that in a seamless fashion. In other words, it is a simple, easy, and free alternative to iTunes!
List of Main Features of the EaseUS MobiMover
In this section, we will look at what makes the EaseUS MobiMover such promising software. We will also answer some important questions like how to transfer photos from iPhone to computer in an easy fashion.
1. Easy Transfer of Files from iPhone to your PC or vice versa-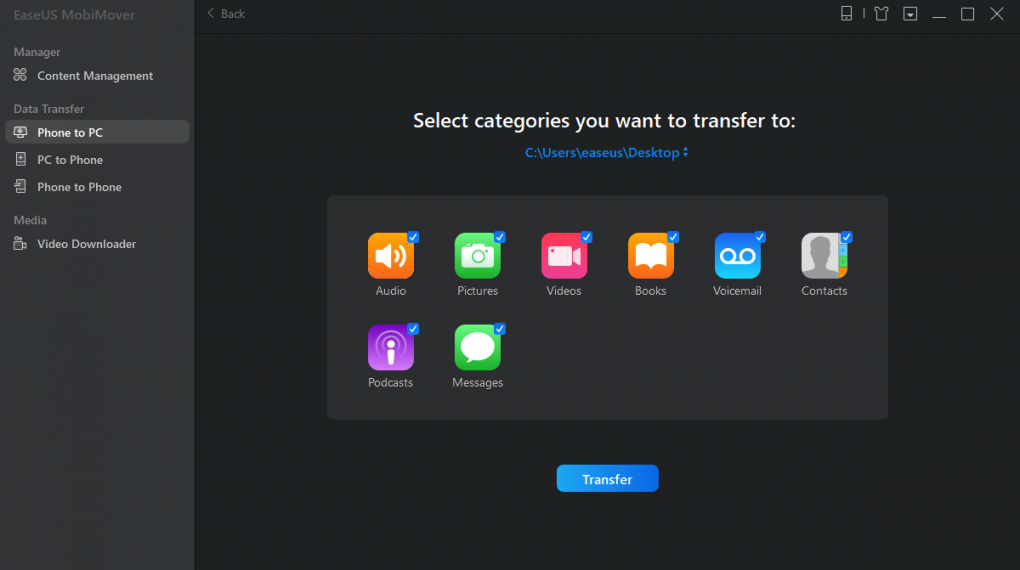 As a user you should not have to jump through hoops, simply to transfer your own data on your own devices. However, if you use iTunes, you will have to face a lot of restrictions. With EaseUS MobiMover, you can transfer all the excess files you do not want on your iPhone to your computer. Alternatively, you can transfer back the files to your iPhone easily.
2. A Convenient File Manager-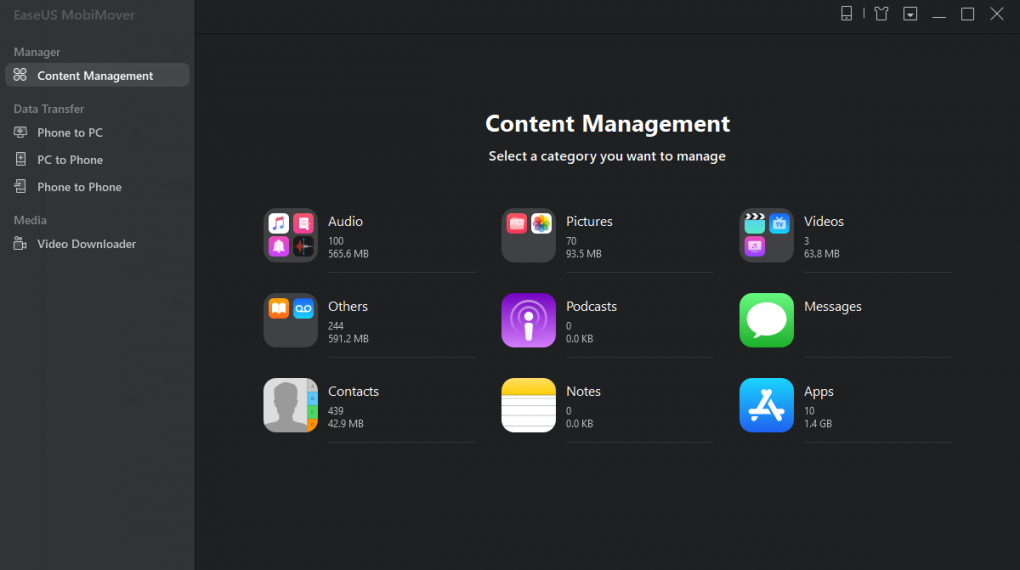 We all know how convenient Android file managers are. They allow us to transfer, upload, delete, import, and export data at will. EaseUS MobiMover allows us to create different sections or files on our computers and transfer the same to our iPhone or iPad. This will allow you to handle and manage all your content in a safe, easy, and effective manner.
3. Easy Downloading of Videos-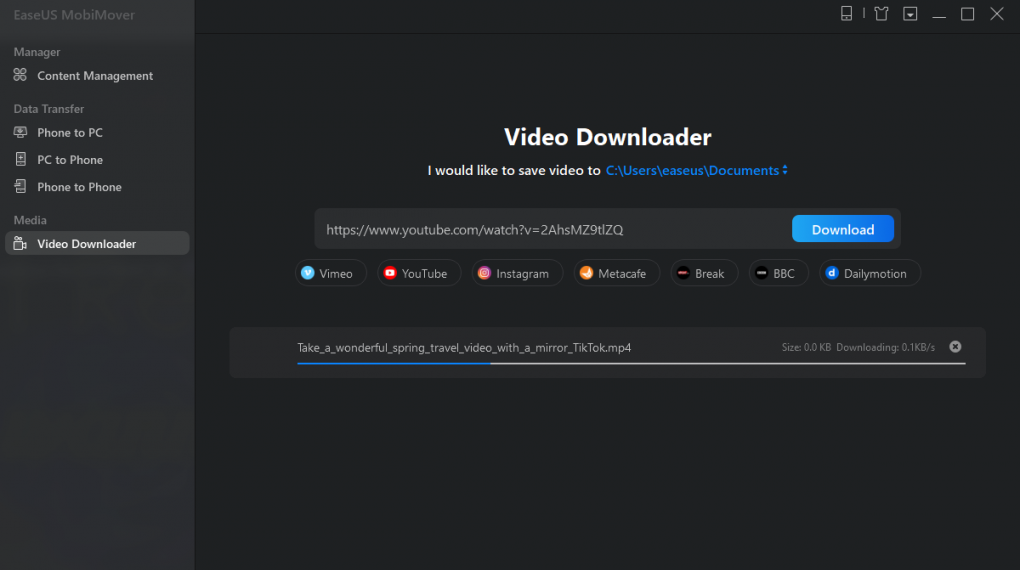 There might be times when we would not have network connectivity. Like on a vacation. However, if you have EaseUS MobiMover, you can download thousands of videos directly from YouTube to help you with offline viewing. The software identifies the format of the video and then when the download happens, automatically change it to support the format of your device.
4. Download Audio, Podcasts, and E-Books-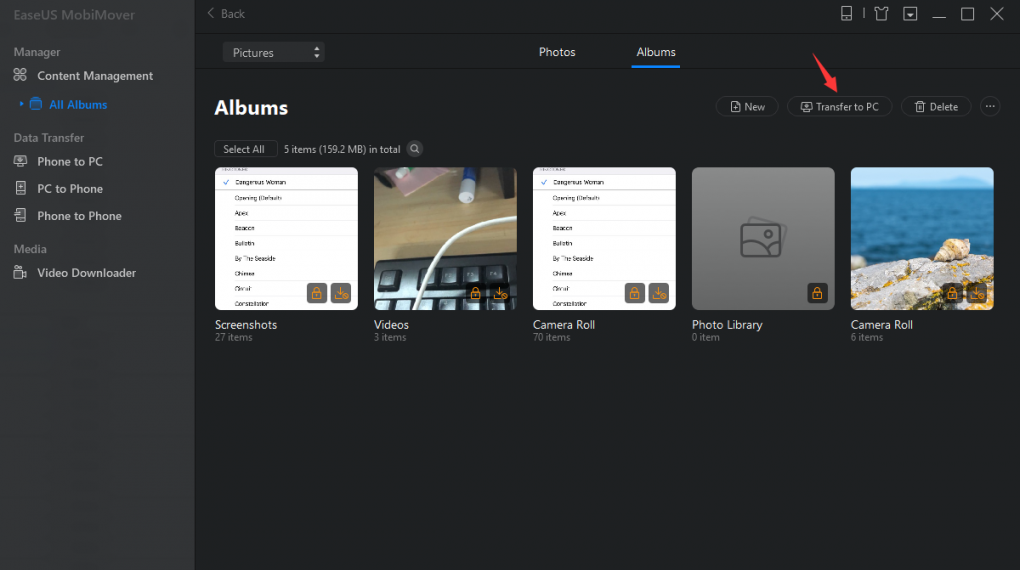 If you want to download any audio file, all you need to do is enter the URL of the same on the EaseUS MobiMover. Within seconds, you will have your audio file on your iPhone or your iPad. You can listen to the same while going to work, learn something new, and do so with the convenience of knowing you have done it for free.
5. Safe and Free-
We are always worried whether such software will steal our data, or transfer the same to third-party vendors. However, EaseUS MobiMover does not do any of that. It also does not annoy you with stupid pop-ups or plugin requests. Given the powerful nature of the software, you would expect it to cost a bomb. But, the EaseUS MobiMover comes with free and paid versions both. You can also try out the Trial Version to get a better sense of the product.
The Final Word
The purpose of any tech software is to make life easy for the user. That was, is, and always be the bottom line. However, companies are often out there to ensure that their financials are in order and they are willing to sacrifice user interest.
iTunes is good, but Apple should seriously start considering making it more user friendly. If they do not, great software like EaseUS MobiMover will keep taking a chuck of their users away from them.
Read Also: