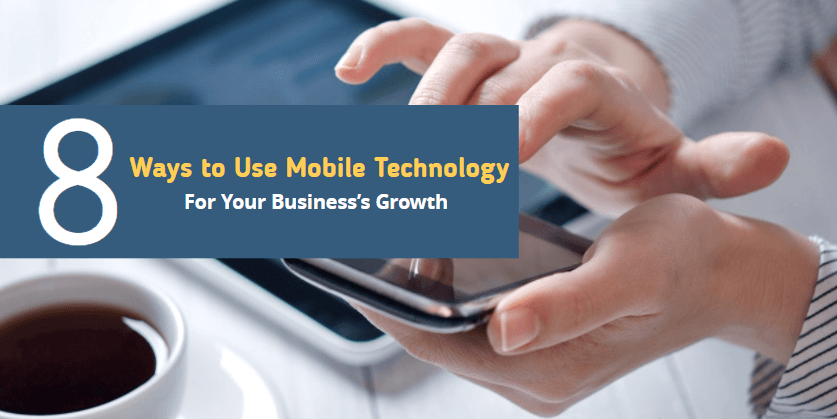 It might not seem much if looked on the individualized basis, but small businesses contribute well to the economy, constituting about 54% of sales in the US. Despite the mighty contribution in the sector, many experts and business owners admit that generating sales is not as easy as said. So how can small businesses empower themselves to elevate their sales figures?
Recommended Reading: 10 Useful Apps for Business Owners and Entrepreneurs
This is where the mobile technology steps in!
8 Ways To Use Mobile Technology For Your Business's Growth
The power and influence of mobile technology usage can no longer be ignored. Today mobile usage calls for a staggering 69% of the total digital media consumption, according to comScore. Further, a mobile search is known to produce an action within the hour, about 70% of the instances. The mobile technology is changing the corporate and business sector quite rapidly, and anyone failing to incorporate its use in their operational or any business-related aspects is surely going to face impending doom in an already intensified competition.
Doesn't matter if you operate an established business or just a recent startup, try to incorporate mobile technology in order to safeguard the future of your marketing efforts and enhance the sales growth right from the start.
1. Develop a mobile-friendly website
The foremost step is creating a mobile friendly website to cement your online presence in the digital world, provided there are about 2.6 billion smartphone users in the world. What could be more important than Google itself prioritizing mobile friendliness as the main ranking criteria in the search engine? Further, the global giant has even provided the tool to assist in website testing.
2. Target your offerings for the mobile users
Consumers are spending more and more time on different mobile devices, a platform you should be targeting for your marketing efforts. Only in US, every consumer is reported to spend around 5 hours per day on their smartphones and using apps rather than browsers. Besides that, mobile users are more inclined to click on the ads that appear on their devices rather than through desktop systems. It has been concluded that tablets produce a higher number of click through rates with mobile apps at the center of all action and performing twice as effectively.
3. Practice localization
Around one-third of the total searches through mobile phones are going for local information. Google also affirmed that the growth of local searches is 50% quicker against the overall mobile search platform. This is why it is advised for the startups to register their business on the local maps through the Google My Business platform. In doing so, you'll be receiving more-than-ever traffic only from local searches on the lookout for suppliers, vendors, and nearby businesses.
 4. SMS text marketing
SMS text marketing still has its own dominant share in the marketing world. Startups can use this cost-effective and instant-use platform as their primary advertising tool in order to attract and expand their client base. According to Neil Patel—an accomplished and globally acclaimed digital marketing professional, SMS marketing can be potentially used to drive leads and produce sales as the platform is conveniently trackable, nicely interactive, displays instant results, and facilitates the growth of personalized conversations.
5. Video marketing
Videos have earned their place as one of the most powerful marketing weapons that companies use to attract their users. About 1.65 billion active users are reported to watch around 8 billion videos on daily basis, according to Facebook (data from April 2016). This presents a paramount opportunity, especially for small businesses who can utilize the trend and create short, yet creative videos to showcase their products and services for the target audience. Not necessarily the videos have to become a feature-length movie, but should be enough to communicate the intended message and tempt the users to acquire the brand.
6. Mobile social media marketing
Try to blend in the power of mobile phones with social media marketing and see your business's sales growth propel yourself. Another statistics report that users spend around 80% of their free time on their favorite social media platforms through their smartphones. This is why small businesses are recommended to never fall under the impression that social media is only for high profile enterprises and brand names. Whereas, it is up to the effectiveness of your mobile social media marketing strategy that decides how well your business is performing.
Read Also: How Social Media Influences Consumer Choices
7. Acquire mobile POS
The use of mobile technology has passed beyond the typical marketing horizons and has entered other businesses as well including retailing, fashion, etc. Today an increasing number of customers prefer and are purchasing their favorite brands through mobile commerce. Several retailers have started using creative mobile apps such as retail POS systems, allowing them to connect with their customers on a much closer level, and successfully tempt them into making a purchase.
8. Create your own mobile app
Today, using mobile app can prove to be a real game-changer for your business given the ever-increasing use of the digital tools by users worldwide. Simply speaking, an appropriate and powerful mobile app can facilitate your business and revenue growth like never before. Agreeably, any new business may not be willing to hire a separate team of developers to create them a mobile app, but you can always hire a freelance developer to get the work done in less money.
There's no denying the fact that mobile technology is the next-big-thing in the marketing and advertising realm, not to mention the frightening pace at which the related technologies are nurturing and evolving for superior customer service and satisfaction. This is why it is advised for small businesses to adopt the above considerations in their marketing strategy with the aim to elevate their sales, growth, market share, and target market base like never before.
Read Also: